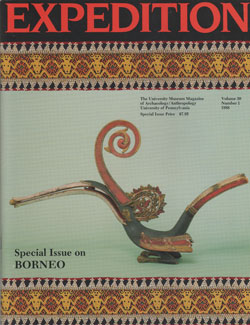 Special Issue: Borneo
Cover: Photo by John Taggart. Borders, beaded design from a skirt, Taman, Kapuas River, Indonesian Borneo. P184. W. of band 22.0 cm, H. of beaded figures 10.3 cm. Carvings of the rhinocerous hornbill, probably Iban, Baran District, Sarawak. P815a, L. 77.5 cm, H. 47.5 cm.
Hard copies of this issue are sold out.
Features
Opening Statment
William H. Davenport and Adria Katz
Introduction
William H. Davenport
Dayaks and Forests of Interior Borneo
Timothy C. Jessup and Andrew P. Vayda
Agriculture in Interior Borneo--Shifting Cultivation and Alternatives
Christine Padoch
Ibanic Textile Weaving--Its Enchantment in Social and Religious Practices
Richard Allen Drake
Selections from the Exhibition--"The Dayaks: Peoples of the Borneo Rainforest" February 25, 1989, to June 3, 1990
Tribe-Sultanate Relationships--Traditional Patterns of Rule in Brunei
Donald E. Brown
Baby Carriers--A Link Between Social and Spiritual Values Among the Kenyah Dayak of Borneo
Herbert L. Whittier and Patricia R. Whittier
Trade Objects--Their Impact on the Cultures of the Indigenous Peoples of Sarawak, Borneo
Lucas Chin
Borneo to Philadelphia--The Furness-Hiller-Harrison Collections
Adria H. Katz
Departments
Museum Staff