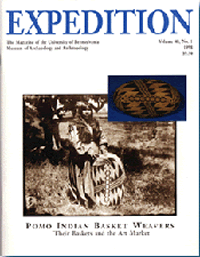 Special Issue: Pomo Indian Basket Weavers, their Baskets and the Art Market
Cover: Photo by H. C. Meredith, ca. 1905. UPM Neg. No. S4-140386 and UPM NA 7946, L. 90 cm. Laura Burris Willum (1895-1919), a Pomo Indian basket weaver and her 3-rod coiled boat basket.
Hard copies of this issue are sold out.
Features
Change and Continuity--Transformations of Pomo Life
Victoria Patterson
The Development of the Commercial Market for Pomo Indian Baskets
Sherrie Smith-Ferri
Building a Collection--Native Californian Basketry at the University of Pennsylvania Museum
Judith Berman
Pomo Basket Weavers in the University of Pennsylvania Museum Collections
Sally McLendon
Departments
Exhibition on Pomo Indian Weavers and Basketry