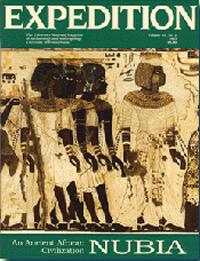 Special Issue: Nubia--An Ancient African Civilization
Cover: "The Homage of the Nubian Princes", from Nina de G. Davies, The Tomb of Huy (London: The Egypt Exploration Society, 1926), Pl. 28.
Features
Introduction
Chiefs or Kings?--Rethinking Early Nubian Politics
David O'Connor
Art and Industry--The Achievements of Meroe
Samia B. Dafa'alla
Medieval Nubia--Another Golden Age
William Y. Adams
Images and Attitudes--Ancient Views of Nubia and the Nubians
Frank M. Snowden, Jr.
Beyond the Nile--The Influence of Egypt and Nubia in Sub-Saharan Africa
John Alexander
Departments
Museum Staff
Behind the Scenes--Karanog, Wealthy Capital of a Lower Nubian Province