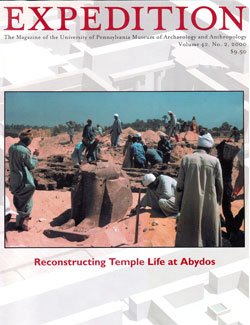 Cover: Photo by Josef Wegner. Red-quartzite figure of pharoah Senwosret III from his mortuary temple at South Abydos.
Hard copies of this issue are sold out.
Features
A Hundred Years at South Abydos--Reconstructing the Temple of Pharoal Senwosret III
Josef Wegner
A Masterpiece in Clay--A Han House Model Reflects Traditional Chinese Life
Jennifer Lane White
Paradise Found--Petra's Urban Oasis
Leigh-Ann Bedal
Mapping Petra
Paul Zimmerman
Opening Windows on the Outside World--My Experiences as an International Classroom Speaker
Jing Sun
Departments
From the Director
Research Notes--A Tree Falls in Philadelphia
Science & Archaeology--Tree Rings and Radiocarbon Dates
From the Archives--A Crowning Achievement
Museum Mosaic--People, Places, Projects

What in the World--What Is This Statue Doing Up in the Air?