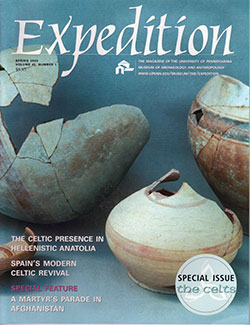 Special Issue: The Celts
Cover: Photo by Mary Voigt. Tableware found on a courtyard surface outside the potter's workshop at Gordion, Turkey.
Features
Landscapes of Ancestors--Early Iron Age Hillforts and their Mound Cemeteries
Bettina Arnold
Celts at Gordion--The Late Hellenistic Settlement
Mary M. Voigt
The Celts and Urbanization--The Enduring Puzzle of the Oppida
Elizabeth Hamilton
Defining Kel'tik--The Case of the Insular Celts
Bernard Wailes
The Modern Celts of Northern Spain
Beebe Bahrami 

Special Feature:
Masood's Parade--Iconography, Revitalization, and Ethnicity in Afghanistan
Whitney Azoy
Departments
From the Director
From the Archives--The Inventor and the Sultan
Research Notes--From Bare Bones to Mummified

Museum Mosaic--People, Places, Projects

What in the World--A Celtic Helmet?