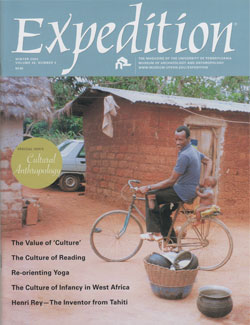 Special Issue: Cultural Anthropology
Cover: Photo by Alma Gottlieb. Baby Sassandra enjoys a bike ride with his great-uncle.
Features
The Value of 'Culture'--An Example From Mongolia
Paula L.W. Sabloff
Babies as Ancestors, Babies as Spirits--The Culture of Infancy in West Africa
Alma Gottlieb
"The Culture of Reading" in a Public School--Ethnography, Service-Learning, and Undergraduate Researchers
Carolyn Behrman
Re-Orienting Yoga
Sarah Strauss
Special Feature
Henri Rey--The Inventor from Tahiti
William Davenport
Departments
From the Editor

Meet the Curators--Robert W. Preucel

Portrait--William Davenport

Museum Mosaic--People, Places, Projects

Class(ic) Notes--What Is a Water Trough Where a Horse Can't Even Get a Drink?