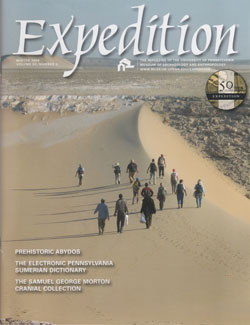 Special Issue: 50th Anniversary
Cover: Members of the Abydos Survey for Paleolithic Sites set off into the Egyptian desert. Photo by ASPS.
Features
Prehistoric Abydos--Africa's Gateway to the World
Harold Dibble, Shannon P. McPherron, Deborah I. Olszewski, Jennifer R. Smith, Utsav Schurmans, and Laurant Chiotti
From Clay to Computers--The Genesis of the Electronic Pennsylvania Sumerian Dictionary
Stephen J. Tinney
The Samuel George Morton Cranial Collection--Historical Significance and New Research
Emily S. Renschler and Janet Monge
Departments
From the Editor
From the Director

Meet the Curators--Nancy S. Steinhardt
From the Archives--Is Your Mind Ready for Adventure?
Field Experience--Penn Museum's Youngest Egyptologist
What in the World--A Unique Northern Plains Ceramic Vessel in the Museum's Lewis and Clark Collection
Museum Mosaic--People, Places, Projects
Exhibit Notes--Iyare! Splendor and Tension in Benin's Palace Theatre