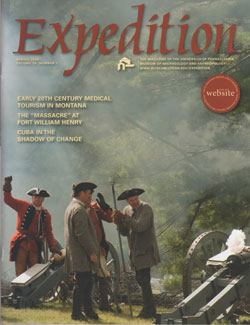 Cover: Photo by David R. Starbuck. This cannon barrage by British re-enactors generated enough smoke to blot out the sky during the re-enactment of the "Massacre" at Fort William Henry on 16 September 2007.

Features
'Taking in the Waters' at LaDuke Hot Springs Resort--Early 20th Century Medical Tourism in Montana
Benjamin W. Porter and Athna May Porter
The "Massacre" at Fort William Henry--History, Archaeology, and Re-Enactment
David R. Starbuck
Cuba in the Shadow of Change--Daily Life in the Twilight of the Revolution
Amelia Rosenberg Weinreb
Departments
From the Editor
From the Director

Meet the New Director--Richard Hodges
From the Archives--Charles R. Sheeler, Jr.
Conservation Notes--What Do You Think of That?
Exhibit Notes--Penn in the World
Class Notes--Bringing Excitement to the Classroom
Museum Mosaic--People, Places, Projects