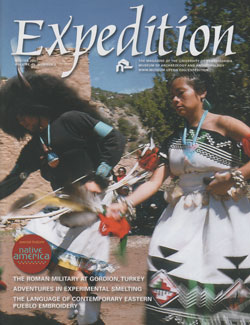 Special Feature: Native America
Cover: Isabel Gonzales's great niece and nephew dance the "Buffalo" at the annual Red Rocks Arts and Crafts Fair at Jeméz Monument, 2004. This event was photographed by Isabel's family and printed with permission from Isabel Gonzales and her family.
Features
From Phrygian Capital to Rural Fort--New Evidence for the Roman Military at Gordion, Turkey
Andrew L. Goldman
Adventures in Experimental Smelting--Iron the Old-fashioned Way
Elizabeth G. Hamilton
Special Feature
WaHa-belash adi Kwan tsáawä / Butterflies and Blue Rain--The Language of Contemporary Eastern Pueblo Embroidery
Lucy Fowler Williams, Isabel C. Gonzales, and Shawn Tafoya
Departments
From the Editor
From the Director

Meet the Curators--C. Brian Rose
Class Notes--Building Bridges with "Native Voices"
Research Notes--A Digital Partnership
Book News & Reviews--From Fiction to Festschrift
Museum Mosaic--People, Places, Projects
Field Experience--The Dig House at Abydos