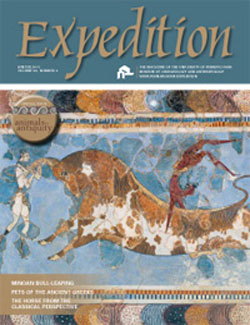 Cover: This portion of a famous Minoan fresco depicts both women (white figure) and men (brown figure) engaged in the sport of bull-leaping. It was recovered from the palace at Knossos in Crete, and dates to ca. 1450–1400 BC. The complete fresco is on page 11. Photo courtesy of the Heraklion Museum, Crete.
Features
Bulls and Bull-leaping in the Minoan World
Jeremy McInerney
Penelope's Geese: Pets of the Ancient Greeks
Kenneth Kitchell
A View of the Horse from the Classical Perspective: The Penn Museum Collection
Donald White
Departments
From the Director
Richard Hodges

From the Editor
Jane Hickman
From the Field—The Corinth Excavations of 2011
From the Field—Butrint, Albania
In the Shadow of Butrint
The Refuse of Urban History: Excavating the Roman Forum at Butrint
Collection Notes—The Museum's Online Searchable Database
Book News & Reviews—Animals and Ethics
Museum Mosaic—People, Places, Projects
---
Subscribe
To subscribe to Expedition magazine and receive three issues per year delivered to your home in April, August, and December, simply fill out the subscription form below, then mail or fax it to the address/fax number on the form.
One-year subscription: $35
International subscriptions for one year: $50