Upper Baugh Pavillion, 3rd Floor
Live Mummy Conservation!
Part exhibition, and part working laboratory, a glass-enclosed conservation lab brings you right into a museum conservator's world. See the tools of the trade and watch as conservators work on a wide array of Egyptian objects including rare paintings, ancient funerary objects, and, of course, mummies! Enjoy this unique opportunity to follow conservators as they protect, restore, and preserve pieces of ancient Egyptian history in this 2,000 square foot exhibition.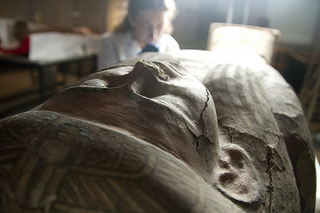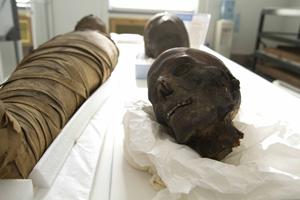 Visitors can look in to see a range of artifacts in various stages of conservation, watching as members of the Penn Museum Conservation Department move from studying, preparing, cleaning, mending, or conserving an elegant ancient coffin lid, to working on elaborately wrapped animal mummies and human mummy heads.
Ask questions weekdays, 11:15 am and 2:00 pm, and weekends, 12:30 - 1:00 pm and 3:30pm - 4pm.
In the Artifact Lab is made possible through the generosity of Frances Rockwell and John R. Rockwell, W64, WG66.
For updates on the objects being conserved and the projects happening in the lab, visit the In The Artifact Lab Blog