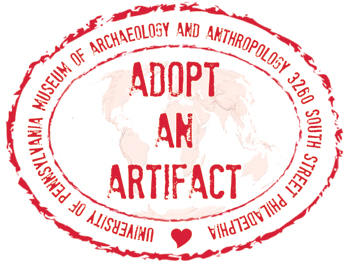 PHILADELPHIA, PA SPRING 2010—They may not all be soft and cuddly—but the almost one million artifacts housed at the University of Pennsylvania Museum of Archaeology and Anthropology have rich stories to tell about humankind, through time and across the continents. They also need regular care, in order to be preserved for future generations. That is why the Penn Museum recently began a new Adopt an Artifact program, inviting visitors of all ages to share in the care and "feeding" of its world-renowned collections.
On Saturday, May 1, from 10 am to 2 pm, the Penn Museum offers an Adopt an Artifact Day, free with regular Museum admission donation, featuring artifact-related crafts, interactive artifact carts, Artifact Twister, and an at-your-own-pace Guided Adventure guests can take through the galleries to meet the first ten artifacts currently up for "adoption."
During the event, kids and families can engage in craft activities that relate to several of the Museum artifacts up for "adoption." Stations feature materials to "Make Your Own Sock Cat Mummy," "Make Your Own Canopic Jar" (to place human organs in for the afterlife), and "Make Your Own Mask" based on the famous 4,500 year old Mesopotamian bull-headed lyre. If the sun is shining, families can create chalk images of the artifacts for adoption in the inner gardens.
During the event, docents bring out an Ancient Egyptian Artifact Cart and a China Artifact Cart to give visitors an up-close-and-personal look at touchable artifacts and reproductions from those two major cultural regions of the world.
The Guided Adventure takes visitors around the Museum to meet 10 artifacts currently up for "adoption." Artifacts include the 13-ton red granite Sphinx, ca. 1200 BCE; a Bronze Rooster from the kingdom of Benin in Nigeria; a pair of "twin" Foo Lions from China; an ancient Etruscan warrior's helmet; and an ancient Egyptian cat statue. Click here for a full list of adoptable artifacts, and details on the program.
Kids, adults, families, even clubs and school groups, can "adopt an artifact" for as little as $35. All adopting families receive a certificate of adoption, a description of the chosen artifact, and a glossy photograph suitable for framing. At Saturday's event, anyone adopting an artifact receives a button featuring the adopted artifact.
While the public is invited to "adopt" an artifact, they do not take their Museum artifact home—and all proceeds donated to the Adopt an Artifact program go towards the general care of the Museum's collection.
Lynn Grant, Senior Conservator of the Penn Museum and one of the chief architects of the Adopt an Artifact program, explained what she hopes the program can do: "A key aspect of our Museum's mission is to preserve and protect the artifacts in our collection for the study, appreciation, and enjoyment of people for many years to come. By inviting our visitors and supporters to 'adopt' an artifact, we hope to earn some valuable money to aid in our conservation efforts. Just as important, we hope to connect more people to these wonderful collections, providing them with a personal sense of the excitement, discovery, and wonder to be found in the human-made artifacts that together comprise our shared global heritage."
The University of Pennsylvania Museum of Archaeology and Anthropology is dedicated to the study and understanding of human history and diversity. Founded in 1887, the Museum has sent more than 400 archaeological and anthropological expeditions to all the inhabited continents of the world. With an active exhibition schedule and educational programming for children and adults, the Museum offers the public an opportunity to share in the ongoing discovery of humankind's collective heritage.
Penn Museum is located at 3260 South Street, Philadelphia, PA 19104 (on Penn's campus, across from Franklin Field and adjacent to SEPTA's University City Regional Rail station serving the R1, R2, and R3 lines). Museum hours are Tuesday through Saturday, 10:00 am to 4:30 pm, Sunday 1:00 to 5:00 pm. Closed Mondays and holidays. Admission donation is $10 for adults; $7 for senior citizens (65 and above); $6 children (6 to 17) and full-time students with ID; free to Members, Penncard holders, and children 5 and younger; "pay-what-you-want" after 3:30 pm Tuesday through Saturday, and after 4:00 pm Sunday. Penn Museum can be found on the web at www.penn.museum. For general information call (215) 898-4000.
Photo 1:Family pays a visit to the Penn Museum and adopts the sphinx while they're there! Photo 2: This bronze commander's crested hemet is from Narce, Italy and was made in the end of the 8th century BCE.