Internships are available for Penn Undergrads through the University of Pennsylvania Center for Undergraduate Research and Fellowships. Interns receive a stipend through the CURF program.
Internships are also available for students outside of Penn through the individual departments at Penn.
African Collections
Summer Internship 2011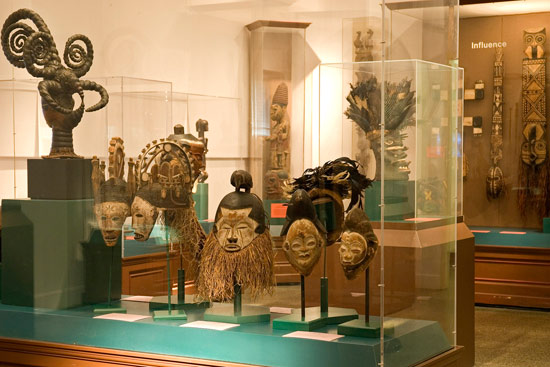 The Penn Museum's African Section summer internship will focus on the inventory and study of the African pottery collection in order to make it accessible to the public. The Museum holds approximately 500 examples of pottery from Cameroon, Democratic Republic of Congo, Kenya, Morocco, Tanzania, Tunisia, and South Africa. The earliest and largest of the collections comes from Morocco and was acquired in 1897 by Talcott Williams.
This hands-on inventory project includes, but is not limited to, moving and reorganizing objects, labeling shelves and cabinets, cataloguing and creating catalogue cards, and updating locations into the computerized database. In addition, the intern will be introduced to larger issues surrounding the fields of museums and anthropology, museum collections management and conservation.
To apply, contact the African Section at (215) 898-4930 or email: This email address is being protected from spambots. You need JavaScript enabled to view it.
American Collections
Summer Internship 2011
The 2010 CURF summer internship in the Penn Museum's American Section will offer experience in the area of exhibition curation.
In 2011 Penn Museum will open the new exhibition Native American Voices on Identity Art and Culture in the Ruth and Earl Scott Gallery at the Museum's Daniel G. Kamin entrance. Building on the Penn Museum's publication Objects of Everlasting Esteem: Native American Voices on Identity, Art and Culture, edited by Williams, Wierzbowski, and Preucel (2005), the exhibition will bring approximately 110 of UPM's Native American objects from 50 tribal nations to life through multi media. Using video, audio, computer touch screens, photography, and exhibition labels, the exhibit will feature the interpretive voices of approximately 60 prominent Native North American scholars, artists, museum and cultural heritage specialists, and activists who have thought and written about objects in the Penn Museum. Voices will raise key issues of Native American history, identity, representation, and cultural survival around five narrative themes of Hands: the acts of creation; Hearts: strength and compassion in history and resistance; Spirits: guidance from ancestors and deities; Footsteps: biography and life experience; and Eyes: looking forward to future generations. The goals of the exhibition are a) to challenge Native American stereotypes, b) to bridge past and present Native America in new ways with fresh, substantive information and sensory appeal, c) to raise awareness of issues of contemporary concern in Native American communities, d) to offer new curriculum and learning experiences for local schools, and e) to host a variety of public, educational events and programs for children, families, Penn students and scholars.
The 2011 summer intern will participate in a variety of tasks associated with the development of this new exhibition. Likely projects include the research and development of educational curricula for kids, research and writing about the history of Penn scholars who have worked with indigenous peoples of North America, and digital photography of related objects in the collection for web access. The intern will also be introduced to larger issues surrounding the fields of museums and anthropology, museum collections management, and conservation, and will be asked to present the results of their work at the close of the summer.
Qualifications: We are looking for an individual with an interest in Native American history, strong research and writing skills, and an ability to work both independently and collaboratively.
To apply, contact the American Section at (215) 898-4048 or email: This email address is being protected from spambots. You need JavaScript enabled to view it.
Exhibition Department
Summer Internship 2011
The Penn Museum Exhibition Department is offering an unpaid internship for the summer of 2010. This internship introduces an individual to several areas of the exhibition process potentially including exhibit development, design and installation, graphics production, object handling and lighting. The areas the intern will work in are determined by the museum's current work needs and the skills and preferences of the individual.
Duties may include the following:
Organizing data for upcoming exhibitions, working on plans and details, and making scale models
Installing exhibit elements including sanding and painting of object mounts
Assist the design staff with the production of graphics for exhibitions
Candidate should have an interest in and introductory knowledge of museum practices in addition to word processing skills, the ability to move and lift heavy objects, multitasking skills and excellent written and oral communication skills. Experience with Vectorworks and the Adobe Suite is desirable but not essential. The intern's work schedule and a schedule of projects will be determined in advance of the internship. Current studio art graduate students and graduates of an MFA or related degree program are invited to apply.
Please Submit Resumes to Kate Quinn, Head of Exhibits/Lead Exhibit Designer at This email address is being protected from spambots. You need JavaScript enabled to view it.
Application deadline: March 31, 2011
Native American Graves Protection and Repatriation (NAGPRA) Office
American Section
Summer Internship 2011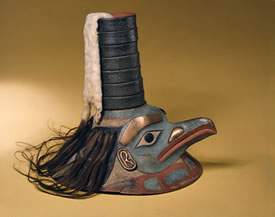 The Intern will work closely with the NAGPRA Coordinator and assist with the implementation of the Native American Graves Protection and Repatriation Act (NAGPRA) through guided work and research experiences.
NAGPRA, which passed into federal law in 1990, mandates a process for the return of human remains, sacred objects, and objects of cultural patrimony to Native Americans. Projects may include working with archaeological, ethnographic, and physical collections, assisting with consultation meetings, assisting with the repatriation of Native American human remains and cultural items, or administrative tasks. In addition, the intern will be introduced to the broader issues related to the fields of museums and anthropology, museum collections management and artifact conservation.
This project is well suited for students with interest in the fields of Federal Indian Law, Anthropology, Native American Studies, and Historic Preservation. The intern will be asked to present an overview of their work at the close of the summer.
To apply, contact the American Section at (215) 898-4048 or email: This email address is being protected from spambots. You need JavaScript enabled to view it.
Oceanian Collections
Summer Internship 2011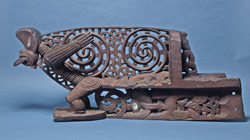 The Penn Museum's Oceanian Section houses and cares for over 22,000 objects from the islands of Southeast Asia (Malaysia, Indonesia, Borneo, Sulawesi, the Philippines), the islands of the Pacific (Micronesia, Melanesia, Polynesia) and Australia. The collections are almost all ethnographic, representing the material culture of the Pacific peoples from the mid-19th century to the present. Object types include personal ornaments, clothing, weapons, musical instruments and objects associated with agriculture, fishing, hunting, food preparation and serving, tobacco smoking, betel chewing, kava drinking, and religious ritual.
The Penn Museum's collections are a resource not only for research and in-house exhibition, but also for loans to other institutions for study, teaching and display. The Museum is currently trying to identify and publicize collections that might be of interest to borrowing institutions. As part of this effort, the Oceanian Section is looking for someone who would be interested in helping to prepare a specific group of objects for possible loan. The objects in question are kris (daggers), from Indonesia. The project would involve photographing, measuring and researching these objects, and making a survey of potential conservation needs.
The Museum's Conservation Department will supply training in object handling and instructions for conducting the conservation survey. Experience and competence in digital photography and Adobe Photoshop are the major requirements for the job, along with an interest in and respect for old and delicate objects.
To apply, contact the Oceanian Section at (215) 898-4279 or email: This email address is being protected from spambots. You need JavaScript enabled to view it.
Museum Archives
Summer Internship 2011

At the Penn Museum Archives, we collect the stories behind the artifacts. The archives include records of the museum's archaeological expeditions to every inhabited continent, the history of the Penn Museum, and the history of the practices of archaeology and anthropology. In addition to field notes and correspondence, we hold three-quarters of a million images and nearly one thousand reels of motion picture film.

The interns will assist with the archival care and management of documents and photographs from the Museum's historic anthropological and archaeological investigations around the world. The interns will work closely with the institution's archivist on all aspects of archival processing, arrangement, and description, including preparation of finding aids. Interns will also gain experience in basic preservation skills, cataloging, and assisting with archival reference requests.
We are looking for students with good organizational skills and attention to detail, basic research skills, and the ability to work independently. This is an excellent opportunity to learn and refine skills related to primary source research, synthesis, writing and editing.
To apply, contact The Archives at (215) 898-8304 or email: This email address is being protected from spambots. You need JavaScript enabled to view it.
Visitor Services
Summer Internship 2011
The Visitor Services summer intern will assist the Visitor Services Manager with preparations for the Penn Museum's first "blockbuster" exhibit, scheduled to open in February, 2011. The Museum is expecting significantly greater numbers of visitors than it has ever dealt with previously, and careful planning needs to occur. The summer intern will help the Visitor Services Manager to develop plans to coordinate the logistics of getting large numbers of visitors to, through and from the Museum in the most efficient manner possible. Issues to be evaluated will include pedestrian traffic flow, ticketing, parking, staffing, and communication to the Penn Community and to the general public.
To apply, contact Visitor Services Department at (215) 898-4001 or email: This email address is being protected from spambots. You need JavaScript enabled to view it.
Museum Development Office
Summer Internship 2011
A summer intern with the Development Office of the Penn Museum will be a unique opportunity to sample a variety of areas in the development field. Interns will assist in the areas of membership, events, prospect management and grant writing. The position will include training in Raiser's Edge, the industry's leading database software, as well as opportunities to develop new donor programs and funding sources.
Possible special projects include:
Penn Museum

Moves Management

Donor Pipeline

Subscription package for upcoming lecture series

Donor and prospect research

Grant writing

Membership newsletter

Membership Renewals/Solicitations
Qualifications:
Interns should be enthusiastic learners, but need not have experience in archaeology or anthropology.
Interest in arts/non-profit administration

Ability to work independently and collaboratively

Strong communication skills

Strong internet research skills
To apply, contact the Development Department at (215) 898-3165 or email: This email address is being protected from spambots. You need JavaScript enabled to view it. or This email address is being protected from spambots. You need JavaScript enabled to view it.