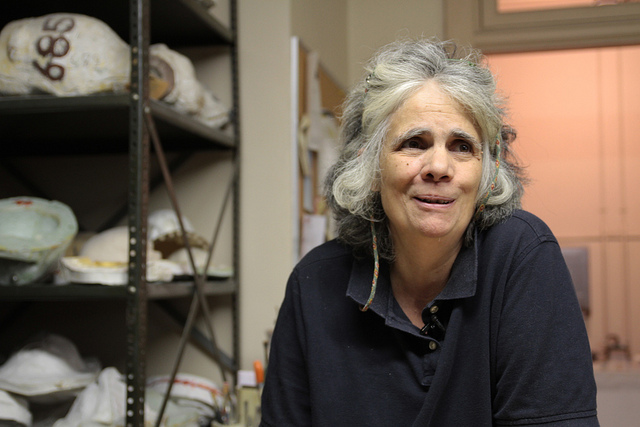 The Penn Museum's own Dr. Janet Monge, Keeper and Curator-in-Charge of the Museum's Physical Anthropology Section, has been named "Philly's Best Museum Curator" by Philadelphia Magazine, in the annual "Best of Philly" list featured in the magazine's August edition.
The magazine (available at newsstands now!) offers plenty of reasons why Dr. Monge has earned this special shoutout—and for the next ten days, we're adding to the list with our own rundown of 10 reasons why she deserves to be celebrated as Philadelphia's "Best Museum Curator."
Check back regularly as we add a new reason each day to the list below—or, follow us on Twitter as we tweet the top 10 reasons during the coming days. And be sure to pick up a copy of the August edition of Philadelphia Magazine to read the full "Best of Philly 2014" list!
10. She helps the Penn Museum create terrific exhibitions, as Curator of Human Evolution: The First 200 Million Years and Year of Proof: Making and Unmaking Race—two special exhibitions currently on display in our galleries.
9. She solves mysteries—such as her identification of blunt-force trauma as the cause of death for several of the men buried at Duffy's Cut in Malvern, PA.
8. She has helped to improve understanding of our ancient cousins, the Neanderthals.
7. She discovered the world's oldest known bone tumor.

6. Her work with CT scans on mummies at the Penn Museum helped to confirm the prevalence of atherosclerosis (hardening of the arteries) among ancient populations.
5. Her research on the developing dentition of Philadelphia children, in collaboration with pediatric dentists at the University of Pennsylvania Dental School and the Temple University Dental School, helped to show that children are showing signs of dental and skeletal maturation even earlier than children from a single generation ago.
4. Through her involvement with the Penn Museum Casting Program, she empowers others around the world to study skeletal remains through accurate modern reproductions.
3. She is a perennially popular lecturer, speaking at events and conferences around the city, the country, and even the globe. Check out one such lecture, delivered here at the Penn Museum, about the so-called "Scopes Monkey Trial."
2.
As an Adjunct Professor in Anthropology, she's extremely popular among her students. Take it from Samantha Cox, a former Penn student and assistant to Dr. Monge, currently a doctoral student at Cambridge:
"I was starting to look at colleges around the end of my sophomore year in high school... and I, of course, had no idea where I wanted to go. But I ran into Janet in the hallway here, in a gallery somewhere, I think up in Egypt... she came up and started talking to me for some reason, and asked me if I wanted a job over the summer. So I said, "Sure!" and I've been here ever since.
"She was one of the best professors I think I ever had. I took every class she taught... I did independent studies with her... and I've worked with her at the Museum for almost ten years now."
Samantha continues to assist in the Physical Anthropology Section as a consulting scholar during the summer.
1. That wonderful, irrepressible laugh!
Top photo by Steve Minicola, University Communications.