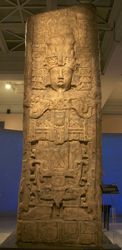 News flash! In one of the more remote parts of the Guatemalan rainforest, researchers have unearthed an ancient Maya inscription that refers to 2012—the famed "end point" of the Maya calendar—and only the second such mention yet known. The date appears towards the end of a hieroglyphic text carved on a limestone block produced at the end of the 7th-century CE at La Corona, Guatemala. Calendrical reckonings count forward to anticipate two events: the end of the 10th Bak'tun in 830 and the end of the 13th Bak'tun in 2012.
According to Simon Martin, Co-Curator of MAYA 2012: Lords of Time, "It is a perfect illustration of the main role of the 'Long Count' calendar to promote the reign of kings by embedding their rule within past, present, and future time. They saw their dynasties governing for hundreds and even thousands of years to come—all in accord with the belief in a grand cosmic order where kings were not only sacred, they were part of the fabric of time itself. It is important and exciting to have more evidence for the importance of 2012 to these ancient Maya concepts."
In December this year the great odometer of the Long Count calendar will turn to 13.0.0.0.0, marking the end of the 13th Bak'tun. Whether this date falls on the 21st or 23rd is debated by scholars because there is conflicting evidence on the issue. Whichever day is correct the Maya gave us no dire warning of a cataclysmic outcome.
"As our exhibition MAYA 2012: Lords of Time explains, the Maya universe was conceived as a cosmic clock of unimaginable scale, stretching trillions upon trillions of years into the future and the past," noted Mr. Martin. "The greatest story the Maya have to offer us is their unique vision of time and how they built a system of government that put the calendar at the core of their claims to authority."
The last time the Maya calendar was set to 13.0.0.0.0 came in 3114 BCE, a date recorded on Quirigua Stela C from Guatemala. A towering replica of Stela C is on display in MAYA 2012: Lords of Time.
More about the new discovery, at excavations led in part by Penn Ph.D. Marcello Canuto, now director of Tulane University's Middle American Research Institute, can be found online in Science Daily.
Photos: Front and side (with date projection overlay) views of the massive replica of Cast of Stela C, Quirigua, Guatemala, on display in MAYA 2012: Lords of Time. Corpus of Maya Hieroglyphic Inscriptions program, Peabody Museum of Archaeology and Ethnology. Replica owned by the Peabody Museum of Archaeology and Ethnology, Harvard University.