Duffy's Cut: Skeletal Remains of Irish Immigrants from 1832 Leave Penn Museum

Once-Forgotten Irish Immigrants Are Laid to Rest In West Laurel Hill Cemetery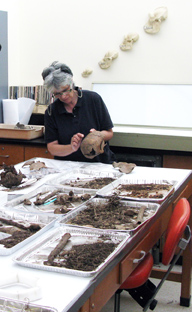 The long saga of Duffy's Cut and the Irish immigrants who died there comes to a close—at least for the six individuals who were excavated from a mass gravesite in Malvern, PA.
In June, 1832, a group of 57 Irish immigrants from Donegal, Tyrone, and Derry arrived in Philadelphia. They were brought to Chester County by a fellow Irishman named Philip Duffy as laborers for the construction of the Philadelphia and Columbia Railroad, Pennsylvania's pioneering railroad. Within six weeks, all were dead of cholera and possibly violence, and were buried anonymously in a ditch outside of Malvern.
What really happened? It was a mystery project that became the Duffy's Cut Project, an archival and archaeological search led for about a decade by William Watson, Immaculata College. Dr. Janet Monge, Curator, Physical Anthropology, Penn Museum, working with Penn undergraduate student Samantha Cox, was brought into this project in the spring of 2009, when the team discovered the human bones of the Irish laborers.  Together, they studied the bones for information about age, health—and probable cause of death—and what they learned included probable murder.
Against time and the odds, they were also able to identify one of the skeletons positively as John Ruddy—one of the Irish immigrants who came to work on the railroad project. He will be repatriated to Ireland, where the story of Duffy's Cut has captivated many, and where an hour long documentary about the project was recently filmed.
The rest of the skeletal remains—identified as belonging to five individuals—were packed up to travel to West Laurel Hill Cemetery on Tuesday, March 5, to be prepared for burial.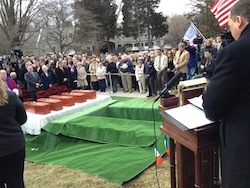 On Friday, March 9, a public viewing of five caskets containing the five unearthed bodies from the Duffy's Cut excavation site was held. The funeral procession began at 2:00 pm, concluding with the committal of the five bodies at a burial site donated by West Laurel Hill.
Read more about the funeral and burial in this story from the Philadelphia Inquirer.
More about Duffy's Cut Project is on their website.
Photo captions: (Top) Dr. Janet Monge, Acting Curator-in-Charge of the Physical Anthropology Collection, Penn Museum, examines skeletal material from Duffy's Cut. Photo: Penn Museum 2010. (Bottom) At the funeral and burial of remains of five bodies, Irish immigrants hired to help build the railroad, from Duffy's Cut in Malvern, PA, now laid to rest at West Laurel Hill Cemetery. Photo: Janet Monge.