"Living Deliberately" Students and Professor Visit the Penn Museum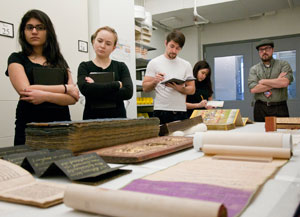 Eleven Asian texts were carefully arranged on a large table, catalogue cards by each, when the University of Pennsylvania students came in to the Asian section storage room at the Penn Museum. The materials were diverse and intriguing: a Tibetan sutra rendered in gold leaf lettering; a mid-19th century Thai illustrated manuscript folded in accordion fashion; a Chinese scroll discovered inside a Buddhist statue; a Japanese prayer kit for a travelling monk; and a palm leaf manuscript with Sinhala characters etched into the leaves.
The students—sixteen in all—quietly circled around the table, examining the objects before waiting for class to begin. An Associated Press photographer waited with them, ready to take images for a story to go out about this unique new class, which had officially begun just five days before. The semester-long course, taught by Religious Studies Professor Justin McDaniel, is "Living Deliberately: Monks, Saints and the Contemplative Life," and the materials on the table were selected by the professor as samples of direct source material for study.
This semester at Penn, the students of "Living Deliberately" will combine academic learning with first person engagement in an intensive monastic way of life. Already, these students could not speak unless spoken to, or to ask questions in class. During the course of the semester, they will be required to refrain from using cell phones and computers, to wake up at 5 am without benefit of alarm clock, to meditate, refrain from all internet and electronic media use, and eventually, to take a vow of silence that will last more than one month—all in the service of learning to live "deliberately," in the monastic traditions of the east and west.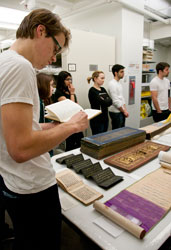 Stephen Lang, the Museum's Keeper of the Asian Collection, gave the students a short introduction to the section and its collection, which contains more than 28,000 artifacts, many from Buddhist traditions across Asia. He welcomed the students to the storage room where they were—surrounded by state-of-the-art storage units filled with artifacts not currently on display.
"We want to increase access to materials like these to students. It's what I'm here to do," he noted. "This is a really unique experience at Penn, so we hope you'll take advantage of it."
Professor McDaniel then spoke about the individual pieces, what he knew of how they were made, and how they were used, often in ceremonial capacities, and rarely being read or studied by solitary monks. Instead, many of the hand copied Buddhist texts were meant to be read out loud, to at least two or three people, as both a merit making and a teaching practice.
In another section of the storage area, Mr. Lang had pulled out and displayed traditional Buddhist robes and a monk's bowl from Sri Lanka, providing Professor McDaniel with an opportunity to talk about some of his own experiences with monks and monastery life in Thailand.
Class ended before 11 am, and the students had to leave for other classes, but some of them will be coming back to the Museum, in pairs, for further study of objects in the collection.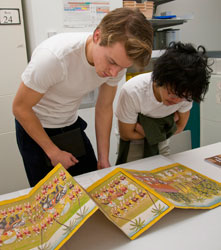 Though the course is unusual for its exceptional personal demands on students, Professor McDaniel was inundated with student interest. He interviewed about 95 potential students before admitting sixteen.
Madelyn Keyser, a sophomore Nursing student, was one of them. When asked why she signed up for the class, she said she believed it would be helpful to her career. "I thought I would find it relevant. The kind of thought process I would put myself into--I'm almost positive I could apply it."
Sophomore Douglas Bollinger, an East Asian Studies and Physics major, had only ever been to the Penn Museum to take exams—but he was excited by his first behind-the-scenes experience, and thought he would be back for further exploration. Of the objects he'd just seen, he noted, "They were remarkable. I didn't know these kinds of things existed, and the fact that we as Penn students can actually study with them if we need to for any kind of paper, its amazing."
Read more about the class in this article by the Associated Press
Photos: The professor and students of the "Living Deliberately" class examine artifacts and texts in storage at the Penn Museum. The class requires that students write regularly and frequently in journals. Photos by Alexandra Fleischman.