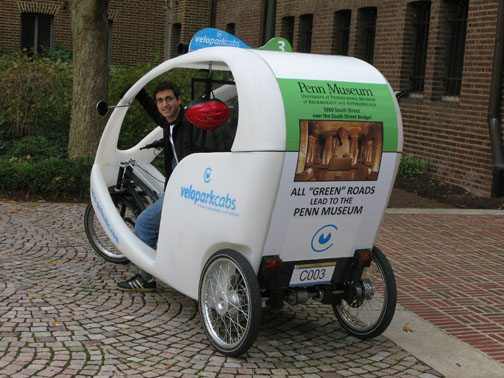 When the City of Philadelphia reopened the South Street Bridge—closed since fall 2008—to pedestrians and bike riders at 2:00 pm on Saturday afternoon, November 6, 2010, staff and volunteers of the University of Pennsylvania Museum of Archaeology and Anthropology, joined in the celebration.
Two Penn Museum "mascots"—dressed in costumes inspired by Penn Museum artifacts on display in the galleries—hopped aboard a taxi (a velopark cab bike taxi, that is) and took to the bridge. The message they carried, with fellow volunteers: visit the nearby Penn Museum, and come in a "green" way. "Green" options, judging by the many regional residents out to celebrate the bridge's opening, include walking, roller blading, biking, marching, bike taxis, jogging, even skateboarding, on over.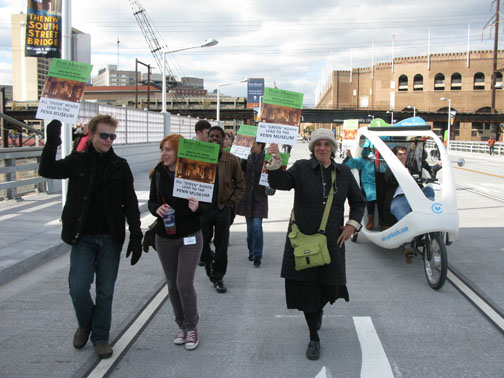 Penn Museum is located at 3260 South Street, just a short block from the reopened South Street Bridge, in Philadelphia, PA 19104 (on Penn's campus, across from Franklin Field). Public transportation to the museum is available via SEPTA's Regional Rail Line at University City Station; the Market-Frankford Subway Line at 34th Street Station; trolley routes 11, 13, 34 and 36; and bus routes 12, 21, 30, 40 and 42. Museum hours are Tuesday and Thursday through Sunday, 10:00 am to 5:00 pm, and Wednesday, 10:00 am to 8:00 pm, with P.M. @ PENN MUSEUM evening programs offered weekly. Closed Mondays and holidays. Hot and cold meals and light refreshments are offered visitors with or without Museum admission in The Pepper Mill Café; the Museum Shop and Pyramid Shop for Children offer a wide selection of gifts, books, games, clothing and jewelry. Penn Museum can be found on the web at www.penn.museum. For general information call (215) 898-4000. For group tour information call (215) 746-8183.