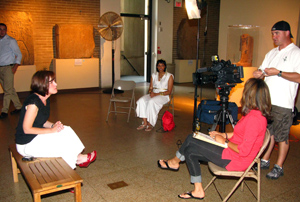 Dr. Jennifer Wegner, Associate Curator, Egyptian Section, Penn Museum, knows a thing or two about Cleopatra, having taught a Penn course devoted to the famous queen and her times. While she was being interviewed by Channel 6 ABC's Niki Hawkins about Cleopatra, she had one very intent listener-Cleopatra herself.
With Cleopatra: Search for the Last Queen of Egypt opening at The Franklin Institute Saturday, June 5, and the Penn Museum joining in the celebration with a "Pharaohs of Ancient Egypt" self-guided tour of the ancient Egyptian Galleries, it wasn't too surprising that Cleopatra (or a reasonable facsimile of the famous last pharaoh of Egypt, Channel 6 intern Brittany Boyer) came visiting.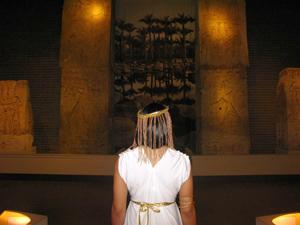 Cleopatra toured the Museum's Upper and Lower Egyptian Galleries, pausing at the famous sphinx, and again, at an elegant sculpture dating to her father's reign during the Ptolemaic Period.
In royal fashion, she paid a visit to the Penn Museum's own great queen--that is, the lavish jewelry and magnificent headdress of the ancient Mesopotamian Queen Pu-abi of 4,500 years ago. Archaeologists still haven't found Cleopatra's tomb--care to predict who was buried with more ancient bling? Cleopatra didn't tell us--but was that an envious eye that beheld the earlier queen's finery?