Just launched! A new online exhibit for Iraq's Ancient Past: Rediscovering Ur's Royal Cemetery.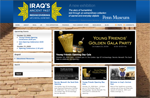 The website features material from the exhibition, opening October 25, and tells the story of the discovery and excavation of the Royal Cemetery at Ur in modern-day Iraq.
The material from the 1922-1934 excavation of ancient Ur, located in southern Iraq near present-day Nasiriyah, is perhaps the most important material in the Penn Museum's collection. The location itself, Biblical Ur of the Chaldees, birthplace of the Patriarch Abraham, holds tremendous importance, while the excavation marked one of the most important archaeological finds to date. The exhibition and its website shed light on these objects, as well as the understanding of archaeological practices from the past and the present, and the issues of cultural preservation in Iraq.
The exhibit tells the story of the remarkable excavation at Ur, and the finding of the Royal Cemetery including the thoughts and theories of Sir Leonard Woolley, who was the head of the excavation for its 12 seasons. Visitors also get a glimpse of the culture of the Sumerian people who created the elaborate cemetery structure more than 4000 years ago. The exhibit presents some modern findings, theories, and insights that have come to light on the objects since their original excavation. Finally, the exhibit will discuss some of the issues of cultural preservation in Iraq, both during the time of the excavation and now.