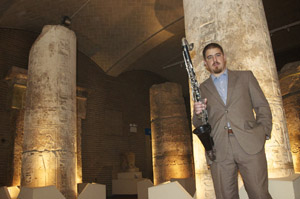 Renowned bass clarinetist Todd Marcus performs at the Penn Museum with his Quartet on Wednesday, February 20, beginning at 6:30 pm. Advance tickets are on sale here.
We asked him a bit about his Egyptian heritage, how he came to create his latest album, Inheritance, and how he came to offer a CD release performance at the Penn Museum. Here's some of what he had to say:
You are half American/half Egyptian, raised in New Jersey. When and how did you become more interested in the Egyptian side of your background?
I think that it was around 2005 that I first started becoming more interested in exploring the Egyptian side of my background especially through music. I started asking my father, who is Egyptian, for Middle Eastern music to listen to and so he started making cassette tapes of his Egyptian records. Abdel Halim Hafez is a famous Egyptian vocalist that I particularly liked from the recordings he made and I spent a lot of time listening to the music. I really took to the compositions and their arrangements, which tend to be these passionate epic pieces with multiple movements. I think it resonated with me because of similar approaches I take with my own music where I really like the music to take the listener on a journey with developing movements. So I kept listening, exploring Middle Eastern music further, and I started working to merge that with my jazz writing and performing. And while my first works with Middle Eastern influences started to emerge around 2005, it's really been since 2010 that I think it's truly come together as an effective merging of jazz and Middle Eastern influences.
Did you visit Egypt? When did you first visit Penn Museum?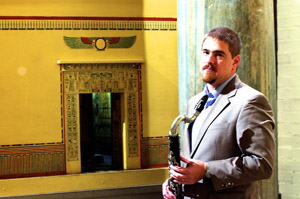 Yes, I've been fortunate to visit Egypt three times—once around age 12, then around age 18, and last when I was 20. I still have family in Cairo and Alexandria so it was great to meet and visit with them as well as see the historic sites. And while I didn't visit the Penn Museum's collection till last year, when I did it immediately brought back many memories of being in Egypt.
You asked to shoot your album cover at the Penn Museum, can you explain why that felt right to you?
The title of my new album is Inheritance, which is significant in large part because of how I've taken Middle Eastern music influences and merged it with my jazz writing and playing. So I really wanted to have the imagery associated with the album tie into my half-Egyptian heritage. Once I started exploring locations that have strong Egyptian exhibits I was very excited to see all that was part of the Penn Museum's collection. So the chance to do photography for the album at the museum was a very precious opportunity to me.
How will it feel for you to perform in the Museum's Egypt Gallery? How is it special to you/is there a particular song/songs in your latest album that particularly were inspired or influenced by Egyptian culture and or music, and if so, in what way?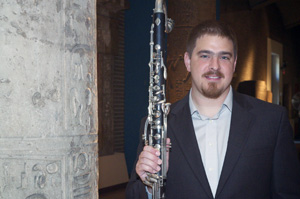 I really think it is going to be one of the most special performances of my career to date. It will mean a great deal to me on many levels - because of my Egyptian heritage, because of the Middle Eastern inspired music from the album that we'll be playing, because of the album's photography having been done at the museum, and even because I expect my father to be there. So it will be a special way to celebrate these forces in my life all coming together for the first time.
You have performed around the world; how is this performance at the Penn Museum special?
This performance at the Penn Museum will be special because it will be my first opportunity to perform my Middle Eastern inspired compositions in a Middle Eastern setting. I think it will give the music an extra special resonance that will make the whole performance unique. Some of my compositions, like a song called "Herod," will conjure up the ancient sense of Egypt while others, like my "Blues for Tahrir" suite, will offer examples of how I've been processing current events like the Arab Spring protests in Cairo's Tahrir Square through my music.
Is the Penn Museum the last stop on your album release tour?
Almost. The album release performances began with a concert in Baltimore in early November and have included stops in Washington, D.C., New York City, and now Philadelphia, before we return for a final show in Baltimore in March. But even after that I'm hoping to see other dates come about. We've had a recent inquiry from a small festival in Italy so hopefully that or some other opportunities overseas come together.
Photos by Carlyle Smith.