Bone Tumor Identified in 120,000-Year-Old Rib of Neandertal
From Famous Cave Excavation Site of Krapina in Central Europe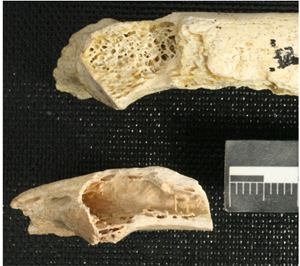 PHILADELPHIA, PA, June 2013—The first-known definitive case of a benign bone tumor has been discovered in the rib of a young Neandertal who lived about 120,000 years ago in what is now present-day Croatia. The bone fragment, which comes from the famous archaeological cave site of Krapina, contains by far the earliest bone tumor ever identified in the archaeological record. Details of the tumor confirmation, announced by an international research team led by Penn Museum Associate Curator and Paleoanthropologist Janet Monge, is available in a research paper, "Fibrous dysplasia in a 120,000+ year old Neandertal from Krapina, Croatia," in the online scientific journal PLOS ONE.
Read more about the discovery in this story from National Geographic.