Renowned Oceanographer Robert Ballard Shares Highlights of His Career—
From Discovery of the Titanic to the Oldest Shipwrecks Ever Found—
at a Penn Museum Evening Lecture Wednesday, February 5, 6:00 PM
Philadelphia, PA 2014—Robert Ballard, world renowned oceanographer and author best known for his discovery of the sunken Titanic in 1985, offers a public lecture, Lost History beneath the Sea from the Titanic to the Iron Age, at the Penn Museum Wednesday evening, February 5, at 6:00 pm. The program, part of the Museum's popular "Great Voyages: Travels, Triumphs, and Tragedies" monthly evening lecture series, concludes with a book-signing opportunity (The Eternal Darkness: A Personal History of Deep-Sea Exploration, Princeton University Press, available for purchase through the Museum Shop.) Admission to the program is $5 general admission, $2 Penn Museum members, with advance registration; (online registration: www.penn.museum/greatvoyages); or $10 at the door, based on availability. Admission is free for full-time students with ID.
Founder and Director of the Center for Ocean Exploration at the Graduate School of Oceanography at the University of Rhode Island,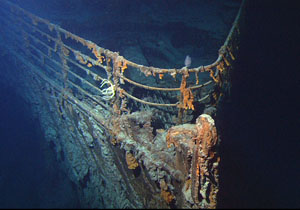 and President of Ocean Exploration Trust, Dr. Ballard reviews his 50+ years of exploring the oceans—a career that has taken him all over the world in search of human history lost in the deep waters of the world's oceans, using the latest in advanced exploration technology. In addition to his discovery of the Titanic, Dr. Ballard made headlines with the discovery of the shipwrecked German battleship Bismarck, the lost fleet of Guadalcanal, and two ancient Phoenician ships off Israel—the oldest shipwrecks ever found in deep water.
"Great Voyages: Travels, Triumphs, and Tragedies" is a monthly lecture series that invites guests to take an armchair journey across exotic lands and seas. The September through May series continues March 5 with Thor Heyerdahl and Kon Tiki: A Grand Experiment in Archaeology presented by Dr. Clark Erickson, American Section Curator-in-Charge at the Penn Museum. Series details are online: www.penn.museum/greatvoyages).
The Penn Museum (the University of Pennsylvania Museum of Archaeology and Anthropology) is dedicated to the study and understanding of human history and diversity. Founded in 1887, the Museum has sent more than 300 archaeological and anthropological expeditions to all the inhabited continents of the world. With an active exhibition schedule and educational programming for children and adults, the Museum offers the public an opportunity to share in the ongoing discovery of humankind's collective heritage.
The Penn Museum is located at 3260 South Street, Philadelphia, PA 19104 (on Penn's campus, across from Franklin Field). Public transportation to the Museum is available via SEPTA's Regional Rail Line at University City Station; the Market-Frankford Subway Line at 34th Street Station; trolley routes 11, 13, 34, and 36; and bus routes 21, 30, 40, and 42. Museum hours are Tuesday and Thursday through Sunday, 10:00 am to 5:00 pm, and Wednesday, 10:00 am to 8:00 pm, with P.M. @ PENN MUSEUM evening programs offered select Wednesdays. Closed Mondays and holidays. Admission donation is $15 for adults; $13 for senior citizens (65 and above); free for U.S. Military; $10 for children and full-time students with ID; free to Members, PennCard holders, and children 5 and younger.

TWEET IT! "Titanic" Oceanographer Robert Ballard speaks about his career in underwater archaeology, Feb 5, 6pm at @pennmuseum: http://bit.ly/19epfX4
Image captions (top to bottom): Image captions: Famed oceanographer Robert Ballard aboard E/V (Exploration Vessel) Nautilus in the Aegean Sea. He discusses "Lost History Beneath the Sea from Titanic to the Iron Age" at the Penn Museum on Wednesday, February 5, at 6:00 pm as part of the museum's "Great Voyages: Travels, Triumphs, and Tragedies" monthly evening lecture series. (Photo: Ocean Exploration Trust); Dr. Robert Ballard presents a lecture on February 5, at 6:00 pm about his career as a deepwater archaeologist, including his 1985 discovery of the shipwrecked Titanic (view of the bow of the wrecked RMS Titanic—public domain image).