Tastings of Select Ales and Lagers Highlight Distinctive Regional Ingredients of Central, South America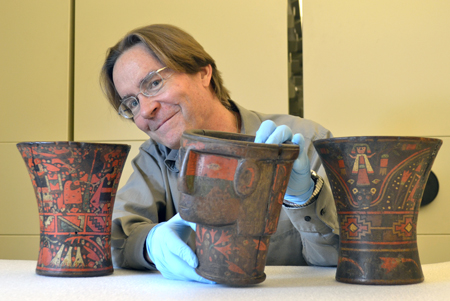 PHILADELPHIA, PA—Sip outside the usual happy hour routine. On Thursday, May 8, 6:30 to 8:30 pm, the Young Friends of the Penn Museum present Cerveza! Celebrating the South American Tradition. Dr. Clark Erickson, American Section Curator-in-Charge, talks about south-of-the-border beer traditions and his recent research and collaboration with Dogfish Head Brewery to replicate traditional South American chicha beer, before inviting guests to sample beers representing the region. Admission to Cerveza! Celebrating the South American Tradition is $30, general admission; $25 for members of the Penn Museum. Admission includes talk, beer tastings, and South American-themed hors d'oeurves. Visit www.penn.museum/calendar or call 215.898.4000 for details and to purchase tickets.
Chicha beer, a traditional Latin American corn beer, and manioc beer, made from the starchy root also known as yuca or cassava, are historically rooted in the Amazon and Andean regions. Women typically brew the beverages, which are often fermented, but the name also encompasses non-alcoholic drinks.
Opening the evening celebration, Dr. Erickson offers guests insights about the indigenous cultures credited with creating the beverages, using objects from the Museum's permanent collection. Guests can also enjoy Dr. Erickson's candid account of his attempt at the authentic Peruvian method of chewing dried purple corn and spitting it aside, to later brew into chicha. The New York Times chronicled the effort, led by Dogfish Head Brewery founder Sam Calagione, noting that ancient chicha-makers realized human saliva breaks down the starch into sugars capable of fermentation.
Visitors are invited to relax in the tranquil Warden Garden, enjoy tres leches cake and other South American-themed hors d'oeuvres, and taste ales and lagers from Central and South America, or based on regional ingredients. Featured beers include Xingu Black (Brazil), Bohemia Clásica (Mexico), Cusqueña Premium (Peru), Cerveza Cristal (Peru), Dogfish Head Palo Santo (USA), and Southern Tier Choklat (USA). Unfortunately no chicha will be served due to a lack of availability in the United States.
The Young Friends of the Penn Museum is a group of active members ages 21 to 45, with a mission to raise awareness of the Penn Museum among the area's young professionals and graduate students.
About the Penn Museum
The Penn Museum (the University of Pennsylvania Museum of Archaeology and Anthropology) is dedicated to the study and understanding of human history and diversity. Founded in 1887, the Museum has sent more than 300 archaeological and anthropological expeditions to all the inhabited continents of the world. With an active exhibition schedule and educational programming for children and adults, the Museum offers the public an opportunity to share in the ongoing discovery of humankind's collective heritage.
The Penn Museum is located at 3260 South Street, Philadelphia, PA 19104 (on Penn's campus, across from Franklin Field). Public transportation to the Museum is available via SEPTA's Regional Rail Line at University City Station; the Market-Frankford Subway Line at 34th Street Station; trolley routes 11, 13, 34, and 36; and bus routes 21, 30, 40, and 42. Museum hours are Tuesday through Sunday, 10:00 am to 5:00 pm, and first Wednesdays of each month until 8:00 pm. Open select holiday Mondays. Museum admission donation is $15 for adults; $13 for senior citizens (65 and above); free for U.S. Military; $10 for children and full-time students with ID; free to Penn Museum Members, PennCard holders, and children 5 and younger.
Hot and cold meals and light refreshments can be purchased with or without Museum admission in The Pepper Mill Café; the Museum Shop and Pyramid Shop for Children offer a wide selection of gifts, books, games, clothing and jewelry. The Penn Museum can be found on the web at www.penn.museum. For general information call 215.898.4000. For group tour information call 215.746.8183.
CLICK HERE for hi-resolution image and caption.


TWEET IT! Discover beers of South America w/ tastings & an illuminating talk at the next @pennmuseum Young Friends event, 5/8: http://bit.ly/1iMRfU6

Photo: Dr. Clark Erickson, Curator-in-Charge, Penn Museum American Section, with several 16th-century Peruvian wooden keros, wooden vessels used to imbibe alcoholic beverages. These and other objects from the Penn Museum collections—some dating to more than 1,000 years ago—help to illustrate the history of Andean beer during "Cerveza: Celebrating the South American Tradition," Thursday, May 8 at the Penn Museum (Photo: Penn Museum).