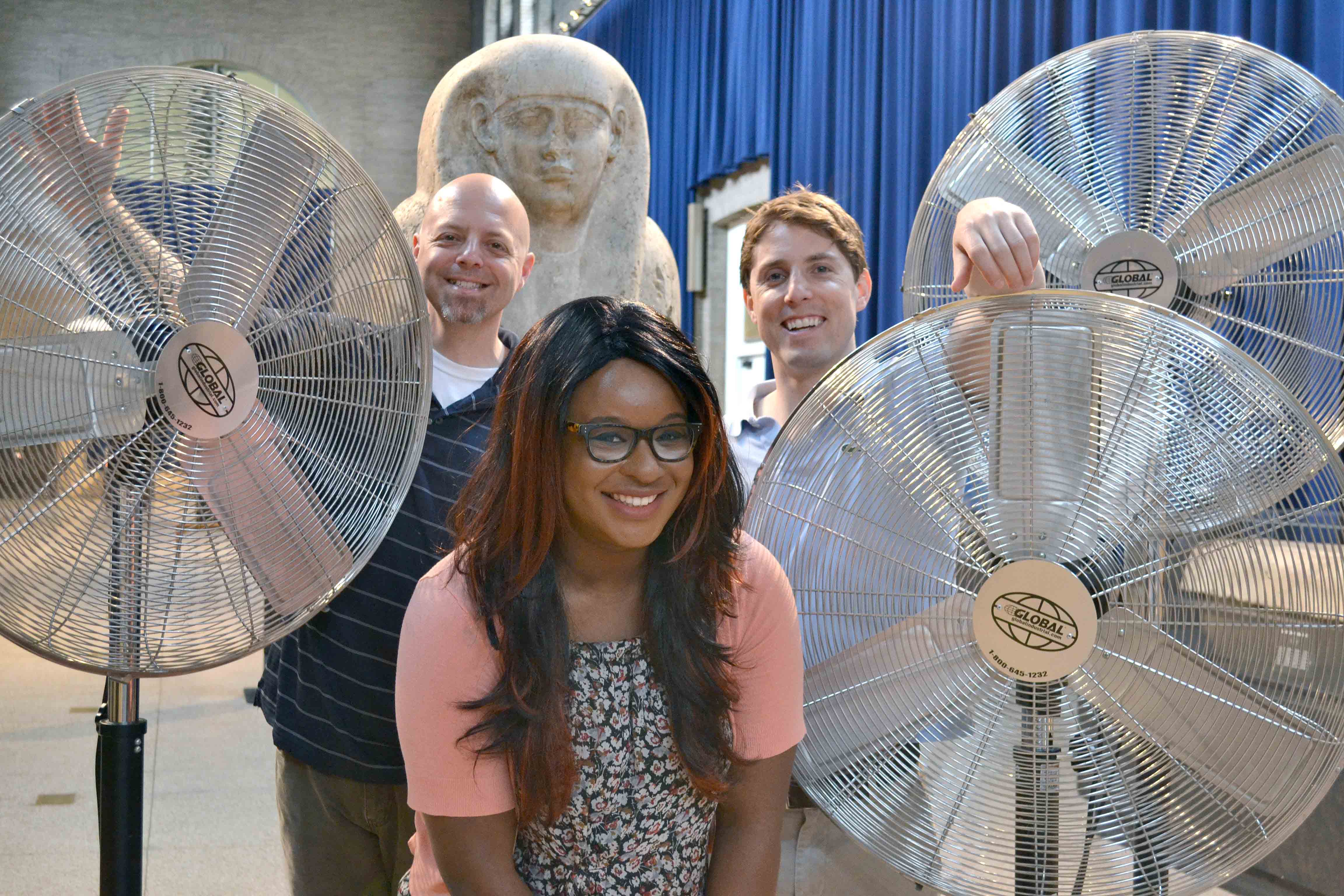 PHILADELPHIA, PA 2014—This July and August, the Penn Museum in Philadelphia is offering all visitors a HOT DEAL: $10 general admission.
Adults, seniors, and children get in for one cool price (and 1/3 off regular adult admission): $10. (As always, Penn Museum members, children under 6, PennCard holders and active military—and, summer only through Labor Day weekend, active military families—enjoy free admission.)
"Summer is an ideal time to visit a great museum, and discover something new about the world," said Julian Siggers, Ph.D., the Museum's Williams Director. "Penn Museum has the world renowned collection to do just that—and some great summer programming, in the gardens and inside, to appeal to all ages."
For those taking advantage of the HOT DEAL, Penn Museum's one-of-a-kind, Arts and Crafts and Eclectic-style building has some air-conditioned galleries, and some spaces not yet air-conditioned, though air-conditioning is part of the long-range plans, and fundraising is ongoing. "We like to have a sense of humor and we hope our visitors do, too. That's why, in those un-air-conditioned spaces, we invite you to join our fans! " said Dr. Siggers.
Highlights for HOT DEAL visits:
Summer Nights Wednesday evening concert series. A diverse line up of music, a laid back outdoor vibe, as the Museum stays open. Optional gallery tours between sets! 5:00 to 8:00 pm, through September 3.
Summer Wonder Family Programs. International, interactive, and fun. Wednesdays at 11:00 am in July. (air-conditioned)
Unearthed in the Archives. Fridays at 2 pm. Join archivist Alessandro Pezzati and staff as they pull out a gem from the Museum's archives—and bring Museum stories to life (air-conditioned)
Award-winning outdoor gardens. Penn Museum's lush urban gardens feature sculptures and fountains by Alexander Stirling Calder, places to sit or eat, even a reflective koi pool.
In the Artifact Lab: Conserving Egyptian Mummies. Conservators at work open their windows twice a day to chat with visitors (air-conditioned gallery and workspace)
Free bottled water at the admission desks, while supplies last
Take a break with ice cold, fresh squeezed lemonade, just $2, or free with $7 lunch entrée, every day in the Pepper Mill Café.
HOT DEAL, cool offerings! $10 admission to the @pennmuseum throughout July and August, and other summer specials: http://bit.ly/1mI8Lqy
About the Penn Museum
The Penn Museum (the University of Pennsylvania Museum of Archaeology and Anthropology) is dedicated to the study and understanding of human history and diversity. Founded in 1887, the Museum has sent more than 300 archaeological and anthropological expeditions to all the inhabited continents of the world. With an active exhibition schedule and educational programming for children and adults, the Museum offers the public an opportunity to share in the ongoing discovery of humankind's collective heritage.
The Penn Museum is located at 3260 South Street, Philadelphia, PA 19104 (on Penn's campus, across from Franklin Field). Public transportation to the Museum is available via SEPTA's Regional Rail Line at University City Station; the Market-Frankford Subway Line at 34th Street Station; trolley routes 11, 13, 34, and 36; and bus routes 21, 30, 40, and 42. Museum hours are Tuesday through Sunday, 10:00 am to 5:00 pm, and first Wednesdays of each month until 8:00 pm. Open select holiday Mondays. Museum admission donation in June 2014 and beginning September 1, 2014 is $15 for adults; $13 for senior citizens (65 and above); free for U.S. Military; $10 for children and full-time students with ID; free to Penn Museum Members, PennCard holders, and children 5 and younger.
Hot and cold meals and light refreshments can be purchased with or without Museum admission in The Pepper Mill Café; the Museum Shop and Pyramid Shop for Children offer a wide selection of gifts, books, games, clothing and jewelry. The Penn Museum can be found on the web at www.penn.museum. For general information call 215.898.4000. For group tour information call 215.746.8183
Photo caption: The Penn Museum kicks off discounted $10 general admission for July and August. (Photo: Penn Museum)