Special Savings Days December 3 through 7
PHILADELPHIA November 2014— With the holiday season approaching, the Museum Shop at the Penn Museum is ready with a wide variety of unusual and one-of-a-kind gift options with one thing in common: they all draw upon a world of human diversity, ingenuity, artistry, and plain old fun, through time and across the continents.
Shoppers can save 10% (20% for Museum members) at the Annual Holiday Sale from Wednesday, December 3 through Sunday, December 7. (On Wednesday night, the popular Great Wonders lecture series continues at 6 pm and the Shop stays open until 8 pm; on Saturday, December 6, families can shop and play, when the Museum offers its free annual Peace Around the World holiday celebration.) University of Pennsylvania staff and student, University of Pennsylvania Health System, and Children's Hospital of Pennsylvania staff (with PennCard or employee ID) enjoy 15% off.
As always, the Museum Shop offers up a wide range of fair trade arts and crafts from around the world, as well as clothing, accessories, books, and jewelry inspired by ancient and contemporary world cultures and the Penn Museum's expansive international collections.
For Students, Teachers, Lawyers, even Beer Lovers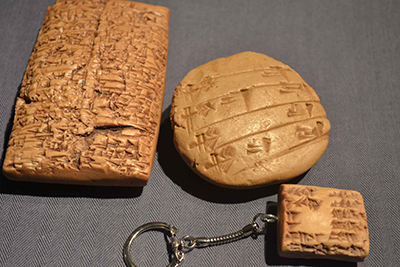 In its world-renowned collections, the Penn Museum has more than 30,000 clay cuneiform tablets with some of the very earliest writing in the world. For a memorable gift, the shop offers ancient artifact replicas such as Babylonian School Tablets ($9.99) used in ancient Nippur. Great for teachers and students, the tablet shows how the teacher inscribed the signs in the first two rows; students then copied in lines three and four. For lawyers, the Mesopotamian Legal Tablet ($19.99) features cuneiform writing of the Laws of Lipit-Ishtar, which pre-date the Code of Hammurabi by 150 years. For those with an appreciation of the noble history of beer, there is the Mesopotamian Beer Tablet keychain ($6.99), featuring a clay cuneiform receipt from 1200 BCE written in the Akkadian language for one of the earliest recorded beer runs.
Give the Gift that Glows

Himalayan Salt lamps from the mountainous region of Pakistan are popular, and the shop offers a sweet deal: regularly $30, just $15 with the purchase of any other item. These one-of-a-kind lamps serve well as both home décor and as a nightlight. The high-mineral crystals range in color from sheer white, to shades of pink, to deeper reds. Himalayan salt originally formed from marine fossil deposits more than 250 million years ago. The salt is still extracted from mines by hand, according to tradition, without the use of any machinery.
For Children and Children at Heart
One section of the shop features toys, games, books, and memorabilia for explorers ages 5 and up. An array of board games from Egypt (Mancala and Senet) as well as Rome (Nine Men's Morris) and Go, a game of Oriental strategy, offer children the chance to play as the ancients did ($12.99–$44.99). A Byzantine mosaic kit offers a unique twist for 8- to 11-year-old puzzle aficionados. The finished result is an image of the woman Ktisis, a personification of the act of generosity. Floor mosaics inscribed with her name have survived at sites throughout the former Byzantine Empire ($12.95).
Visitors coming exclusively to the shop can come in for free. The Museum Shop is open during regular Museum hours: Tuesday, 10:00 am – 5:00 pm; Wednesday, 10:00 am – 5:00 pm (until 8:00 pm on the first Wednesday of the month); and Thursday – Sunday, 10:00 am – 5:00 pm (closed Mondays and major holidays). For more information, call 215.898.4040.
About the Penn Museum
The Penn Museum (the University of Pennsylvania Museum of Archaeology and Anthropology) is dedicated to the study and understanding of human history and diversity. Founded in 1887, the Museum has sent more than 300 archaeological and anthropological expeditions to all the inhabited continents of the world. With an active exhibition schedule and educational programming for children and adults, the Museum offers the public an opportunity to share in the ongoing discovery of humankind's collective heritage.
The Penn Museum is located at 3260 South Street, Philadelphia, PA 19104 (on Penn's campus, across from Franklin Field). Public transportation to the Museum is available via SEPTA's Regional Rail Line at University City Station; the Market-Frankford Subway Line at 34th Street Station; trolley routes 11, 13, 34, and 36; and bus routes 21, 30, 40, and 42. Museum hours are Tuesday through Sunday, 10:00 am to 5:00 pm, and first Wednesdays of each month until 8:00 pm. Open select holiday Mondays. Museum admission donation is $15 for adults; $13 for senior citizens (65 and above); free for U.S. Military; $10 for children and full-time students with ID; free to Penn Museum Members, PennCard holders, and children 5 and younger.
Hot and cold meals and light refreshments can be purchased with or without Museum admission in The Pepper Mill Café; the Museum Shop offers a wide selection of gifts, books, games, clothing and jewelry. The Penn Museum can be found on the web at www.penn.museum. For general information call 215.898.4000. For group tour information call 215.746.8183.
Image captions (top to bottom): Inside the Museum Shop at the Penn Museum, white light bulbs showcase the natural hues of two Himalayan Salt lamps from Pakistan, as red, blue, and green light bulbs give the Himalayan Salt lamps a different look. Photo: Penn Museum. Ancient artifact replicas of a (L-R) Mesopotamian Legal Tablet, Babylonian School Tablet, and Mesopotamian Beer Tablet keychain available in the Museum Shop at the Penn Museum.