Penn Museum in Partnership with Councilwoman Jannie L. Blackwell Presents
FREE Community Night: An Evening to Imagine Africa
Wednesday, October 26, 5:30 to 7:30 pm
Neighbors, friends, and first time visitors are invited to celebrate, explore, and enjoy at the Penn Museum Wednesday, October 26, 5:30 to 7:30 pm, at An Evening to Imagine Africa, a FREE community night. There will be workshops to shake things up—a Hip Hop dance workshop with an instructor from Rennie Harris RHAW, an African Dance Workshop with the Penn student group African Rhythms, plus belly dancing with Habiba, and Spoken Word with the Philly Youth Poetry Movement.
An Evening to Imagine Africa is the first of three free Wednesday evening community nights; additional nights run March 28 and May 23, 2012.
An Evening to Imagine Africa is one of a host of special programs around the Penn Museum's innovative new 12-month gallery project, Imagine Africa with the Penn Museum, where visitors' ideas and perspectives on Africa are being sought, to influence plans for a future renovation of the African gallery. Information about the gallery project and programming is online at www.penn.museum/imagineafrica.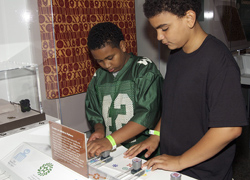 Imagine Africa with the Penn Museum, a multidisciplinary initiative using a new visitor-centered method of exhibition planning, is funded by the Pew Center for Arts and Heritage through the Heritage Philadelphia Program, and the PoGo Foundation. WDAS and the Philadelphia Tribune are media sponsors.
The University of Pennsylvania Museum of Archaeology and Anthropology is dedicated to the study and understanding of human history and diversity. Founded in 1887, the Museum has sent more than 400 archaeological and anthropological expeditions to all the inhabited continents of the world. With an active exhibition schedule and educational programming for children and adults, the Museum offers the public an opportunity to share in the ongoing discovery of humankind's collective heritage.
Penn Museum is located at 3260 South Street, Philadelphia, PA 19104 (on Penn's campus, across from Franklin Field). Public transportation to the Museum is available via SEPTA's Regional Rail Line at University City Station; the Market-Frankford Subway Line at 34th Street Station; trolley routes 11, 13, 34, and 36; and bus routes 12, 21, 30, 40, and 42. Museum hours are Tuesday and Thursday through Sunday, 10:00 am to 5:00 pm, and Wednesday, 10:00 am to 8:00 pm, with P.M. @ PENN MUSEUM evening programs offered select Wednesdays. Closed Mondays and holidays. Admission donation is $10 for adults; $7 for senior citizens (65 and above); $6 children (6 to 17) and full-time students with ID; free to Members, PennCard holders, and children 5 and younger; "pay-what-you-want" the last hour before closing. Hot and cold meals and light refreshments are offered to visitors with or without Museum admission in The Pepper Mill Café; the Museum Shop and Pyramid Shop for Children offer a wide selection of gifts, books, games, clothing and jewelry. Penn Museum can be found on the web at www.penn.museum. For general information call 215.898.4000. For group tour information call 215.746.8183.
Image captions: (Top image) The University of Pennsylvania's African Rhythms dance troupe shown here performing for The Imagine Africa Gallery Project Opening September 18, 2011. African Rhythms returns for a workshop on Wednesday, October 26, 2011, from 5:30 to 7:30 pm, as part of the many activities during Penn Museum's first free Community Night: An Evening to Remember. Photo: Penn Museum. (Bottom image) Early visitors to Imagine Africa with the Penn Museum enjoy an interactive multimedia experience. Feedback collected from the gallery project will inform a future reinstallation of the Museum's African Gallery. Photo: Penn Museum.