Penn Museum Presents Hello India!
A World Culture Day Saturday, March 24, 1:00 to 4:00 pm
FREE with Museum Admission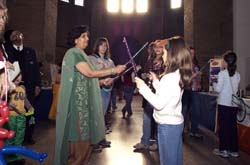 PHILADELPHIA, PA—The rich culture, history, and intrigue of India take the spotlight at Penn Museum Saturday, March 24 from 1:00 to 4:00 pm, with Hello India! This special celebration of the vibrant nation welcomes children and families for an afternoon of classical dance performances and workshops, lively music, spicy Indian food, and an assortment of arts and crafts activities for all ages. Hello India! is FREE with Museum admission ($10 general admission; $7, seniors and military; $6, children 6-17 and students with ID; free for children under 6).
Hello India! is co-sponsored by the International Classroom at Penn Museum, the South Asian Center of Penn, Bharatiya Temple and Cultural Center, Chinmaya Mission, and Ahmadiyya Muslim Community.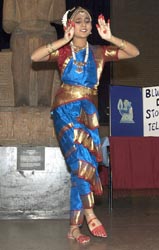 The celebration features an exciting lineup of dance performances, concentrated on Indian classical and folk dance. At 1:30 pm, Penn Thillana, the University of Pennsylvania's premiere classical Indian dance troupe, invites guests to learn traditional moves during an interactive workshop. At 2:30, performers from Bharathiya Temple and Cultural Center of Chalfont, Pennsylvania join the fun, presenting a lecture, demonstration and workshop of Indian dance. The presentation features a short introduction on Bharathanatyam, a South Indian style of dance, and a workshop on hand gestures and basic and advanced steps. Then their dance troupe, comprised of students ages 6-12 from the Bharathiya Vidhyalaya school, teaches guests about traditional Kummi, Garba and Dandiya folk dances. At 3:00, Penn Thillana returns for a dazzling classical dance performance in the Museum's Upper Egyptian gallery.
Visitors can enjoy the colorful sounds of Indian classical music during a performance by Penn Sargam, Penn's first student group dedicated to promoting this rich style of music. Penn Sargam takes the stage at 2:00 pm, combining traditional and modern instruments such as the tabla, guitar, violin, viola and drums, as well as presenting Carnatic, Hindustani, and fusion pieces.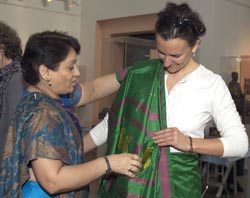 An assortment of family activities is available throughout the afternoon. At a craft station, guests can make their own Rangoli designs, an ancient decorative art form, or create a clay Diya lamp to take home. Visitors can also model authentic Indian attire at a Sari-wrapping station.
Each of the event's co-sponsors shares information about India in a variety of ways, at presentation tables that explore topics including Indian cultural festivals, language, and religious festivals. The Pepper Mill Café offers a variety of special, India-themed lunch and snack options throughout the day.
Penn Museum (the University of Pennsylvania Museum of Archaeology and Anthropology), celebrating its 125th anniversary in 2012, is dedicated to the study and understanding of human history and diversity. Founded in 1887, the Museum has sent more than 400 archaeological and anthropological expeditions to all the inhabited continents of the world. With an active exhibition schedule and educational programming for children and adults, the Museum offers the public an opportunity to share in the ongoing discovery of humankind's collective heritage.
Penn Museum is located at 3260 South Street, Philadelphia, PA 19104 (on Penn's campus, across from Franklin Field). Public transportation to the Museum is available via SEPTA's Regional Rail Line at University City Station; the Market-Frankford Subway Line at 34th Street Station; trolley routes 11, 13, 34, and 36; and bus routes 12, 21, 30, 40, and 42. Museum hours are Tuesday and Thursday through Sunday, 10:00 am to 5:00 pm, and Wednesday, 10:00 am to 8:00 pm, with P.M. @ PENN MUSEUM evening programs offered select Wednesdays. Closed Mondays and holidays. Admission donation is $10 for adults; $7 for senior citizens (65 and above); $6 children (6 to 17) and full-time students with ID; free to Members, PennCard holders, and children 5 and younger; "pay-what-you-want" the last hour before closing. Hot and cold meals and light refreshments are offered to visitors with or without Museum admission in The Pepper Mill Café; the Museum Shop and Pyramid Shop for Children offer a wide selection of gifts, books, games, clothing and jewelry. Penn Museum can be found on the web at www.penn.museum. For general information call 215.898.4000. For group tour information call 215.746.8183.