Hip Hop Artists "Imagine Africa" with the Penn Museum
At a Free Community Night Wednesday, March 28, 5:00 to 8:00 pm
Program is Part of Ongoing Imagine Africa Community Engagement Project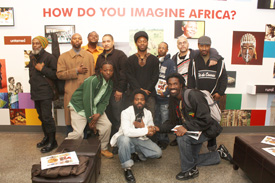 PHILADELPHIA, PA—Six local Hip Hop groups and artists—special visitors to the Penn Museum's African galleries in January—return to the Museum to perform their own original new music and lyrics live at a Free Community Night on Wednesday, March 28, from 5:00 to 8:00 pm. Imagine Africa at the Penn Museum and all the Museum galleries are open for the family-friendly evening, which features an African arts and craft table for children and families. Hip Hop Artists "Imagine Africa" with the Penn Museum is co-sponsored by the hip hop radio show, the IIourshow/ThorTakeover, LLC on WNJC 1360 AM.
Admission to the Museum is free starting at 5:00 pm. Live music begins in the Museum's atmospheric Upper Egyptian Gallery at 6:45 pm, with performances by godHead The General, Magnum O, Darian The Great, The KNomadz, Afloe, and Urban Shamans, along with DJ Soul Buck and Host (of The Philly Gathering), I-Be 4ever. Following the concert, attendees receive a free Imagine Africa compilation CD, created just for the night by T.h.o.r.Takeover LLC, while supplies last. The Museum's Pepper Mill Café sets up in the adjacent Chinese Rotunda, offering happy hour drink specials, and non-alcoholic drinks, for sale.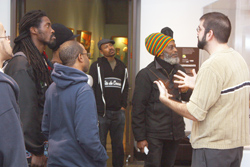 In January, musicians from six Philadelphia-area Hip Hop acts visited the Penn Museum to explore the African gallery and the Imagine Africa gallery project, a community engagement gallery designed to share information and gather feedback about the Museum's African collection. The performers were asked to respond to their experience by creating original music and lyrics, which they share for the first time during the Free Community Night March 28.
Each artist responded to the Imagine Africa project in their own way, drawing inspiration from a wide range of artifacts in the gallery. Hip Hop artist Darian The Great was most impressed with the African instruments on display, while singer and guitarist Timi Tanzania of Urban Shamans felt a strong connection to the religious traditions of his African ancestors.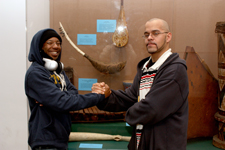 "I loved it, myself. I'm inspired," said T.H.E. (Zachariah Hardin), host of WNJC's IIourshow and co-organizer of the event. "You need a little inspiration these days."
Mr. Hardin noted that guests can expect a tour de force of original songs, written and performed by a variety of local artists. While Hip Hop music guides the evening's theme, guests can also expect a smattering of rock, soul, jazz, and reggae.
At the arts and crafts table, families can learn about and create their own Adire-inspired cloth. Traditional Adire textiles are made by women of the Yoruba culture in Nigeria, using a variety of resist-dye techniques. Visitors to the Imagine Africa gallery can learn more about Adire cloth and other textiles made in Africa.
With the Imagine Africa with the Penn Museum gallery project, which opened in September 2011, the Penn Museum has drawn upon its extraordinary African collection to present more than 50 objects framed around eight broad topics, from "Beauty" and "Strength," to "Healing," "Creating," and "The Divine." Through a variety of engagement opportunities, visitors are asked to provide feedback on the objects and content they see, and to discuss what would make an engaging exhibition—from their point of view. From now through January 2013, the Museum is engaging—through the gallery installation, diverse public programming, and a rich website—in discussions with the regional community, as it develops long-range plans to re-envision its African gallery for a 21st century audience.
Imagine Africa with the Penn Museum is made possible with funding from the Pew Center for Arts and Heritage through the Heritage Philadelphia Program, and the PoGo Family Foundation.
Penn Museum (the University of Pennsylvania Museum of Archaeology and Anthropology), celebrating its 125th anniversary in 2012, is dedicated to the study and understanding of human history and diversity. Founded in 1887, the Museum has sent more than 400 archaeological and anthropological expeditions to all the inhabited continents of the world. With an active exhibition schedule and educational programming for children and adults, the Museum offers the public an opportunity to share in the ongoing discovery of humankind's collective heritage.
Penn Museum is located at 3260 South Street, Philadelphia, PA 19104 (on Penn's campus, across from Franklin Field). Public transportation to the Museum is available via SEPTA's Regional Rail Line at University City Station; the Market-Frankford Subway Line at 34th Street Station; trolley routes 11, 13, 34, and 36; and bus routes 12, 21, 30, 40, and 42. Museum hours are Tuesday and Thursday through Sunday, 10:00 am to 5:00 pm, and Wednesday, 10:00 am to 8:00 pm, with P.M. @ PENN MUSEUM evening programs offered select Wednesdays. Closed Mondays and holidays. Admission donation is $10 for adults; $7 for senior citizens (65 and above); $6 children (6 to 17) and full-time students with ID; free to Members, PennCard holders, and children 5 and younger; "pay-what-you-want" the last hour before closing. Hot and cold meals and light refreshments are offered to visitors with or without Museum admission in The Pepper Mill Café; the Museum Shop and Pyramid Shop for Children offer a wide selection of gifts, books, games, clothing and jewelry. Penn Museum can be found on the web at www.penn.museum. For general information call 215.898.4000. For group tour information call 215.746.8183.
Photos, top to bottom: Hip Hop artists pose after a tour of the Penn Museum's African Gallery and Imagine Africa Gallery Project in January. Front (l-r): Zachariah Hardin aka T.H.E, Levi Joynes, Khamuo Heru. Back (l-r): Timi Tanzania, Obi Bey, Darian the Great, godHead the General, Obi Hardin, Blak Lung, Divine Wyze, I-Be 4evr. Not pictured: Born Prince and L Tyrannic of Magnum O.
In January, local hip hop artists tour the Imagine Africa gallery project, led by Kevin Schott, Exhibition Developer (far right). The artists return to perform original music at "Hip Hop Artists Imagine Africa with the Penn Museum," Wednesday, March 28.
Blak Lung (left) and Divine Wyze, local musicians, share original music and lyrics at "Hip Hop Artists Imagine Africa with the Penn Museum," Wednesday, March 28. Photos: Penn Museum.