Penn Museum in Philadelphia Launches Online Collections Database to Kick off its 125th Anniversary Celebration in 2012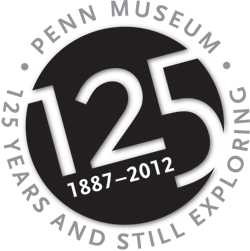 JANUARY 2012—The University of Pennsylvania Museum of Archaeology and Anthropology on the Penn campus in Philadelphia dates its official founding to December 6, 1887. On that date, the Trustees of the University of Pennsylvania resolved to send "an exploring expedition to Babylonia"—with the stipulation that the University would build "suitable accommodations" to house any artifacts that the first expedition team, and others, would bring back.
Since that time, the collections of the Penn Museum, built through a vigorous program of archaeological excavations, anthropological expeditions, planned purchases, and fortuitous donations, have grown to about one million objects. The diverse, internationally acclaimed Collection hails from six continents and spans the millennia, shedding light on the vast scope of human activity and achievement. The permanent building to house the field notes and artifacts came more than a decade later, with the first section of the Museum, at what is now 3260 South Street, opening in 1899.
Now, the Penn Museum begins its 125th anniversary year by placing its Collection front and center, launching the Penn Museum online Collections Database from the Museum's homepage: www.penn.museum. It's a place where scholars can go to get preliminary information on a particular artifact or set of artifacts, teachers and school children can explore a region's cultural materials, and anybody with access to a computer can "curate" their own set of favorite "finds" and share them with friends.
The new public database allows users to search in multiple ways, including by keyword, curatorial section, type of material, and display status. Highlights from the Collection are featured, as are several cross-cultural thematic collections, including Egyptian Afterlife, Hair & Makeup, Feathers, and Animals.
"The Museum was conceived as a public institution with a solid research and collection focus, and it seems only fitting that we should time our public launch of the Museum's artifact database on this major anniversary year," noted Dr. Richard Hodges, Williams Director of the Penn Museum.
Though launched and open to the public, the online collections database, like the study of archaeology and anthropology, is a work in progress. It currently contains more than 326,000 object records representing 660,000 objects, and 51,500 images illustrating 24,500 object records. Collections staff and volunteers continue to input data and images, and the Museum anticipates that the database will grow by about 5,000 photographs and 7,000 new records every six months.
Due to the nature of the collections and the varied means of collecting over 125 years, some records are far more detailed than others, and some information presented may have inaccuracies that may date from information input at the time of collecting.
"In developing the online database, we decided to let the scholars and the public see the records as we have them today—rather than wait, what could be many years, to research and confirm all information collected over the decades," explained Dr. James Mathieu, Chief of Staff and Head of Collections. "What we have online today is a virtual look, really, not only at our collections, but our collections history. 2012 is a great year to invite our constituents—international scholars, students, and the general public—to delve into the Penn Museum's collections, for inspiration, personal discovery, and to join us in the ongoing research about our shared human heritage."
The engine behind the public Collections Database is a customized version of KE Software's EMu (electronic museum) collections management system which the Penn Museum began using in November 2010. The EMu database system and the online Collections site have been made possible by grants from the Philadelphia Cultural Management Initiative and the William Penn Foundation, and support from the Kowalski Family Fund for Digital Initiatives and A. Bruce and Margaret Mainwaring.
Penn Museum continues the celebration of its 125th anniversary year with a rich set of programs geared for diverse ages and interests, from scholarly symposia to "40 Winks with the Sphinx" sleepovers, special exhibitions (including MAYA 2012: Lords of Time, featuring never-before-seen material from the Museum's recent excavations at Copan in Honduras), lecture series, and world culture afternoons. A special 125th anniversary edition of the Museum's Expedition magazine, focusing on 125 famous research expeditions, is due out in December, and a December 6, 2012 special event—details yet to be announced—will mark the official anniversary.
The University of Pennsylvania Museum of Archaeology and Anthropology is dedicated to the study and understanding of human history and diversity. Founded in 1887, the Museum has sent more than 400 archaeological and anthropological expeditions to all the inhabited continents of the world. With an active exhibition schedule and educational programming for children and adults, the Museum offers the public an opportunity to share in the ongoing discovery of humankind's collective heritage.
Penn Museum is located at 3260 South Street, Philadelphia, PA 19104 (on Penn's campus, across from Franklin Field). Public transportation to the Museum is available via SEPTA's Regional Rail Line at University City Station; the Market-Frankford Subway Line at 34th Street Station; trolley routes 11, 13, 34, and 36; and bus routes 12, 21, 30, 40, and 42. Museum hours are Tuesday and Thursday through Sunday, 10:00 am to 5:00 pm, and Wednesday, 10:00 am to 8:00 pm, with P.M. @ PENN MUSEUM evening programs offered select Wednesdays. Closed Mondays and holidays. Admission donation is $10 for adults; $7 for senior citizens (65 and above); $6 children (6 to 17) and full-time students with ID; free to Members, PennCard holders, and children 5 and younger; "pay-what-you-want" the last hour before closing. Hot and cold meals and light refreshments are offered to visitors with or without Museum admission in The Pepper Mill Café; the Museum Shop and Pyramid Shop for Children offer a wide selection of gifts, books, games, clothing and jewelry. Penn Museum can be found on the web at www.penn.museum. For general information call (215) 898-4000. For group tour information call (215) 746-8183.
Captions, top to bottom: Crystal Ball (19th Century) The forty-nine pounds of transparent quartz crystal is said to be from the imperial collections of the infamous Qing dynasty Empress Cixi (1835 – 1908). The crystal ball, which enjoys pride of place in the center of the Museum's Chinese Rotunda, has been in the Museum's collections since 1927. (Museum object# C681A); Statue of Fudo (19th Century), one of the Japanese Myo-o (Knowledge Kings), sits in the midst of fire symbolizing invulnerability. Also known as the immovable one, he is a part of a fierce class of protective deities who form an important category in Shingon art. (Museum object # 29-96-346); Etruscan Helmet (circa 725-700 BCE), made from hammered bronze. The sheer size of this battle accouterment allowed its wearer to be identified at a distance by his followers. This is one of two helmets found buried with the same warrior. (Museum object #MS850) Photos: Penn Museum.