"Anthropologists in the Making Summer Camp" for Children Ages 7 to 13 Runs Weekly June 18 through August 10, 2012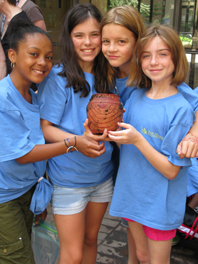 PHILADELPHIA, PA—This summer, adventurous children ages 7 through 13 can experience a unique day camp that takes them through time and across continents at the University of Pennsylvania Museum of Archaeology and Anthropology on Penn's campus in Philadelphia.
"Anthropologists in the Making," runs eight theme-oriented one-week sessions from June 18 through August 10, 2012. Details about the popular camp, coordinated by the Penn Museum's Community Engagement department, are online: www.penn.museum/camp. A downloadable registration form is also available.
Children may attend one or more of this year's weekly-themed programs:
Session 1: June 18–22 Are You Game?
Take a turn playing games of skill and chance. Circle the globe as you discover games that are used for entertainment, learning new skills, and marking important events. Search for ancient game pieces in the Museum's galleries, challenge a fellow camper to a friendly match of senet or mancala, and participate in a Maya ballgame. Then with your newfound knowledge, create your own game for others to try.
Session 2: June 25–29 African Kingdoms
Africa has been home to many great kingdoms, each with its own political structure, culture, and traditions. Take an expedition across this vast continent as you explore the pyramids and temples of ancient Egypt, the mudbrick mosques of the Mali Empire, and the Great Enclosure of Zimbabwe. Recreate a Benin brass plaque, learn about Maasai medicine, and sculpt a Nubian swabti. Celebrate Africa's diversity as you contribute to a Dignitary Ceremony with new friends.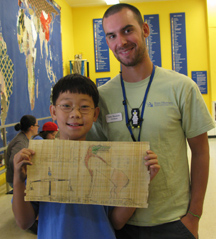 Session 3: July 2–6 On the Move
You are the product of a journey that began two million years ago in Africa. Learn about early hominids and Neanderthals as you touch casts of fossil bones from the human evolutionary record, participate in the Early Human Obstacle Course, and recreate a Neolithic cave. Discover the story of human migration today and learn about nomadic cultures across the world as you engineer and personalize your own miniature Mongolian ger and more.
Session 4: July 9–13 Digging in the Dirt
Who are archaeologists? They are very different from what you see in the movies. Learn how to think like an archaeologist as you unearth ancient Maya artifacts in a mock excavation. Visit MAYA 2012: Lords of Time, Penn Museum's special exhibition, and conduct research about your excavated artifacts. Catalog, clean, restore your finds, and deduce their meaning. Learn about techniques used in the field and talk with archaeologists about their own excavations.
Session 5: July 16–20 Museums 101
Did you know that there are more museums in the US than Starbucks cafés? Learn why museums are so important as you explore the roles of conservationists, exhibit designers, and educators. See the inner workings of a museum as you travel to "Employee Only" areas of the building. Work with new friends to repair broken ceramic vessels and create a museum exhibition, complete with tours and interactives, for family to visit.
Session 6: July 23–27 Who's Who in Ancient Egypt
Take a trip back in time to early Egypt by exploring the ancient palace and artifacts found in the galleries of the museum. Discover what daily life was like for pharaohs, priests, scribes, and commoners. Become an instant pharaoh as you make a crook, flail, and crown. Make papyrus, sculpt a magic wand, and engineer a boat for the Nile. Learn more about mummies when you chat with an Egyptologist.
Session 7: July 30–August 3 A Classical Odyssey
Did you know that the name "Philadelphia" comes from the Greek word for brotherly love? Explore Greek and Roman culture at the time when the Mediterranean was the center of government, the arts, and sciences. Discover the trial of Socrates, gladiatorial clashes, Hippocratic cures, and the geometry of Pythagoras. Appreciate the legacy of classical arts and ideas as you witness pantomimes, participate in a mock trial, and play some "Olympic" games.
Session 8: August 6–10 Contact!
What happens when two cultures come into contact with one another? While epidemics and conflict were often a result, interactions also allowed for the trade of ideas, natural resources, and goods. Explore the outcomes of the Viking raids, the Mongol hordes, and the Roman Empire. Discover the effects of the Spanish conquistadors on the Maya and Aztec Empires. Sculpt a miniature Roman sarcophagus, admire the music and legends of Native American cultures, and try weaving with a Maya backstrap loom.
Camp hours are 9 am to 3 pm, with optional pre-camp (8-9 am) and post-camp (3-5 pm) care. For more information or to request a brochure, call (215) 898-4016, or e-mail This email address is being protected from spambots. You need JavaScript enabled to view it. , and visit the website at www.penn.museum/camp. Registration begins in February 2012.
Penn Museum, located at 3260 South Street on the Penn campus in Philadelphia, is dedicated to the study and understanding of human history and diversity. Founded in 1887, the Museum has sent more than 400 archaeological and anthropological expeditions to all the inhabited continents of the world. With an active exhibition schedule and educational programming for children and adults, the Museum offers the public an opportunity to share in the ongoing discovery of humankind's collective heritage. For general information, visitors may call (215) 898-4000, or visit the Museum's website at www.penn.museum.
Photos, top to bottom:Four newfound friends show a pot that they found while excavating a mock site based on the Penn Museum's work in Ban Chiang, Thailand; a camper shows a drawing, based on the ancient Egyptian Book of the Dead, that he created on papyrus; and campers screen the dirt from their mock excavation while a counselor looks on, at previous Penn Museum summer camps.