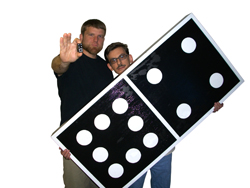 The University of Pennsylvania is exploring games with its 2011-12
Year of Games
, and the Penn Museum joins in the action, inviting visitors of all ages to an afternoon to learn, play, and discover more about games from all over the world.
Travel the World with Games, a World Culture Day afternoon, runs Sunday, November 6, from 1:00 to 4:00 pm the Penn Museum. Visitors of all ages are invited to learn and play a variety of games with game instructors on hand throughout the Museum's international galleries: Go (an ancient game of Japan), Backgammon (originating in Asia Minor), Chess (originally from Northwest India), Senet (from Egypt, perhaps the oldest game in the world), Mancala (originating in Eritrea or Ethiopia), the Royal Game of Ur (discovered at the site of Ur in ancient Iraq)-and more. The event is free with Museum admission donation.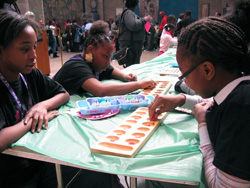 The highlight of the afternoon is at 3:00 pm: the ultimate domino show, setup by the Super Domino Brothers Mike and Steve Perrucci of Perkasie, Pa. in the Museum's massive, echo-rich Chinese Rotunda. The brothers bring their own handmade dominoes--in this case, 10,000 domino pieces in twenty different colors. They'll spend about 15 hours in pre-show setup before the event. Dominos are arranged in a long line to create a chain reaction, or a domino effect. Placed precisely, only the first domino is toppled by hand-the others are part of a reaction, and can include special tricks, such as three-dimensional stackings, shapes, and letters, and even the use of Rube Goldberg-esque contraptions.
The Super Domino Brothers, who engage in domino shows for the sheer fun of it, are happy to be invited to the Penn Museum.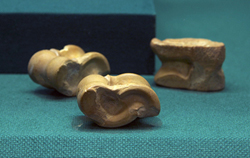 Year of Games Display
A "Year of Games" two-case display in the Trescher Entrance atrium features objects from the Museum's Asian, American, and Near East Collections. The "Games of Chance" case includes 3,300-year-old Knucklebones, excavated at Beth Shean, Israel, which once served as ancient dice for predicting the future, and a Totolospi board and game pieces of the Hopi people, collected in 1901. A variety of Native American playing balls, and a bamboo ball from Thailand used to play sepak takraw, that country's official sport, are included in the "Games of Skill" case.
For those inspired by playing, the Museum Shop and Pyramid Shop at the Penn Museum and University City's game shop, Redcap's Corner, will be on hand selling games.
The University of Pennsylvania Museum of Archaeology and Anthropology is dedicated to the study and understanding of human history and diversity. Founded in 1887, the Museum has sent more than 400 archaeological and anthropological expeditions to all the inhabited continents of the world. With an active exhibition schedule and educational programming for children and adults, the Museum offers the public an opportunity to share in the ongoing discovery of humankind's collective heritage.
Penn Museum is located at 3260 South Street, Philadelphia, PA 19104 (on Penn's campus, across from Franklin Field). Public transportation to the Museum is available via SEPTA's Regional Rail Line at University City Station; the Market-Frankford Subway Line at 34th Street Station; trolley routes 11, 13, 34, and 36; and bus routes 12, 21, 30, 40, and 42. Museum hours are Tuesday and Thursday through Sunday, 10:00 am to 5:00 pm, and Wednesday, 10:00 am to 8:00 pm, with P.M. @ PENN MUSEUM evening programs offered select Wednesdays. Closed Mondays and holidays. Admission donation is $10 for adults; $7 for senior citizens (65 and above); $6 children (6 to 17) and full-time students with ID; free to Members, PennCard holders, and children 5 and younger; "pay-what-you-want" the last hour before closing. Hot and cold meals and light refreshments are offered to visitors with or without Museum admission in The Pepper Mill Café; the Museum Shop and Pyramid Shop for Children offer a wide selection of gifts, books, games, clothing and jewelry. Penn Museum can be found on the web at www.penn.museum. For general information call 215.898.4000. For group tour information call 215.746.8183.
Image Captions: (Top image) Visitors to a previous Penn Museum World Culture Day play Mancala. Children and families can learn how to play mancala during the Museum's "Year of Games" on Sunday, November 6, 2011, from 1 to 4 pm. Photo: Penn Museum. (Middle image) "Super Domino Brothers" Mike and Steve Perrucci. The brothers will set off a 10,000 piece domino run as part of the Museum's "Year of Games" event on Sunday, November 6. Image courtesy of Mike Perrucci. (Bottom image) These astragali (ankle) bones of fallow deer are from Beth Shean, Israel, 13th century BCE. Originally used for divination purposes, knucklebones inspired the game we know today as "jacks". This artifact is featured in Penn Museum's "Year of Games" two-case display, as part of the University of Pennsylvania's yearlong exploration of games in all their forms. Photo: Penn Museum.