Outside the Wire, LLC to Present Reading of Joseph Addison's CATO: A TRAGEDY, Followed by Discussions with First Responders, War Veterans, Elected Officials, and Concerned Citizens about the U.S. Response to the Attacks on September 11, 2001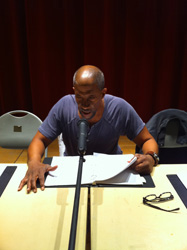 Philadelphia, PA - On Sunday, September 11, 2011-the tenth anniversary of the hijacking of four American planes and the attacks on the World Trade Center and the Pentagon-Penn Museum hosts a dynamic new theatrical presentation and an interactive, follow-up discussion facilitated by the nationally acclaimed social impact company Outside the Wire, LLC. The free program to mark the anniversary runs from 3:00 to 5:00 pm in the Museum's Harrison Auditorium (seating is first-come, first-served). Advance registration is recommended: www.penn.museum/calendar.
Visitors to the Penn Museum on September 11 will also have the opportunity to visit a special display, Excavating Ground Zero: Fragments from 9/11 (on view August 20 through November 6, 2011) and attend a 1:00 pm lecture, "Making a Monument: The Fall and Rise of the World Trade Center" presented by Dr. David Brownlee, Shapiro-Weitzenhoffer Professor of the History of Art at Penn (admission is pay-what-you-want).
Cato: 9/11
In order to foster crucial discussion between diverse audiences about the lasting impact of the attacks that took place on September 11, 2001, a group of actors, including Reg E. Cathey, best known for his roles on HBO's The Wire and Oz, present scenes from Joseph Addison's 18th century play Cato: A Tragedy. The reading is followed by responses from community panelists-including a first responder, a veteran of the recent conflicts, an elected official, and a concerned citizen-and a town hall-style discussion about the attacks on September 11, and the cost of the ensuing 10 years of the current conflicts upon individuals, families, caregivers, communities, and the United States of America.
Cato: A Tragedy is based on the final days of Roman Senator Cato, and recounts his last stand against the tyranny of Caesar. The play was beloved by many of the Founding Fathers, including Benjamin Franklin, Patrick Henry, and George Washington, who were so profoundly influenced by the work that they quoted or paraphrased it frequently in letters, essays, and speeches. Benjamin Franklin was known to have memorized huge portions of the play, and Patrick Henry borrowed his famous line, "Give me liberty or give me death, " directly from one of Cato's speeches. George Washington staged Cato for the Continental Army at Valley Forge, Pa. to remind his troops, as they were starving and freezing to death, that there were causes worth dying for, such as liberty and the Republic.
"We are presenting Addison's Cato on September 11, 2011 to recognize the immense sacrifices of those who have given their lives on behalf of our country and-through the lens of a play that helped shape our national
identity-to look at how the attacks, and the last ten years of conflict, have tested our ideals and values," said Bryan Doerries, Artistic Director of Outside the Wire.
"This interactive event is intended to promote constructive, respectful dialogue about the triumphs and tribulations of American nationalism, exceptionalism, and interventionism," stated Phyllis Kaufman, Producing Director of Outside the Wire.
About Outside the Wire
Outside the Wire, LLC, is a social impact company that uses theater and a variety of other media to address pressing public health issues, such as combat-related psychological injury, end of life care, prison reform, the destigmatization of the treatment of substance abuse and addiction, and political violence. More information can be found at: www.outsidethewirellc.com.
Penn Museum Special Display and Programs Around 9/11
More information about Penn Museum programs around the September 11, 2001 Tenth Anniversary is online.
This program has been supported in part by the Pennsylvania Humanities Council, the Federal-State Partner of the National Endowment for the Humanities.
The University of Pennsylvania Museum of Archaeology and Anthropology is dedicated to the study and understanding of human history and diversity. Founded in 1887, the Museum has sent more than 400 archaeological and anthropological expeditions to all the inhabited continents of the world. With an active exhibition schedule and educational programming for children and adults, the Museum offers the public an opportunity to share in the ongoing discovery of humankind's collective heritage.
Penn Museum is located at 3260 South Street, Philadelphia, PA 19104 (on Penn's campus, across from Franklin Field). Public transportation to the Museum is available via SEPTA's Regional Rail Line at University City Station; the Market-Frankford Subway Line at 34th Street Station; trolley routes 11, 13, 34, and 36; and bus routes 12, 21, 30, 40, and 42. Museum hours are Tuesday and Thursday through Sunday, 10:00 am to 5:00 pm, and Wednesday, 10:00 am to 8:00 pm, with P.M. @ PENN MUSEUM evening programs offered select Wednesdays. Closed Mondays and holidays. Admission donation is $10 for adults; $7 for senior citizens (65 and above); $6 children (6 to 17) and full-time students with ID; free to Members, PennCard holders, and children 5 and younger; "pay-what-you-want" the last hour before closing. Hot and cold meals and light refreshments are offered to visitors with or without Museum admission in The Pepper Mill Café; the Museum Shop and Pyramid Shop for Children offer a wide selection of gifts, books, games, clothing and jewelry. Penn Museum can be found on the web at www.penn.museum. For general information call (215) 898-4000. For group tour information call (215) 746-8183.
Photo: Reg. E. Cathey, one of the actors to perform the dramatic reading of Cato: A Tragedy.