Penn Museum Presents Memorial Display and Related Programming
September 11--An Afternoon Remembrance
Ten years to the day that two hijacked planes crashed into the twin towers of the World Trade Center in New York City, Penn Museum marks the solemn occasion with two special programs September 11, and one October 12--and a powerful display, Excavating Ground Zero: Fragments from 9/11, on view August 20 through November 6, 2011. The program and the display offer visitors a timely opportunity to remember--and reflect anew.
On Sunday, September 11, 2011, Penn Museum offers pay-what-you-want admission.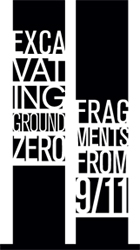 Special Display
Excavating Ground Zero: Fragments from 9/11
August 20 through November 6, 2011
In the weeks, months, and years following the events of September 11, 2001, archaeologists and physical anthropologists excavated the site of the World Trade Center in New York City. Penn Museum's special display features 15 poignant objects recovered at the site of Ground Zero, including eyeglasses, a computer keyboard, glass from the Twin Towers, and visitor badges. Visitors can observe a Twin Towers memorial sculpture and image projections from the day of the attacks. A focal point of the display is a wall where visitors can share memories of September 11. The display invites guests to remember where they were that morning as they view the display of recovered fragments from Ground Zero. The display was organized in conjunction with The National September 11 Memorial Museum.
September 11
Sunday, 1:00 pm
Afternoon Lecture
Making a Monument: The Fall and Rise of the World Trade Center
Minoru Yamasaki's design for the World Trade Center, unveiled in 1964, was harshly criticized, only gradually gaining a place in the hearts of New Yorkers and tourists alike in the years that followed the towers opening in 1972-73. After they were destroyed on September 11, 2001, the twin towers were lionized. Like monuments in all ages, the World Trade Center has had its meaning defined and changed several times in response to the needs, expectations, and memories of the people. Dr. David Brownlee, Shapiro-Weitzenhoffer Professor of the History of Art at Penn, recounts the story of the World Trade Center as he explores the making of monuments in the modern world. Admission: Pay-what-you-want.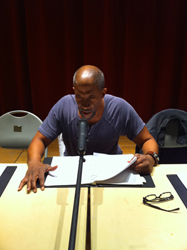 September 11
Sunday, 3:00 pm
Performance of Cato: A Tragedy by Joseph Addison Featuring Actor Reg E. Cathey
Cato: 9/11 is an innovative project featuring dramatic readings of scenes from Joseph Addison's Cato as a catalyst for town hall-style discussions about the lasting impact of the attacks on September 11, 2001 upon U.S. citizens, communities, and the nation at large. First published and performed in 1713, this once wildly popular play, much-beloved by the U.S. Founding Fathers, follows the Roman Senator Cato in his final days, recounting his last stand against the tyranny of Julius Caesar. This interactive event is intended to promote constructive, respectful dialogue within diverse communities about the triumphs and tribulations of American nationalism, exceptionalism, and interventionism. Presented by Outside the Wire, LLC, Bryan Doerries, Artistic Director and Phyllis Kaufman, Producing Director. More information: www.outsidethewirellc.com Admission is free. Reservations suggested.
This program has been supported in part by the Pennsylvania Humanities Council, the Federal-State Partner of the National Endowment for the Humanities.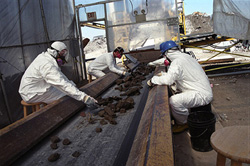 October 12
Wednesday, 6:00 pm
Penn Cultural Heritage Center Lecture
From the Sacred to the Historical: Ten Years after September 11, 2001
Immediately following the attacks of September 11, 2001, curators at the New York State Museum began to document, collect, preserve, and eventually exhibit material that would record the tragic events and bring the history to the public in new ways. Many unprecedented issues were confronted including collecting at crime scenes, working with families, survivors, the FBI, NYPD, FDNY and many city agencies--and the work continues today. Mark Schaming, Director of Exhibitions, New York State Museum, discusses the issues of collecting sensitive material, the museum exhibitions that followed, and the museum visitor reaction within a close time frame of a tragic event. Admission: Pay-what-you-want.

The University of Pennsylvania Museum of Archaeology and Anthropology is dedicated to the study and understanding of human history and diversity. Founded in 1887, the Museum has sent more than 400 archaeological and anthropological expeditions to all the inhabited continents of the world. With an active exhibition schedule and educational programming for children and adults, the Museum offers the public an opportunity to share in the ongoing discovery of humankind's collective heritage.
Penn Museum is located at 3260 South Street, Philadelphia, PA 19104 (on Penn's campus, across from Franklin Field). Public transportation to the Museum is available via SEPTA's Regional Rail Line at University City Station; the Market-Frankford Subway Line at 34th Street Station; trolley routes 11, 13, 34, and 36; and bus routes 12, 21, 30, 40, and 42. Museum hours are Tuesday and Thursday through Sunday, 10:00 am to 5:00 pm, and Wednesday, 10:00 am to 8:00 pm, with P.M. @ PENN MUSEUM evening programs offered select Wednesdays. Closed Mondays and holidays. Admission donation is $10 for adults; $7 for senior citizens (65 and above); $6 children (6 to 17) and full-time students with ID; free to Members, PennCard holders, and children 5 and younger; "pay-what-you-want" the last hour before closing. Hot and cold meals and light refreshments are offered to visitors with or without Museum admission in The Pepper Mill Café; the Museum Shop and Pyramid Shop for Children offer a wide selection of gifts, books, games, clothing and jewelry. Penn Museum can be found on the web at www.penn.museum. For general information call (215) 898-4000. For group tour information call (215) 746-8183.
Captions: (Top image): Aerial view of lower Manhattan showing the World Trade Center before the attacks on September 11, 2011. (Middle image): Actor Reg E. Cathey, who performs in a dramatic reading of Cato at the Penn Museum on Sunday, September 11, 2011. Photo courtesy: Theater of War. (Bottom image): Recovery agents sorting rubble at the World Trade Center Recovery Operation at Fresh Kills Landfill, 2001. Photo courtesy: Mark Schaming.