Penn Museum in Philadelphia Explores Origins of 2012 End of World Predictions
With Major New Exhibition MAYA 2012: Lords of Time
Advance Group Tickets on Sale Now
PHILADELPHIA, PA —Did the Maya believe the world would end in December 2012? In MAYA 2012: Lords of Time—a major new exhibition opening next May—the Penn Museum in Philadelphia confronts the current fascination with the year 2012, comparing predictions of a world-transforming apocalypse with their supposed origins in the ancient Maya civilization.
MAYA 2012 leads visitors on a journey through the Maya's time-ordered universe, expressed through their intricate calendar systems, and the power wielded by their divine kings, the astounding "lords of time." Visitors explore the Maya world through interactive experiences and walk among sculptures and full-sized replicas of major monuments.
The exhibition features more than 100 remarkable objects including artifacts recently excavated by Penn Museum archaeologists from the site of Copan, Honduras.
Visitors follow the rise and fall of Copan, moving across the centuries to discover how Mayan ideas about time and the calendar have changed up to the present day. Contemporary Maya speak to their own heritage and concerns for the future.
MAYA 2012 uncovers a history and culture far richer than commonly supposed.
MAYA 2012: Lords of Time opens May 5, 2012 and runs through January 13, 2013.
Group Ticket and Tour Information
Discounted group timed tickets for groups of 10 or more (includes admission to the rest of the Museum) are available for purchase now:
• Adult: $17.50
• Senior (65+)/Military/Students (full-time with ID): $15
• Children (6 to 17 years): $12

Call or email about extended group hours, tailored package options, and reservations:
(215) 746-8183 (K-12 student groups) or (215) 746-4174 (all other groups) or email This email address is being protected from spambots. You need JavaScript enabled to view it. .
Museum hours during the MAYA 2012: Lords of Time exhibition are Tuesday, 10:00 am to 5:00 pm; Wednesday, 10:00 am to 8:00 pm; and Thursday through Sunday, 10:00 am to 5:00 pm.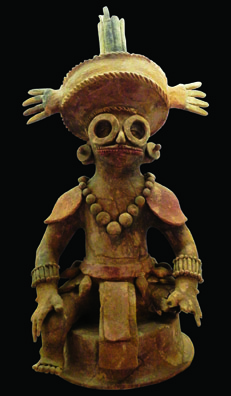 Individuals and groups can receive update emails about MAYA 2012 by signing up at
www.penn.museum/maya2012.
About the Penn Museum
A visit to the internationally renowned University of Pennsylvania Museum of Archaeology and Anthropology, 3260 South Street on the Penn campus in Philadelphia, is a visit through time and across continents-under one roof. Three gallery floors feature materials from ancient Egypt, Mesopotamia, Asia, the ancient Mediterranean World, the Americas, and Africa. Amenities include inner gardens, two shops, and the glass enclosed Pepper Mill Café, operated by Wolfgang Puck Catering.
Founded in 1887, Penn Museum is dedicated to the study and understanding of human history and diversity. Over its history, the Museum has sent more than 400 archaeological and anthropological expeditions to all the inhabited continents of the world. With an active exhibition schedule and educational programming for children and adults, the Museum offers the public an opportunity to share in the ongoing discovery of humankind's collective heritage. For general information: www.penn.museum, or (215) 898-4000.
Captions (First image): The Margarita Panel, ca. 450 CE, is a modeled-stucco building façade. It features an emblematic hieroglyph naming the Copan royal founder Yax K'uk' Mo'. It consists of two entwined birds: a quetzal bird (k'uk') and scarlet macaw (mo'), with crest elements that spell the initial part of the name yax "New/First." MAYA 2012 features a replica of the Margarita Panel, discovered by a Penn Museum-led excavation team in the 1990s. Photo: Kenneth Garrett.
(Second image): This modeled-clay lid to a censer, or incense burner, is one of 12 ceramic lids that features portraits of Copan kings. It shows the distinctive "goggles" that identify the Copan founder Yax K'uk' Mo'.
(28" T x 16" W x 15") Photo: Honduran Institute of Anthropology and History.