Imagine Africa with the Penn Museum
Gallery Project and Fall Public Programs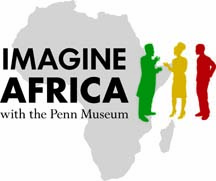 For the most updated information on programs offered at the Penn Museum, and for online pre-registration (optional or required for some programs) visit the Museum's website: www.penn.museum/calendar, or call (215) 898-2680. Imagine Africa with the Penn Museum is a year-long initiative. Additional Imagine Africa programs and updates will be posted online: www.penn.museum/imagineafrica.
Beginning September 18, 2011
Imagine Africa with the Penn Museum
How do you imagine Africa? Do you see it as the home of powerful nations? Perhaps you think of intricately carved masks or fine art. Maybe you're interested in the peoples living in Africa today. Imagine Africa with the Penn Museum is a 12-month community engagement project investigating your perspectives. Drawing upon its extraordinary African collection, the Museum presents more than 50 objects framed around eight broad topics including Beauty, Power, and the Divine. Text and interactive elements offer opportunities for more in-depth exploration. Through a variety of methods, visitors are asked to provide feedback on the objects and content they see, and to discuss what would make an engaging exhibition-from their point of view. All feedback will be collected as the Museum plans a future re-installation of its African collection informed by both academic and community perspectives. Imagine Africa is made possible with funding from the Pew Center for Arts and Heritage through the Heritage Philadelphia Program, and the PoGo Family Foundation. Sharpe Hallway, 2nd floor

September 18
Sunday, 1:00 - 4:00 pm
Gallery Project Opening Celebration
Imagine Africa!
Penn Museum launches its new year-long gallery project, inviting visitors to join us as we begin a dialog about Africa, the second largest continent on earth, home to more than a billion people—with a lively afternoon celebration designed to engage and delight the entire family. Traditional storytelling, electrifying African dance and music performances and workshops, children's activities, gallery tours and more enliven the Museum. Free with Museum admission.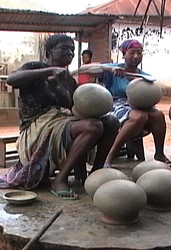 October 1- 2
Saturday and Sunday, 10:00 am to 3:00 pm
Imagine Africa Program  SOLD OUT!
Weekend Ceramic Workshop for Artists: Pots in America
Learn West African pot building techniques, and gain insight into the traditional art form of West African ceramics, at this adult workshop presented by master ceramicist Winnie Owens-Hart. A long-time professor at Howard University, Ms. Owens-Hart teaches courses in ceramics ranging from contemporary trends to techniques of traditional African ceramics. This program is supported by the Pew Center for Arts and Heritage through the Heritage Philadelphia Program. Admission is free; space is limited. Pre-registration required: (215) 898-2680.
October 9
Sunday, 1:00 to 4:00 pm
Family Sunday
Imagine Creating
Be inspired by the traditional cloth-making techniques and patterns from the Imagine Africa with the Penn Museum gallery installation. Then, design your own colorful creations to take home at this intergenerational, "drop-in" program, featuring touchable objects to extend your experience, and hands-on crafts! Free with Museum admission donation.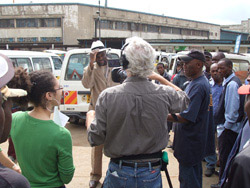 October 20
Thursday, 6:00 pm
Imagine Africa Lecture Series
Africa and the World
Dr. Tukufu Zuberi, the Lasry Family Professor of Race Relations at the University of Pennsylvania, filmmaker, human rights activist, and host of the PBS series "History Detectives," kicks off the four-part Imagine Africa contemporary issues lecture series, discussing the challenges of making a documentary in Africa. This multimedia presentation explores the power of documentary film making and other forms of media in telling the story of the impact the world has had on Africa, and in turn, the impact Africa has had on the world. This program is co-sponsored by Penn's Center for African Studies. Lecture series continues in November. Admission: Pay-what-you-want.

October 26
Wednesday, 5:30 to 7:30 pm
Community Night
An Evening to Imagine Africa
Explore the vast continent of Africa through an evening of traditional and modern music, dance and storytelling with local artists. Be adventurous, and take a scavenger hunt around the Museum discovering new ways to connect with ancient artifacts. For a full list of events please visit www.penn.museum/imagineafrica. Admission is free!
Penn Museum (the University of Pennsylvania Museum of Archaeology and Anthropology) is dedicated to the study and understanding of human history and diversity. Founded in 1887, the Museum has sent more than 400 archaeological and anthropological expeditions to all the inhabited continents of the world. With an active exhibition schedule and educational programming for children and adults, the Museum offers the public an opportunity to share in the ongoing discovery of humankind's collective heritage.
Penn Museum is located at 3260 South Street, Philadelphia, PA 19104 (on Penn's campus, across from Franklin Field). Public transportation to the Museum is available via SEPTA's Regional Rail Line at University City Station; the Market-Frankford Subway Line at 34th Street Station; trolley routes 11, 13, 34, and 36; and bus routes 12, 21, 30, 40, and 42. Museum hours are Tuesday and Thursday through Sunday, 10:00 am to 5:00 pm, and Wednesday, 10:00 am to 8:00 pm, with P.M. @ PENN MUSEUM evening programs offered select Wednesdays. Closed Mondays and holidays. Admission donation is $10 for adults; $7 for senior citizens (65 and above); $6 children (6 to 17) and full-time students with ID; free to Members, PennCard holders, and children 5 and younger; "pay-what-you-want" the last hour before closing. Hot and cold meals and light refreshments are offered to visitors with or without Museum admission in The Pepper Mill Café; the Museum Shop and Pyramid Shop for Children offer a wide selection of gifts, books, games, clothing and jewelry. Penn Museum can be found on the web at www.penn.museum. For general information call (215) 898-4000. For group tour information call (215) 746-8183.
Photo, top: Ceramicist and Winnie Owens-Hart in West Africa. Photo courtesy Winnie Owens-Hart. Bottom: Dr. Zuberi being filmed in Nairobi, Kenya. Photo: Opiyo.