IRAQ'S ANCIENT PAST: REDISCOVERING UR'S ROYAL CEMETERY
Reopens following Gallery Renovations Saturday April 30, at 1:00 pm
Penn Museum's World-renowned Mesopotamian Collection from Ur is the Centerpiece of this Exhibition Exploring Iraq's Ancient Cultural Heritage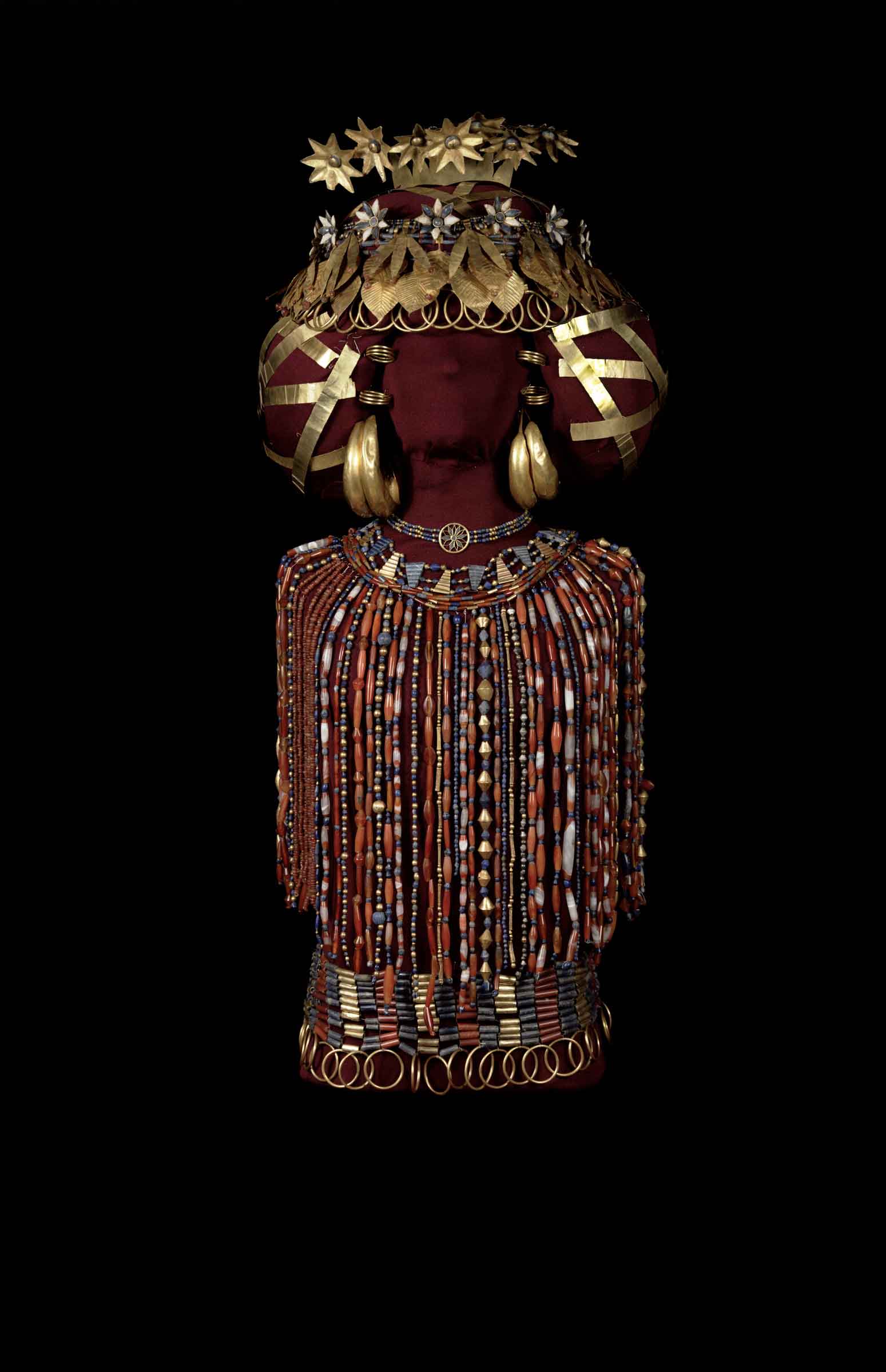 PHILADELPHIA, PA Spring 2011—Following major renovations to the third floor west wing galleries—including the addition of central air conditioning, new windows, lighting enhancements and refurbishment to the terrazzo flooring and marble trim-Penn Museum reopens the wing to the public on Saturday, April 30 at 1:00 pm, with a ribbon cutting ceremony and an invitation to visit two timely exhibitions: Battleground: War Rugs from Afghanistan, a traveling exhibition making its United States debut, and Iraq's Ancient Past: Rediscovering Ur's Royal Cemetery—a long-term exhibition featuring the Museum's world renowned Mesopotamian collections from Ur, newly reinstalled.
"With America engaged in military operations in both Iraq and Afghanistan, these two exhibitions are especially relevant," noted Dr. Richard Hodges, the Williams Director of the Penn Museum.  "Battleground provides a look at how one celebrated artistic tradition has been changed by war, while Iraq's Ancient Past explores an extraordinary ancient culture and heritage now at great risk from modern-day looting."
Iraq's Ancient Past: Rediscovering Ur's Royal Cemetery, an exhibition that features materials discovered at and excavated from the ancient Royal Cemetery at Ur, located in present-day Iraq, originally opened October 25, 2009. The exhibition has been closed during gallery renovations since July 2010.
About Iraq's Ancient Past
In 1922-the same year that Howard Carter made headlines with the discovery of Tutankhamen's tomb in Egypt-the Penn Museum and the British Museum embarked upon a joint expedition to the ancient site of Ur in southern Iraq. Led by British archaeologist C. Leonard Woolley, this expedition astonished the world by uncovering an extraordinary 4,500-year-old royal cemetery with more than 2,000 burials that detailed a remarkable ancient Mesopotamian civilization at the height of its glory.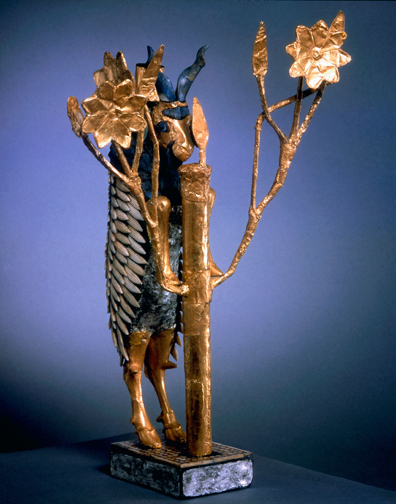 Iraq's Ancient Past: Rediscovering Ur's Royal Cemetery brings many of the details of that famous expedition vividly to life through field notes, photographs and archival documents-and more than 220 extraordinary ancient artifacts unearthed at the excavation. Iraq's Ancient Past looks to the present and future as well, exploring the ongoing story of scientific inquiry and discovery made possible by those excavations, and the pressing issues around the preservation of Iraq's cultural heritage today.
The centerpiece of the exhibition is a collection of famous ancient artifacts uncovered and, in some cases, painstakingly conserved, including the Ram-Caught-in-the-Thicket, the impressive headdress of Ur's Queen Puabi, along with many of her lavish burial goods, including extraordinary jewelry and other artifacts of gold, silver, lapis lazuli, carnelian, and alabaster. With the gallery reopening, the new presentation of the famous Bull's Headed Lyre panel and catalog (the head of the bull), now shown without the reconstructed wooden sound box, offers visitors a better view of the inlaid lapis lazuli and shell mosaic.
Excavations at Ur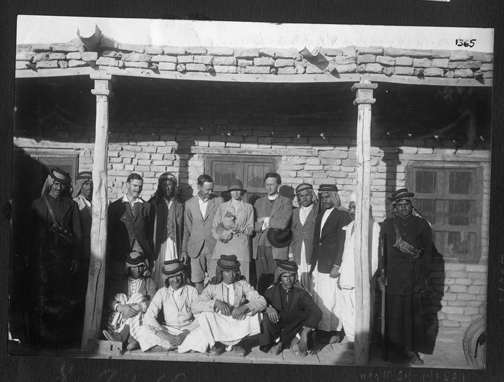 Iraqs Ancient Past recounts the formation of the joint Penn Museum/British Museum expedition to Ur, and the many excavation challenges that Woolley's team faced.
Believing that Ur was the biblical "Ur of the Chaldees," Woolley hoped to uncover Abraham's home and other biblical evidence. In 1929, he interpreted a deep layer of river clay he uncovered to be the remains of a "great flood" from the biblical story of Noah. Like so much discovered at Ur, his sensational story made international headlines.
Wooley's major discovery was the site of Ur's royal cemetery, where he uncovered nearly 2,000 burials. Sixteen of these he named "royal tombs" based on their style of construction, evidence of royal attendants, and the sheer wealth of the graves' contents. The three most celebrated tombs were Private Grave (PG) 789, the looted tomb of a king, PG800, the remarkably preserved tomb of Queen Puabi, and PG1237, which he dubbed "the Great Death Pit" because it contained 74 carefully laid out and richly adorned bodies (all but six female).
The famous excavations attracted the attention and involvement of a number of interesting personalities whom the exhibition also highlights. For example, T.E. Lawrence ("Lawrence of Arabia") was instrumental in securing the excavation and Woolley's participation, while Agatha Christie, who eventually married Woolley's assistant Max Mallowan, wrote Murder in Mesopotamia to mark her experience on site.
New Discoveries
Since the excavations came to a close in 1934, scholars have continued to study the Penn Museum's Ur collection, incorporating new evidence from other ancient sites and using improved conservation practices and new scientific techniques to further investigate the material. The exhibition details how scholars are rebuilding the story of 4,500-year-old trade networks across the Near and Middle East. Similarly, conservation and research on individual artifacts has yielded new information about life at Ur-sometimes directly contradicting Woolley. When he found the bodies of dozens of funeral attendants in the Great Death Pit, each with a cup nearby, he proclaimed they had willingly imbibed poison to join their Queen in the afterlife. New evidence from CT scans performed at the Hospital of the University of Pennsylvania reveal another story.
Iraq's Ancient Cultural Heritage at Risk
The exhibition concludes with a look at the situation in Iraq today, where looting in the Iraq National Museum (which opened in 1924 with objects from the Ur excavations) and at archaeological sites throughout the country has destroyed much evidence about the past. To date, the Ur excavation site has been largely preserved, having been contained within the boundaries of Tallil Air Base and under the control of allied forces until May 2009, when the site was officially returned to Iraq's State Board of Antiquities.
Iraq's Ancient Past was co-curated by the Penn Museum's Richard L. Zettler, Associate Curator-in-Charge of the Near East Section, and Holly Pittman, Curator in the Near East Section. They are contributors to Treasures from the Royal Tombs of Ur (Penn Museum, 1998), a catalogue from an earlier exhibition that featured material from this site. Iraq's Ancient Past was made possible with support from the Penn Museum Women's Committee, Diane von Schlegell Levy and Robert Levy, Annette Merle-Smith, and Mrs. H.J. Heinz II.
The University of Pennsylvania Museum of Archaeology and Anthropology is dedicated to the study and understanding of human history and diversity. Founded in 1887, the Museum has sent more than 400 archaeological and anthropological expeditions to all the inhabited continents of the world. With an active exhibition schedule and educational programming for children and adults, the Museum offers the public an opportunity to share in the ongoing discovery of humankind's collective heritage.
Penn Museum is located at 3260 South Street, Philadelphia, PA 19104 (on Penn's campus, across from Franklin Field). Public transportation to the Museum is available via SEPTA's Regional Rail Line at University City Station; the Market-Frankford Subway Line at 34th Street Station; trolley routes 11, 13, 34, and 36; and bus routes 12, 21, 30, 40, and 42. Museum hours are Tuesday and Thursday through Sunday, 10:00 am to 5:00 pm, and Wednesday, 10:00 am to 8:00 pm, with P.M. @ PENN MUSEUM evening programs offered select Wednesdays. Closed Mondays and holidays. Admission donation is $10 for adults; $7 for senior citizens (65 and above); $6 children (6 to 17) and full-time students with ID; free to Members, PennCard holders, and children 5 and younger; "pay-what-you-want" the last hour before closing. Hot and cold meals and light refreshments are offered to visitors with or without Museum admission in The Pepper Mill Café; the Museum Shop and Pyramid Shop for Children offer a wide selection of gifts, books, games, clothing and jewelry. Penn Museum can be found on the web at www.penn.museum. For general information call (215) 898-4000. For group tour information call (215) 746-8183.
Photos, top to bottom: Queen Puabi's Headdress, beaded cape and jewelry (includes comb, hair rings, wreaths, hair ribbons, and earrings) of gold, lapis lazuli, and carnelian, from the Royal Cemetery of Ur, ca 2550 BCE; "Ram Caught in a Thicket" (Height: 42.6 cm) of gold, lapis lazuli, copper, shell, red limestone, and bitumen, ca 2550 BCE. Black and white photograph at the Expedition House, left to right: Assistant field archaeologist Max Mallowan, site foreman Hamoudi, excavation director C. Leonard Woolley, Mrs. Katherine Keeling (Woolley's wife), and epigrapher Father Eric Burrows gather on a porch with Hamoudi's sons and local tribal guards for a photograph in 1928-29 during the excavation at Ur (Iraq).