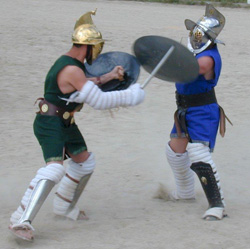 SPRING 2011-Penn Museum invites visitors to an afternoon exploring the history of the ancient Roman Empire's spectacular fighter--the gladiator. Gladiator Day features gladiatorial bouts and demonstrations, a gladiator lecture, gladiator-inspired arts and crafts, balloon art creations, a food demonstration, and Italian-inspired cuisine, on Saturday, April 23, from 1:00 to 4:00 pm, throughout the galleries of the University of Pennsylvania Museum of Archaeology and Anthropology. A PECO World Culture Day, the Celebration is FREE with Museum admission donation ($10 for adults; $7 for seniors [65+]; $6 for full-time students [with ID] and children [6-17]; free for Museum members, children under 6, and PennCard holders).
Gladiatorial "combat" in the Museum's outdoor Warden Garden "arena" takes place every hour, starting at 1:00 pm when re-enactors from
Ludus Magnus Gladiatores
(
The Great School of the Gladiator
) transport visitors back to ancient Roman times during the height of this violent spectator sport. Legion "soldiers" from Philadelphia, New Jersey, and New York, dressed in helmets and armor, with tridents, shields, and swords, perform an authentically rigorous, sword-swinging battle. Ludus Magnus Gladiators also demonstrate fighting techniques such as sword thrusting and explain the uses of assorted weaponry.
"The Virtues of Violence: Gladiators, Beasts, and Public Executions in Ancient Rome" is the subject of a 2:00 pm talk by Dr. Kathleen Coleman, Harvard Latin professor and historical consultant on Ridley Scott's movie Gladiator (2000).
Throughout the afternoon, visitors can design their own gladiator helmets at family crafts tables or enjoy themed balloon creations by Family Fun balloon artists. There is a Roman-inspired food demonstration by Wolfgang Puck Catering and Roman-themed items for sale at the Museum's Main Shop and Pyramid shop for children. The Pepper Mill Café joins in with an Italian lunch menu, as well as traditional fare.
Attendees can take a break from the action in the Warden "arena" to tour Penn Museum's Worlds Intertwined: Etruscans, Greeks and Romans. This suite of galleries features more than 1,000 ancient objects including marble and bronze sculptures, jewelry, metalwork, gold and silver coins, glass vessels, mosaics, and pottery. The exhibition tells the story of the ancient Greeks, the Etruscan people, and their empire-building successors, the Romans.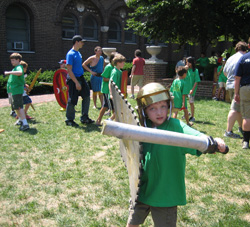 Based in Philadelphia, PECO, sponsor of the World Culture Day series, is an electric and natural gas utility subsidiary of Exelon Corporation (NYSE: EXC). PECO serves 1.6 million electric and 486,000 natural gas customers in southeastern Pennsylvania and employs about 2,400 people in the region. PECO delivered 84.3 billion cubic feet of natural gas and 38.1 billion kilowatt-hours (kWh) of electricity in 2009. Founded in 1881, PECO is one of the Greater Philadelphia Region's most active corporate citizens, providing leadership, volunteer and financial support to numerous arts and culture, education, environmental, economic development, and community programs and organizations.
The University of Pennsylvania Museum of Archaeology and Anthropology is dedicated to the study and understanding of human history and diversity. Founded in 1887, the Museum has sent more than 400 archaeological and anthropological expeditions to all the inhabited continents of the world. With an active exhibition schedule and educational programming for children and adults, the Museum offers the public an opportunity to share in the ongoing discovery of humankind's collective heritage.
Penn Museum is located at 3260 South Street, Philadelphia, PA 19104 (on Penn's campus, across from Franklin Field). Public transportation to the Museum is available via SEPTA's Regional Rail Line at University City Station; the Market-Frankford Subway Line at 34th Street Station; trolley routes 11, 13, 34, and 36; and bus routes 12, 21, 30, 40, and 42. Museum hours are Tuesday and Thursday through Sunday, 10:00 am to 5:00 pm, and Wednesday, 10:00 am to 8:00 pm, with P.M. @ PENN MUSEUM evening programs offered select Wednesdays. Closed Mondays and holidays. Admission donation is $10 for adults; $7 for senior citizens (65 and above); $6 children (6 to 17) and full-time students with ID; free to Members, PennCard holders, and children 5 and younger; "pay-what-you-want" the last hour before closing. Hot and cold meals and light refreshments are offered to visitors with or without Museum admission in The Pepper Mill Café; the Museum Shop and Pyramid Shop for Children offer a wide selection of gifts, books, games, clothing and jewelry. Penn Museum can be found on the web at www.penn.museum. For general information call (215) 898-4000. For group tour information call (215) 746-8183.
Photo Captions: (Top left) Gladiator bouts customarily paired fighters with opposing strengths (in armor, weaponry, and fighting styles). Left to right, a Thracian-class fighter battles a classic Murmillo-class fighter. Photo courtesy of John Ebel, Ludus Magnus Gladiatores. (Top right) A gladiator re-enactor dressed as a Murmillo-class gladiator with "fish man" helmet preparing for an amphitheatre bout. Photo courtesy of John Ebel, Ludus Magnus Gladiatores. (Bottom Left) The bronze crested helmet, from the end of the 8th century BCE, was one of two helmets buried with the warrior in his tomb in Narce. Photo credit: Penn Museum. (Bottom right) Armed Roman gladiators from Ludus Magnus Gladiatores re-enact battles, demonstrate fighting techniques, and explain gladiator weaponry. This interactive performance gives visitors a chance to learn about daily life and combat in ancient Rome, at Penn Museum's Gladiator Day on Saturday, April 23, from 1:00 to 4:00 pm. Photo credit: Penn Museum.