"Theater of War" is Presented for First Time in Philadelphia Saturday, April 2, 1:30 pm
PHILADELPHIA, PA, March 15, 2011—Theater of War Productions, a social impact company that presents readings of ancient Greek plays for military service members and civilians, offers its first Philadelphia performance at the University of Pennsylvania Museum of Archaeology and Anthropology in the Harrison auditorium on Saturday, April 2, 2011 at 1:30 pm. The program, co-sponsored with the Philadelphia VA Medical Center, the Department of Classics at the University of Pennsylvania, and the People's Light & Theatre company, is FREE to all military service members, veterans, and the general public.
Theater of War is an innovative public health project that presents readings of ancient Greek plays, Sophocles' Ajax and Philoctetes, as a catalyst for town hall discussions about the challenges faced by service members, veterans, their families and communities. Using Sophocles' plays to forge a common vocabulary for openly discussing the impact of war on individuals, families, and communities, these events will be aimed at generating compassion and understanding between diverse audiences. Each performance is approximately 2 hours in length, including the readings from the plays, comments from a panel that features a diverse group of military community members, as well as a town-hall style audience discussion.
Penn Museum's Theater of War performance features a reading of scenes from Sophocles' Ajax, an ancient Greek tragedy that chronicles the fate of the warrior Ajax at the end of the Trojan War.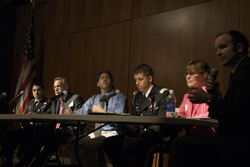 Emmy Award winner and Academy Award nominee David Strathairn, in the dual roles of Ajax and Agamemnon, is part of a seasoned cast that features four other actors who also have performed with the People's Light & Theatre in Malvern: Lou Ferguson as Teucer, Melanye Finister as Athena/Tecmessa, Graham Smith as Odysseus, and Michael Stewart Allen as the Chorus.  The reading is directed by Abigail Adams, Artistic Director of People's Light & Theatre, translated and facilitated by Bryan Doerries, and produced by Phyllis Kaufman.
About Theater of War Productions
Theater of War is an innovative, participatory event that is intended to increase awareness of post-deployment psychological health issues, disseminate information regarding available resources, and foster greater family and troop resilience. To date, Theater of War Productions has delivered over 125 performances at more than 50 military sites throughout the United States and Europe. Over 25,000 service members, veterans, and their families have attended and participated in Theater of War performances and discussions to date. Visit Theater of War's website: www.outsidethewirellc.com to find more information about the project, watch a short video of a performance, and find out about recent and upcoming performances. You can also find Theater of War on Facebook: www.facebook.com/TheaterofWar
About the University of Pennsylvania Museum of Archaeology and Anthropology
Penn Museum is dedicated to the study and understanding of human history and diversity. Founded in 1887, the Museum has sent more than 400 archaeological and anthropological expeditions to all the inhabited continents of the world. With an active exhibition schedule and educational programming for children and adults, the Museum offers the public an opportunity to share in the ongoing discovery of humankind's collective heritage. On April 30, 2011, the Museum opens two exhibitions of particular relevance to Americans interested in learning more about the countries where U.S. military are currently deployed: Battleground: War Rugs from Afghanistan (traveling exhibition, through July 31, 2011) and Iraq's Ancient Past: Rediscovering Ur's Royal Cemetery (long-term exhibition, reopening after gallery renovations).
About People's Light & Theatre
People's Light, a professional, not-for-profit theatre founded in 1974 in Chester County, Pennsylvania, makes plays drawn from many sources to entertain, inspire, and engage our community.  We extend our mission of making and experiencing theatre through arts education programs that excite curiosity about, and deepen understanding of, the world around us. These plays and programs bring people together and provide opportunities for reflection, discovery, and celebration.
People's Light & Theatre will be presenting two performances of Theater of War under a generous grant received by Theater of War Productions from the Stavros Niarchos Foundation in collaboration with the United Service Organizations, on Monday, October 17, 2011 and Monday, November 28, 2011.
Penn Museum is located at 3260 South Street, Philadelphia, PA 19104 (on Penn's campus, across from Franklin Field). Public transportation to the Museum is available via SEPTA's Regional Rail Line at University City Station; the Market-Frankford Subway Line at 34th Street Station; trolley routes 11, 13, 34, and 36; and bus routes 12, 21, 30, 40, and 42. Admission donation is $10 for adults; $7 for senior citizens (65 and above); $6 children (6 to 17) and full-time students with ID; free to Members, PennCard holders, and children 5 and younger; "pay-what-you-want" the last hour before closing. Hot and cold meals and light refreshments are offered to visitors with or without Museum admission in The Pepper Mill Café; the Museum Shop and Pyramid Shop for Children offer a wide selection of gifts, books, games, clothing and jewelry. Penn Museum can be found on the web at www.penn.museum. For general information call (215)898-4000. For group tour information call (215) 746-8183.
Photos: Top, Actor David Strathairn performs in "Theater of War." Bottom, panel discussion. Photos by Paxton Winters.
Press Contacts
Lee Sunday Evans, Project Coordinator, Theater of War
This email address is being protected from spambots. You need JavaScript enabled to view it.
(718) 624-0351
Pam Kosty, Public Information, Penn Museum
This email address is being protected from spambots. You need JavaScript enabled to view it.
(215) 898-4045