Penn Museum Presents
Battleground: War Rugs from Afghanistan
April 30 through July 31, 2011
PHILADELPHIA, PA Spring 2011—Battleground: War Rugs from Afghanistan, a traveling exhibition organized by the Textile Museum of Canada, makes its United States debut at the Penn Museum in Philadelphia, where it will be on display beginning Saturday, April 30 at 1:00 pm, through July 31, 2011. Dr. Brian Spooner, Curator, Near East Section of the Penn Museum and an anthropologist who specializes in Afghanistan and oriental rugs, offers an opening day introductory lecture, following an official ribbon cutting ceremony for the exhibition, and the reopening of Iraq's Ancient Past: Rediscovering Ur's Royal Cemetery, at 1:00 pm.
There have never been rugs like this before.
Afghan rug weavers, instead of using their traditional tribal designs, depict on their rugs the world that they see. Modern warfare came to Afghanistan with the Soviet invasion of 1979. After the Soviet withdrawal in 1989, a decade of civil war was followed by the global war on terrorism. During the more than three decades of international and internal conflict that continue today, the people of Afghanistan have borne witness to the disasters of war by weaving unprecedented images of battle and weaponry into their rugs. Flowers have turned into bullets, landmines, and hand grenades. Birds have turned into helicopters and fighter jets. Sheep and horses have turned into tanks. These are the images on a new and electrifying kind of Oriental rug—the "war rugs" from Afghanistan.
The exhibition features more than 60 "war rugs"—most woven since 1980. Some of the rugs are known to be the work of weavers in refugee camps (there are four million Afghan refugees, the largest refugee population in the world), but little is known of the weavers themselves, or even of the sentiment of the rugs.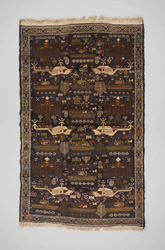 Are the rugs pro-war or anti-war? It is difficult to tell what a rug is supposed to mean when its history is hidden and its maker unknown. In the past, the materials and weaving techniques of an oriental rug were a clue to its origin. People of different ethnic groups, in different places, made rugs in different ways. Today people from all over Afghanistan, meeting together in refugee camps, share and mix images and techniques. As a result, the old methods of sorting rugs into categories no longer apply. The rugs speak for themselves-eloquent anonymous documents about life in an ancient land wracked by near-constant war.
Admission to Battleground: War Rugs from Afghanistan is free with regular Museum admission donation, and free for active U.S. military and their families (with ID).
Battleground: War Rugs from Afghanistan, curated by Max Allen, first opened at the Textile Museum of Canada, in Toronto, in April 2008.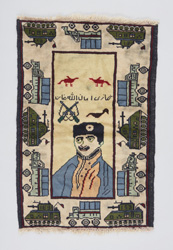 The presentation of Battleground: War Rugs of Afghanistan at the Penn Museum is made possible by the generosity of ARZU STUDIO HOPE, Connie K. Duckworth, Founder and CEO, and an anonymous donor. The exhibition opens in the back gallery of the newly refurbished and air-conditioned second floor west wing, concurrently with the reopening of the long-term exhibition Iraq's Ancient Past: Rediscovering Ur's Royal Cemetery.
The University of Pennsylvania Museum of Archaeology and Anthropology is dedicated to the study and understanding of human history and diversity. Founded in 1887, the Museum has sent more than 400 archaeological and anthropological expeditions to all the inhabited continents of the world. With an active exhibition schedule and educational programming for children and adults, the Museum offers the public an opportunity to share in the ongoing discovery of humankind's collective heritage.
Penn Museum is located at 3260 South Street, Philadelphia, PA 19104 (on Penn's campus, across from Franklin Field). Public transportation to the Museum is available via SEPTA's Regional Rail Line at University City Station; the Market-Frankford Subway Line at 34th Street Station; trolley routes 11, 13, 34, and 36; and bus routes 12, 21, 30, 40, and 42. Museum hours are Tuesday and Thursday through Sunday, 10:00 am to 5:00 pm, and Wednesday, 10:00 am to 8:00 pm, with P.M. @ PENN MUSEUM evening programs offered select Wednesdays. Closed Mondays and holidays. Admission donation is $10 for adults; $7 for senior citizens (65 and above); $6 children (6 to 17) and full-time students with ID; free to Members, PennCard holders, and children 5 and younger; "pay-what-you-want" the last hour before closing. Hot and cold meals and light refreshments are offered to visitors with or without Museum admission in The Pepper Mill Café; the Museum Shop and Pyramid Shop for Children offer a wide selection of gifts, books, games, clothing and jewelry. Penn Museum can be found on the web at www.penn.museum. For general information call (215)898-4000. For group tour information call (215)746-8183.
Captions for rugs, top to bottom: This rug depicts the September 11, 2001 World Trade Center attack and maps of Afghanistan and Iraq surrounded by tanks, planes, helicopters, and soldiers. Oriental rugs are woven in Iraq only by the Kurds, and there are no Iraqi war rugs. But this rug, from Afghanistan, combines images of the War on Terror from both countries. Made in Afghanistan, 2003-2007, 83 x 63 cm. The big white helicopters on the second, patterned rug, among the fighter jets, hand grenades and tanks, are Soviet Mi-24 Hind attack helicopters. Made in Afghanistan, 1980s, 203 x 119 cm. The rug on the bottom depicts Amanullah Khan and the words: Ghazi (king) Amanullah Khan. Amanullah Khan (1892-1960) was the king of Afghanistan from 1919-1929. He wrote the country's first constitution, defining the role of the monarch and emphasizing equal rights and individual freedoms. Made in Afghanistan, 1980-2007, 85 x 58 cm. Photos © Textile Museum of Canada.