The Pepper Mill Café at the Penn Museum Unveils Silk Road Menu, "Secret" Recipes
During Run of Secrets of the Silk Road

Along with cultures, religions, silks and other luxury items, food traveled the Silk Road.
The Pepper Mill Café at the Penn Museum invites guests to take a culinary journey along the Silk Road. The Café offers a changing variety of regionally-inspired Silk Road lunch menus, daily afternoon teas-even Happy Hour drinks and bar snacks-to extend the Silk Road experience during the run of the special exhibition, February 5 through June 5, 2011.
Tea Time: Recreating the Ancient Foods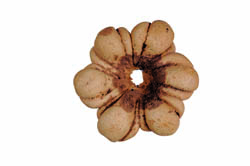 Visitors to Secrets of the Silk Road will see actual foods, preserved by the Tarim Basin's harsh desert conditions, still intact 700 to 2,500 years later. The Pepper Mill Café has "recreated" several of these ancient flour-based sweet and savory foods. Complementary recipe cards of these recreations are available in the exhibition, for visitors to try at home.
Monday through Sunday, Pepper Mill Café guests can purchase fresh recreations of sweet Fried Dough Twists and Plum Blossom Pastries, or savory Wontons. In addition, the Café features specialty Chinese and Indian teas and featuring sought-after, exotic blends like China Chrysanthemum, Tranquility Mao Feng, Keemun Hairpoint First Grade, and Makaibari Green Long Leaf tea. Re-creation pastries are $2.00 to $4.00; specialty teas are $2.00 to $3.50.
Silk Road Luncheon Journeys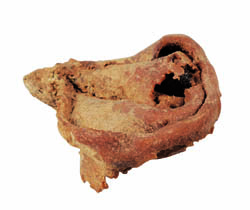 Friday through Sunday, Café lunch guests have the opportunity to try a variety of Silk Road-inspired regional dishes. Each week during the exhibition, 18 weeks in all, a different country's food is featured—from China and Korea, to Nepal, Afghanistan, Syria, Greece, and Armenia. For those who like to plan ahead, the full menu is available at the Secrets of the Silk Road website: www.penn.museum/silkroad/visit.php.
Silk Road lunch options include soup, main entrée, side dishes, and dessert, with entrees affordably priced at $5 to $7. A variety of teas, sweet coffees, and yogurt lassie drinks are also available. Lunch is served from 11:00 am to 3:00 pm.
Happy Hour Adventures
Wednesday, Friday and Saturday, when the Museum is open until 8:00 pm, The Pepper Mill Café, open to 7:30 pm, features Silk Road-inspired bar food and lighter fare (items such as Spanakopita, Bulgar Patties with Pomegranate Yogurt Sauce on Pita, and Samosas). Beers from Dogfish Head Brewing Company, collaborators, with Penn Museum's own Dr. Patrick McGovern, on the recreation of such ancient brews as Chateau Jiahu (from China) and Midas Touch (from the site of Gordion in Turkey), will be featured, as well as regionally featured wines, and specialty cocktails, with prices from $5.
While the Silk Road Menu continues throughout the exhibition, the regular menu featuring a mix of soups, salads, sandwiches and hot meals, continues every day. There are also kid-friendly options for children. View the Pepper Mill Café's online menu.
February 19 through March 28, the Pepper Mill Café at the Penn Museum is open to the public Monday from 9:00 am-4:30 pm and Tuesday and Thursday from 8:30 am-4:30 pm. On Wednesday and Friday, the Café is open from 8:30 am-7:30 pm, Saturday and from 10:00 am-7:30 pm and Sunday from10:00 am-6:30 pm, with light supper options, food and wine pairings, or a specially selected dish prepared by the Chef.
Penn Museum is located at 3260 South Street, Philadelphia, PA 19104 (on Penn's campus, across from Franklin Field). Public transportation to the museum is available via SEPTA's Regional Rail Line at University City Station; the Market-Frankford Subway Line at 34th Street Station; trolley routes 11, 13, 34 and 36; and bus routes 12, 21, 30, 40 and 42. Museum hours are Tuesday and Thursday through Sunday, 10:00 am to 5:00 pm, and Wednesday, 10:00 am to 8:00 pm, with evening programs. Closed Mondays and holidays. Admission donation is $10 for adults; $7 for senior citizens (65 and above); $6 children (6 to 17) and full-time students with ID; free to Members, PennCard holders, and children 5 and younger; "pay-what-you-want" the last hour before closing. Penn Museum can be found on the web at www.penn.museum. For general information call (215) 898-4000. For group tour information call (215) 746-8183.
Photo captions: Top: Plum Blossom Dessert, made from flour dough, pressed into shape and baked, ca 7th—9th century AD. Excavated from Astana, Turfan, Xinjiang Autonomous Region, China.   Bottom: Wonton, made of thick dough wrapped around a filling and boiled, ca 7th—9th century AD. Excavated from Astana, Turfan, Xinjiang Autonomous Region, China. Copyright Xinjiang Uyghur Autonomous Region Museum.