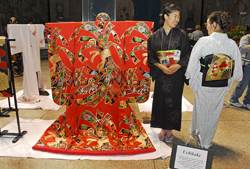 PHILADELPHIA 2010--It has been 150 years since the first Japanese delegation toured the U.S. while establishing diplomatic and trade relations between the two countries--and it's time for a celebration! Penn Museum commemorates the anniversary with festivities reflecting various aspects of Japan's culture and heritage on Sunday, November 14, from 1:00 to 4:00 pm, during Celebrate Japan!, a PECO World Culture Day afternoon.
This family-friendly event features martial arts demonstrations, Taiko drumming, and a display of the Museum's samurai armor collection. The day also includes presentations on calligraphy and origami, a kimono display and dressing lecture, a talk about the history of the first Japanese delegation, Japanese games, kabuki face painting, and an exhibit of traditional dolls significant in the Japanese festival "Girls' Day."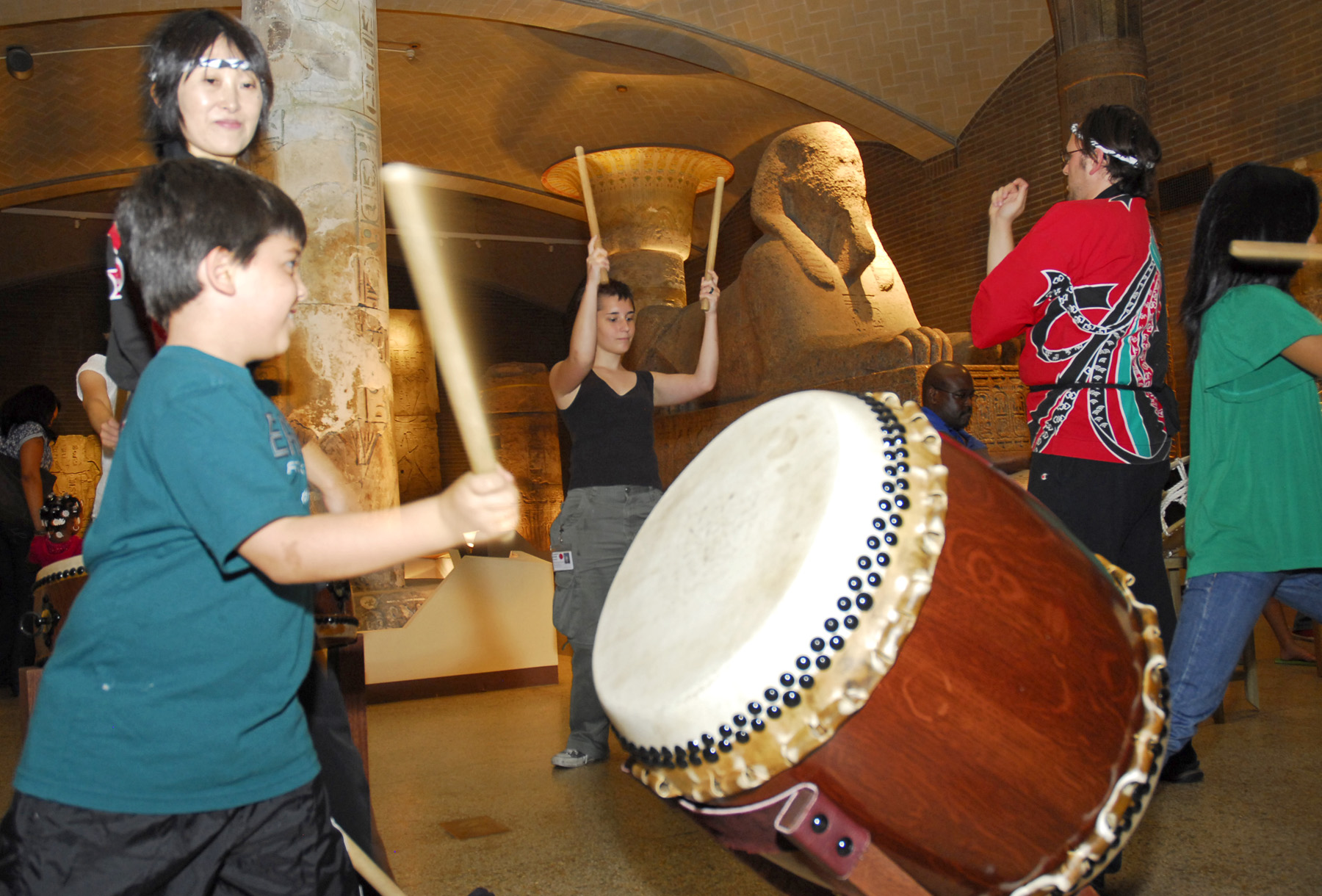 Celebrate Japan!, a PECO World Culture Day, co-sponsored with the Japan America Society of Greater Philadelphia, the Center for East Asian Studies at the University of Pennsylvania, and the Friends of the Japanese House and Gardens is FREE with Museum admission donation ($10 general admission; $7 senior citizens [65+]; $6 students [with ID] and children [6 to 17]; free for children under 6, members, and PennCard holders).
Sensei Yoshifumi Takayama, principal of the Japanese Language School of Philadelphia, and John Kahn, along with students of the Kenzo Bujinkan Dojo, demonstrate Japanese martial arts-focusing on the arts of Ninjutsu (stealth warfare) and Kendo (sword fighting) at 1:30 and 2:45 pm. These techniques have been incorporated into self-defense training for EMTs, security and law enforcement professionals, and U.S. Marines.
At 2:00 pm, Fred Dickinson, Penn Associate Professor of Japanese History, gives a talk about the 150th anniversary of the first Japanese delegation to visit five U.S. cities (including Philadelphia) and the details behind this first diplomatic encounter between Americans and Japanese.
Visitors may attend an interactive Taiko Drumming performance at 2:30 pm with Kyo Daiko. Kyo Daiko is a community Taiko group associated with the Shofuso Japanese House and Garden in Fairmount Park and Settlement Music School.
Taiko, literally "fat drum" in Japanese, is the term used to describe various Japanese drumming styles, from ancient to modern times, used in classical music, theater, and the internationally popular kumi daiko (Taiko ensembles).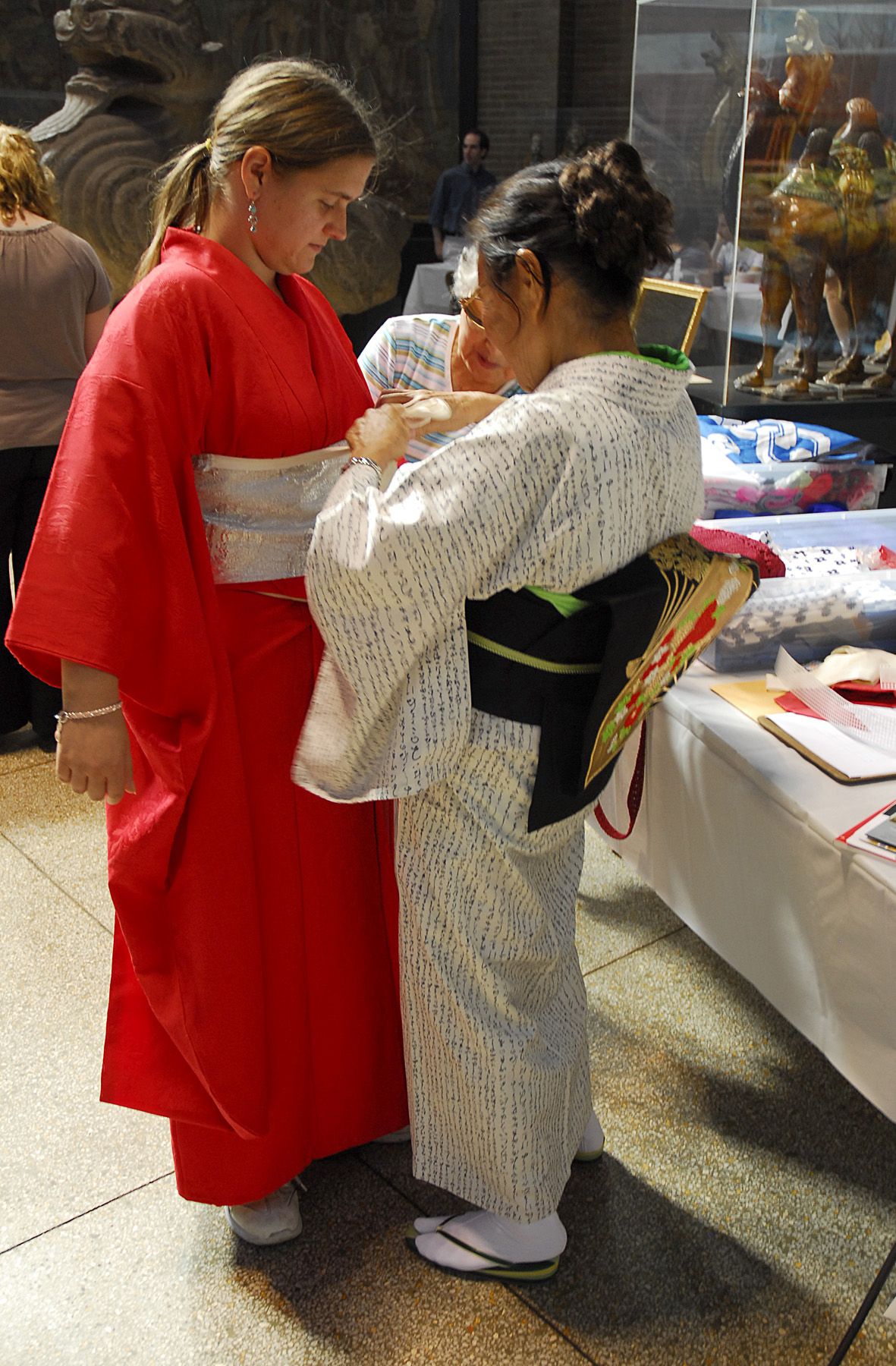 Fumiyo Batta, Japanese language instructor at the Japanese Language School of Philadelphia and Widener University, offers her insight into the delicate art of kimono dressing through a live demonstration, dressing models in kimonos for different seasons and life events, from birth to marriage to death, at 3:00 pm.
Throughout the day visitors are invited to try their hand at origami (the art of paper folding), as volunteers from Keisen Associates offer lessons in creating various origami models.
Stephen Lang, Penn Museum Keeper of the Asian Collection, shows off samurai armor collected during the late 19th century. During this period in Japanese culture, the need for such armor was waning, yet at the same time, the interest in Japanese culture was growing in the U.S.
Teacher Hiroko Kimura Sherry and students from the Japanese Language Program at the University of Pennsylvania offer a short introduction and association game for learning Japanese Kana letters (syllabic/symbolic script), followed by practice on Japanese greetings.
An exhibit of traditional Japanese dolls, donated by Cecilia Segawa Seigle, Penn Professor Emerita of Japanese Studies, to celebrate Hina Matsuri, or "Girls' Day," will be on display from Penn Museum's International Classroom collection. Hina Matsuri takes place on March 3 to celebrate the growth and happiness of young Japanese girls.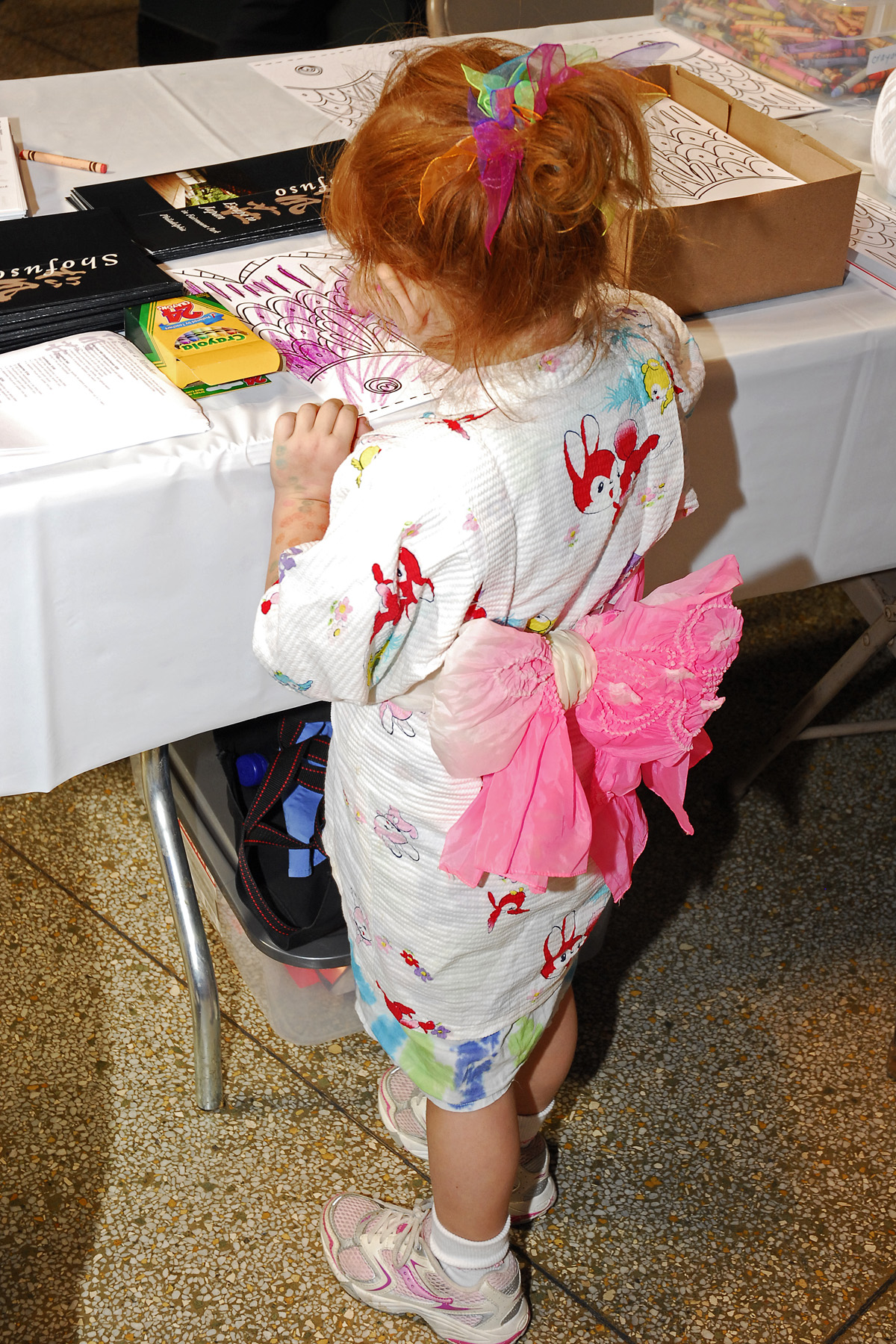 Other highlights include ongoing calligraphy demonstrations, kimonos for diverse occasions from the collections of Kazumi Teune, Executive Director of the Japan America Society of Greater Philadelphia, and Shofuso Japanese House and Garden, and a table where kids of all ages can try out traditional and contemporary Japanese toys and games, including a chance to learn the game Go from members of the Penn Go Society.
The Museum Shop and the Pyramid Shop for Children spotlight Japan with a colorful selection of Japanese arts, crafts, games, and books. The Pepper Mill Café features several Japanese lunch entrees and kid-friendly foods.
Based in Philadelphia, PECO is an electric and natural gas utility subsidiary of Exelon Corporation (NYSE: EXC). PECO serves 1.6 million electric and 486,000 natural gas customers in southeastern Pennsylvania and employs about 2,400 people in the region. PECO delivered 84.3 billion cubic feet of natural gas and 38.1 billion kilowatt-hours (kWh) of electricity in 2009. Founded in 1881, PECO is one of the Greater Philadelphia Region's most active corporate citizens, providing leadership, volunteer and financial support to numerous arts and culture, education, environmental, economic development, and community programs and organizations.
The Japan America Society of Greater Philadelphia works to foster understanding, cooperation, and international exchange between the U.S. and Japan. It offers numerous ways to get involved in Philadelphia's Japanese and American communities including networking events, a bi-monthly Japanese conversation club, sake tastings and sushi making workshops. More information can be found at www.jasgp.org.
The Center for East Asian Studies, a U.S. Department of Education National Resource Center, supports and coordinates the study of China, Japan, Korea, and neighboring regions at the University of Pennsylvania. The Center sponsors lectures, conferences, film series, and performances, offers a Bachelor's degree in East Asian Studies, and administers professional development projects for area educators.
Friends of the Japanese House and Gardens operates Shofuso Japanese House and Garden in Philadelphia's West Fairmount Park. This authentic-style Japanese house and garden is open for visitation, group tours, public programs, public and private Japanese tea ceremonies and wedding ceremonies from April to October. Escape to Japan and feed the koi, stroll the garden and tour the house at Shofuso. More information at www.shofuso.com.
The University of Pennsylvania Museum of Archaeology and Anthropology is dedicated to the study and understanding of human history and diversity. Founded in 1887, the Museum has sent more than 400 archaeological and anthropological expeditions to all the inhabited continents of the world. With an active exhibition schedule and educational programming for children and adults, the Museum offers the public an opportunity to share in the ongoing discovery of humankind's collective heritage.
Penn Museum is located at 3260 South Street, Philadelphia, PA 19104 (on Penn's campus, across from Franklin Field). Public transportation to the Museum is available via SEPTA's Regional Rail Line at University City Station; the Market-Frankford Subway Line at 34th Street Station; trolley routes 11, 13, 34 and 36; and bus routes 12, 21, 30, 40 and 42. Museum hours are Tuesday and Thursday through Sunday, 10:00 am to 5:00 pm, and Wednesday, 10:00 am to 8:00 pm, with P.M. @ PENN MUSEUM evening programs offered weekly. Closed Mondays and holidays. Admission donation is $10 for adults; $7 for senior citizens (65 and above); $6 children (6 to 17) and full-time students with ID; free to Members, PennCard holders, and children 5 and younger; "pay-what-you-want" the last hour before closing. Hot and cold meals and light refreshments are available to visitors with or without Museum admission in The Pepper Mill Café; the Museum Shop and Pyramid Shop for Children offer a wide selection of gifts, books, games, clothing, and jewelry. Penn Museum can be found on the web at www.penn.museum. For general information call (215)898-4000. For group tour information call (215)746-8183.