University of Pennsylvania Museum, Partnering with the Smithsonian's Freer and Sackler Galleries, Co-Hosts First Ever International Workshop on Southeast Asian Ceramic Archaeology
OCTOBER 2010—While archaeologists have traveled the globe to unearth the secrets of humanity's ancient past, one region, mainland Southeast Asia—a vast territory that includes Laos, Myanmar, Cambodia, Thailand, and Viet Nam—has seen relatively little archaeological research, and less international collaboration. Political, language, cultural, and physical barriers have all played a part in keeping much of this region of the world "terra incognita" to scholars of the past.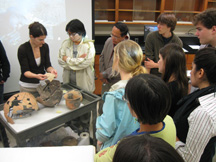 November 4 through 8, 2010, more than thirty international scholars from those Southeast Asia countries and from Japan, Europe, Australia, New Zealand and North America, come together for the first ever International Workshop on Southeast Asian Ceramic Archaeology: Directions for Methodology and Collaboration, at the Smithsonian's Freer Gallery of Art and Arthur M. Sackler Gallery, Washington D.C., and the University of Pennsylvania Museum of Archaeology and Anthropology, Philadelphia.
The gathering is co-organized by Dr. Joyce C. White, Associate Curator, Asian section, Penn Museum, and Director of the Museum's Ban Chiang Project and its Middle Mekong Archaeological Project and Louise Allison Cort, Curator of Ceramics at the Freer and Sackler. The program is made possible with funding from the Henry Luce Foundation and the University of Pennsylvania Research Foundation.
"For archaeologists and scholars of ancient history, ceramics, which can last for millennia, often play a key role in piecing together stories of the past, providing some of the most fundamental information and insights about past societies," noted Dr. White. "While exciting discoveries have been made in Southeast Asian archaeology, particularly in the last forty years, there have been few opportunities for joint analysis and discussion, and no scholarly consensus on the typology, technology, circulation, and the uses of the remarkable pottery uncovered throughout the region. "
At the Freer and Sackler galleries, workshop participants will be able to see a special exhibition, "Taking Shape: Ceramics in Southeast Asia," featuring about 200 diverse ceramic vessels providing a record of human activity in the region from prehistoric times to the present. Ceramics in Southeast Asia are also the focus of an extensive online catalogue developed by the galleries.
At the Penn Museum in Philadelphia, workshop participants will examine and discuss one of the most significant collections of legally excavated ancient Southeast Asia pottery outside of the region—more than 500 vessels including materials from Ban Chiang, Thailand UNESCO World Heritage site, and related ceramics, mostly grave goods from over 150 burials spanning more than 2000 years (2100 BCE to 300 CE).
Students at the University of Pennsylvania taking a new, two-semester course, "Introduction to Archaeological Ceramics," with Professors Thomas Tartaron and Marie-Claude Boileau along with Dr. White, will be conducting research on the Ban Chiang collections throughout the year. A new, state-of-the-art ceramics laboratory, scheduled to open in the spring of 2011, is currently undergoing construction. The students are invited to observe during the historic international workshop.
Penn Museum has been engaged in Southeast Asian archaeology for almost 40 years. The most renowned excavation took place in the mid 1970s at Ban Chiang in Thailand (named a World Heritage Site by UNESCO in 1992), and more recently, excavations are being conducted in Laos through the Middle Mekong Archaeology Project (MMAP), led by Dr. White, with co-director Bounheuang Bouasisengpaseuth, Deputy Director at the Lao National Museum. In August 2008, the Museum received a four-year, $300,000 grant from the Henry Luce Foundation to organize and run a cross-border, international collaborative research program in Laos and Thailand, building upon the research conducted through the Middle Mekong Archaeology Project.
For more information about Penn Museum's Middle Mekong Archaeological Project, visit the mmap website at www.penn.museum/mmap. Visit Penn Museum's Ban Chiang Project online at www.penn.museum/banchiang/.
The University of Pennsylvania Museum of Archaeology and Anthropology, 3260 South Street on Penn's campus in Philadelphia, is dedicated to the study and understanding of human history and diversity. Founded in 1887, the Museum has sent more than 400 archaeological and anthropological expeditions to all the inhabited continents of the world. With an active exhibition schedule and educational programming for children and adults, the Museum offers the public an opportunity to share in the ongoing discovery of humankind's collective heritage. Penn Museum can be found on the web at www.penn.museum.
Photo: Dr. Marie-Claude Boileau examines pottery from Ban Chiang, Thailand, with Penn students from "Introduction to Archaeological Ceramics," a year-long intensive course that introduces students to the techniues and theoretical foundations used by archaeologists to study ceramic collections and make inferences about the behavior of past peoples and societies. Photo: Elizabeth Van Horn.