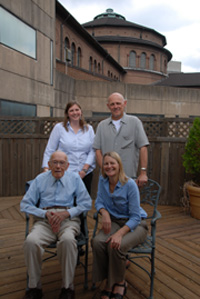 OCTOBER 2010—The University of Pennsylvania Museum of Archaeology and Anthropology is pleased to announce a deeply generous gift from Mr. Warren F. Kamensky, long-time Penn Museum member and volunteer, to endow the position of NAGPRA (Native American Graves and Protection and Repatriation Act) Coordinator. The gift will directly support the full-time staff position currently held by Stacey Espenlaub. The position's new title will be the Euseba and Warren Kamensky NAGPRA Coordinator of the American Section.
Penn Museum's NAGPRA Coordinator position, established initially in 1995 on a part-time basis, was formalized as a full-time duty in 1997. It has proven to be of increasing importance to Penn Museum's mission, not only in the care of the collection, but also in developing and maintaining relationships with tribes and Native American communities across the United States. Mr. Kamensky's gift insures that this work will continue in perpetuity.
"This is a very special gift for the Museum, coming as it does from a long-time member and valued volunteer," noted Dr. Richard Hodges, the Museum's Williams Director. "Mr. Kamensky's generosity, and his support of such a fundamental aspect of the Penn Museum's ongoing work to connect with native peoples, is deeply appreciated."
Mr. Kamensky began volunteering at the Museum in the 1980s after retiring from a career as a chemical engineer. He spent most of his 15-plus years as a Museum volunteer working in the Museum's American Section, helping with the development of an index for the Museum's rich and varied American Section collections. Now complete, the index provides staff and outside scholars with a detailed and easily accessible account of the geographic breakdown of both the archaeological and ethnographic collections.
In addition to his volunteer contributions, he has been a member of the Museum for more than 20 years. The endowed fund is named in honor of Mr. Kamensky and his late wife, Euseba, who shared his love of history and art and was an accomplished ceramicist, painter, and silversmith.
NAGPRA is the acronym for the Native American Graves Protection and Repatriation Act (PL 101-601), passed into United States law on November 16, 1990. This act mandates the return to Native American tribes of specific kinds of objects held in museums, including the Penn Museum and other institutions that receive federal funding, makes illegal the trafficking of such objects across state lines, and outlines the process and procedures for archaeological excavations of Native American sites.
The NAGPRA Coordinator works with the Museum's Repatriation Committee to ensure the Museum's compliance with the law. The Coordinator manages numerous activities such as researching the collections and repatriation claims, preparing federal notices, organizing and hosting consultation and repatriation visits, providing support to the Repatriation Committee and other University departments, outside specialists and National Park Service officials. Over the years, NAGPRA repatriation requests have provided opportunities to forge important new relationships with Native American communities, and encouraged Penn Museum scholars to develop projects in direct collaboration with native leaders, activists, and artists.

Stacey Espenlaub, who currently holds the position, has been the NAGPRA Coordinator since May 2002. Ms. Espenlaub holds a B.A. in History from Millersville University of Pennsylvania and a M.L.A. from the University of Pennsylvania. Her Penn research focused on the archaeology, site conservation and heritage management of rock art and cavates in Frijoles Canyon, Bandelier National Monument, New Mexico.
The University of Pennsylvania Museum of Archaeology and Anthropology is dedicated to the study and understanding of human history and diversity. Founded in 1887, the Museum has sent more than 400 archaeological and anthropological expeditions to all the inhabited continents of the world. With an active exhibition schedule and educational programming for children and adults, the Museum offers the public an opportunity to share in the ongoing discovery of humankind's collective heritage. Penn Museum can be found on the web at www.penn.museum. The number for general information is (215)898-4000.
Photo: Warren Kamensky (seated, on left) on the Penn Museum's Susan H. Horsey Deck, with American section staff, clockwise from top, Stacey Esplenaub, NAGPRA Coordinator, William Wierzbowski, Associate Keeper, and Lucy Fowler Williams, Keeper. Photo: Sophia Perlman, 2010.