Vampires, Demons, and Mystical Creatures in the Ancient World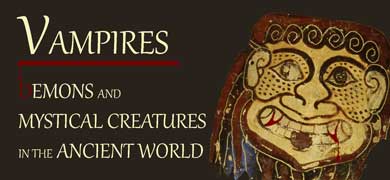 Halloween is just around the corner, and vampire hype is in full swing. Ever wonder where it all started? Long before
Twilight
and
True Blood
, even before
Dracula
, there were myths of fanged creatures and fiendish monsters circling the ancient worlds.
On Thursday, October 21, 6:15 pm, the Young Friends of the University of Pennsylvania Museum of Archaeology and Anthropology present "Vampires, Demons, and Mystical Creatures in the Ancient World."  Guests can explore ancient Egyptian and Mediterranean legends of vampires and demons with Penn Museum scholars Dr. Jennifer Wegner, Associate Curator of the Egyptian Section, and Dr. Peter Struck, Associate Professor in Classical Studies.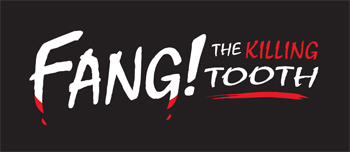 Fang! The Killing Tooth, a new display featuring objects, human and animal skulls, and video that explore the biology of the "killing" canine and the history of vampire myth, goes on view just in time for the event.

Admission to "Vampires, Demons, and Mystical Creatures in the Ancient World" is $10; $5 for Penn Museum members.  Cocktails and mingling (cash bar) follows the event. Advance registration through the Museum's events calendar: www.penn.museum/calendar.

The Young Friends are an active group of Penn Museum members ages 21 to 45. To learn more about the Young Friends, or to join, call the Museum membership office at (215) 898-5093.

The University of Pennsylvania Museum of Archaeology and Anthropology is dedicated to the study and understanding of human history and diversity. Founded in 1887, the Museum has sent more than 400 archaeological and anthropological expeditions to all the inhabited continents of the world. With an active exhibition schedule and educational programming for children and adults, the Museum offers the public an opportunity to share in the ongoing discovery of humankind's collective heritage.

Penn Museum is located at 3260 South Street, Philadelphia, PA 19104 (on Penn's campus, across from Franklin Field). Public transportation to the museum is available via SEPTA's Regional Rail Line at University City Station; the Market-Frankford Subway Line at 34th Street Station; trolley routes 11, 13, 34, and 36; and bus routes 12, 21, 30, 40, and 42. Museum hours are Tuesday and Thursday through Sunday, 10:00 am to 5:00 pm, and Wednesday, 10:00 am to 8:00 pm, with evening programs. Closed Mondays and holidays. Admission donation is $10 for adults; $7 for senior citizens (65 and above); $6 children (6 to 17) and full-time students with ID; free to Members, PennCard holders, and children 5 and younger; "pay-what-you-want" the last hour before closing. Penn Museum can be found on the web at www.penn.museum. For general information call (215) 898-4000. For group tour information call (215) 746-8183.