Archaeologists and Travelers in Ottoman Lands
Explores the Making of America's First Excavations in the Near East
* * *
New Exhibition Opens with a "Turkish Delight!" Celebration
Sunday, September 26, 2010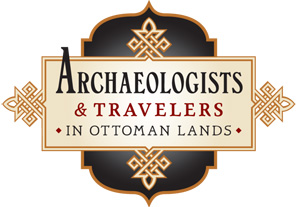 PHILADELPHIA, PA June 2010—In the 1880s, before the first brick was laid for its own building, the University of Pennsylvania Museum organized America's first archaeological expedition to the ancient Near East—to Nippur, a promising but far-flung Mesopotamian site then within the vast Ottoman Empire, now located in Iraq to the south of Baghdad.
It was a time of great opportunities and great adventurers. Archaeologists and Travelers in Ottoman Lands, a new exhibition opening Sunday, September 26, 2010 and running through February 6, 2011 at the University of Pennsylvania Museum of Archaeology and Anthropology, takes a look at the accomplishments, struggles, and fortunes of three adventurers whose lives intersected at Nippur: Osman Hamdi Bey, archaeologist, museum director, and internationally renowned Turkish painter; John Henry Haynes, American archaeologist and photographer; and Hermann Vollrath Hilprecht, a German archaeologist, Assyriologist, and professor at Penn. The year 2010 marks the centennial of the deaths of Hamdi Bey and Haynes, and the demise of Hilprecht's career due to scandal.
The exhibition opens with an afternoon celebration—"Turkish Delight!"—featuring curator talks, Turkish music, dance, crafts, and family activities, from 1 to 4 pm.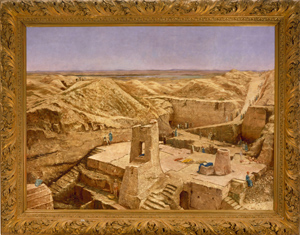 Archaeologists and Travelers in Ottoman Lands features two 19th century oil paintings by Osman Hamdi Bey: Excavations at Nippur, which has never before been on public exhibition, and At the Mosque Door, an Orientalist genre scene that has been cleaned and remounted especially for the exhibition. Also featured are about 50 photographs, many by Haynes, whose contributions as an archaeological photographer are only now being recognized, and more than 40 artifacts from the Nippur expedition (1889-1900), including a full-sized "slipper" coffin, incantation bowls (inscribed with spells to perform protective magic), figurines, and numerous clay cuneiform tablets bearing some of the earliest writing in the world.
The exhibition sheds light on some of the late 19th century's diplomatic obstacles and opportunities for ambitious archaeologists seeking to establish excavations in distant lands. As Director of the Imperial Ottoman Museum and the man charged with rewriting the Ottoman laws governing antiquities, Osman Hamdi Bey was a key figure determining outsiders' requests for excavation permits, and a man whom Penn would need to know and understand. As one of the most ancient Sumerian cities, Nippur was a prime choice for a major excavation, but it also posed major challenges. Located in the hard-to-reach marshes of southern Mesopotamia, the site offered a harsh climate, and was surrounded by warring tribes.
Despite the obstacles and some serious setbacks, over the course of Penn's years of excavations Nippur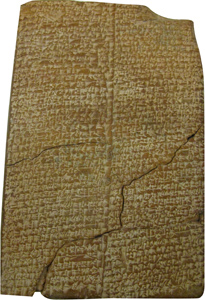 provided archaeologists with a wealth of new information, and a trove of artifacts, including more than 30,000 cuneiform tablets, among them the largest collection of Sumerian literary tablets ever found. The cuneiform tablets formed the basis of the Penn Museum's Babylonian Tablet Room and collection. Today, scholars continue to draw upon this vast core of material to develop an online dictionary of Sumerian, through the ongoing Pennsylvania Sumerian Dictionary Project.
Robert Ousterhout, Professor of the History of Art and Director of the Center for Ancient Studies, and Renata Holod, Professor of the History of Art and Curator in the Penn Museum's Near East Section, are co-curators of the special exhibition, prepared with the assistance of University of Pennsylvania undergraduate and graduate students engaged in a Halpern-Rogath Curatorial Seminar in the History of Art.
Archaeologists and Travelers in Ottoman Lands is made possible through generous donations from the Halpern-Rogath Fund of the History of Art Department at the University of Pennsylvania; the Joukowsky Family Foundation; and the Turkish Cultural Foundation. The "Turkish Delight!" celebration is made possible with help from the Turkish American Friendship Society of the United States.
The University of Pennsylvania Museum of Archaeology and Anthropology is dedicated to the study and understanding of human history and diversity. Founded in 1887, the Museum has sent more than 400 archaeological and anthropological expeditions to all the inhabited continents of the world. With an active exhibition schedule and educational programming for children and adults, the Museum offers the public an opportunity to share in the ongoing discovery of humankind's collective heritage.
Penn Museum is located at 3260 South Street, Philadelphia, PA 19104 (on Penn's campus, across from Franklin Field). Public transportation is available by SEPTA's University City Regional Rail station serving the R1, R2, and R3 lines; the Market-Frankfort Subway Line at Market and 34th Streets; the Surface Trolley Lines 11, 13, 34 and 36; and buses 12, 21, 30, 40 and 42. Beginning September 7, 2010, Museum hours are Tuesday 10:00 am to 5:00 pm, Wednesday, 10:00 am to 8:00 pm, and Thursday through Sunday, 10:00 am to 5:00 pm. Closed Mondays and holidays. General admission donation is $10 for adults; $7 for senior citizens (65 and above) and U.S. military personnel; $6 children (6 to 17) and full-time students with ID; free to Members, Penncard holders, and children 5 and younger; "pay-what-you-want" the last hour before closing. Penn Museum can be found on the web at www.penn.museum. For general information call (215) 898-4000. For group tour information call (215) 746-8183.
Captions: Top:"Excavations at Nippur," oil painting by Osman Hamdi Bey. 1904 (based on a photograph taken in 1893.) Bottom: Ancient clay cuneiform tablet, ca. 1720 BCE, written in Sumerian.  The famous literary text is called "Hymn to the Goddess Inanna."  Nippur.  (Object number B7847).