PHILADELPHIA, PA 2010—This year's Summer Wonder series at the University of Pennsylvania Museum of Archaeology and Anthropology will have children and their families hula dancing, listening to music spanning Brazil to the Middle East, joining a Roman gladiator's journey, and traveling along the ancient Spice Route.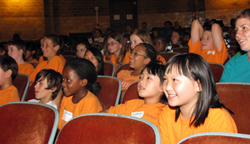 Summer Wonder 2010 programs run Wednesday mornings for eight weeks, June 23rd through August 11th, from 10:30 to 11:30 am. The programs are free with Museum admission donation. Pre-registration is required for groups of 10 or more. For more information or to pre-register groups (no pre-registration necessary for individuals and families), contact the Education department at (215) 746-6774 or This email address is being protected from spambots. You need JavaScript enabled to view it. .
2010 Schedule
June 23: AlohaStyle
Dancers from AlohaStyle of Narberth, PA, demonstrate the motions and regalia of the hula, a traditional Polynesian dance, and guests learn dance steps and experience a mini-luau.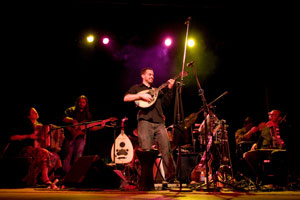 June 30: Animus
These musicians' fusion of ancient and modern music traditions features Greek, Blues, Indian, Jazz, Latin, Jewish Klezmer, African, and more. Audience members experience a variety of grooves and tribal rhythms from this internationally acclaimed ensemble.
July 7: Minas
Minas presents a review of the music of Brazil, from Bossa Nova to Samba, heavily rooted in African rhythms and Portuguese traditions. Attendees clap rhythms, learn songs in Portuguese, and participate in the lively culture of Brazil. (Please note: Performance is limited to 250 guests.) Please call the Education Department at (215) 746-6774 to ensure seating availability.
July 14: Tom Lee
Storyteller Tom Lee enchants audiences with his carefully researched and highly engaging folktales from Thailand and Southeast Asia.
July 21: Spice Route Ensemble
The Spice Route Ensemble takes visitors on a journey into the diverse and complex music of the Middle East through the songs and dances of Egypt, Greece, Israel, and Lebanon.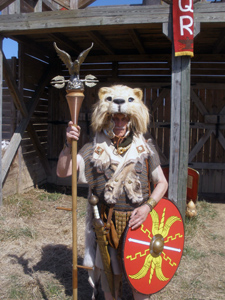 July 28: Roman Army Military and Gladitorial Demonstration
Audience members witness gladiatorial bouts from Ludus Magnus Gladitorium, "the great school of the gladiator," and have the opportunity to try on helmets and shields, re-enact battle formations, and engage in a testudo ("turtle") formation with Legion XXIV Media Atlanta Roman legionnaire re-enactors.
August 4: Rainbow Child International
Rainbow Child International presents a fun-filled hour of surprising and fantastic stories from around the world about flight, water and water creatures, and the source of Earth's energy – the sun. The performance is sprinkled with catchy songs, and the audience takes part in simple Tai Chi movements.
August 11: Mock Turtle Marionette Theater Presents "The Dancing Granny: Tales of African Origin"
Attendees of all ages behold marionettes, shadow puppets, masked puppets, and the great Bird of Mali tumbling out onto the stage alongside live music and dance. Guests enjoy tales from familiar characters like Anansi the spider, Brer Rabbit, Boss Lion, and others. (Please note: Performance is limited to 250 guests.) Please call the Education Department at (215) 746-6774 to ensure seating availability.
Following each Summer Wonder presentation, children and their families are invited to explore the Penn Museum's three floors of galleries featuring artifacts from Egypt, Asia, the Mediterranean, the Near East, North and South America, and Africa.
Both Museum Shops are participating in the Summer Wonder 2010 program. In addition to the Museum Shop's regular hours, the Pyramid Shop for children opens on Summer Wonder Wednesdays from 10:00 am to 3:00 pm. The Shop features games, toys, books, crafts, and jewelry geared to young visitors.
The University of Pennsylvania Museum of Archaeology and Anthropology is dedicated to the study and understanding of human history and diversity. Founded in 1887, the Museum has sent more than 400 archaeological and anthropological expeditions to all the inhabited continents of the world. With an active exhibition schedule and educational programming for children and adults, the Museum offers the public an opportunity to share in the ongoing discovery of humankind's collective heritage.
Penn Museum is located at 3260 South Street, Philadelphia, PA 19104 (on Penn's campus, across from Franklin Field). Public transportation is available by SEPTA's University City Regional Rail station serving the R1, R2, and R3 lines; the Market-Frankfort Subway Line at Market and 34th Streets; the Surface Trolley Lines 11, 13, 34 and 36; and buses 12, 21, 30, 40 and 42. Museum hours are Tuesday through Saturday, 10:00 am to 4:30 pm, Sunday 1:00 to 5:00 pm. Closed Mondays and holidays. Admission donation is $10 for adults; $7 for senior citizens (65 and above); $6 children (6 to 17) and full-time students with ID; free to Members, Penncard holders, and children 5 and younger; "pay-what-you-want" after 3:30 pm Tuesday through Saturday, and after 4:00 pm Sunday. Penn Museum can be found on the web at www.penn.museum. For general information call (215) 898-4000.