Collaborate on Final Stage Restorations of Famous 1,400-Year-Old Tang Horse Reliefs
* * *
Museum Conservator Offers Inside Look with Conservation Blog

PHILADELPHIA, MAY 2010—Since March 2009, following months of research and planning, Penn Museum conservators and outside consultants have been engaged in a major conservation project of the Museum's "Tang Horses"-two world-renowned, monumental Chinese reliefs depicting two of six famous horses that belonged to the Chinese Emperor Taizong (AD 599-649), the true founder of the Tang Dynasty.
Conservation of the Tang Horse reliefs, which date to ca. AD 636-49, has been made possible with support from generous donors Mr. and Mrs. John R. Rockwell. Mr. Rockwell is a graduate of The Wharton School of the University of Pennsylvania. The Chinese delegation joins the Museum conservation team courtesy of the Da Ming Palace Foundation in China.
"The Tang Horse reliefs rank among the greatest treasures of the Penn Museum. We are honored to be able to share information about our conservation efforts, and collaborate on the important final stage, with our Chinese colleagues who have a great love of these culturally significant pieces," noted Dr. Richard Hodges, Williams Director of the Penn Museum.
"As with the major, ongoing loan of Mesopotamian material this Museum made to the Beijing World Art Museum in 2006, and the upcoming Secrets of the Silk Road exhibition from China we are eagerly awaiting in February 2011, this collaboration provides us with a welcome opportunity to forge greater ties with our Chinese colleagues in the cultural sector, and by extension, to create greater avenues of understanding between American and Chinese peoples."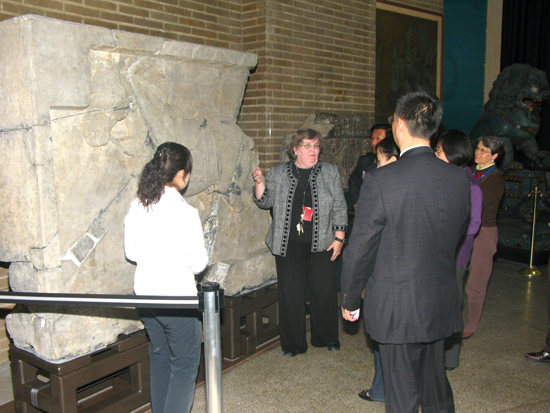 The conservation team has taken photographs throughout the more than year-long process, and Lynn Grant has begun a public blog to describe the project, available online at www.penn.museum/blog/tang-horses
The massive Tang Horse stone reliefs, each measuring more than six feet by five feet, and more than a foot thick, were purchased for the Penn Museum in the first quarter of the 20th century. They arrived, in pieces, in 1918, when restorers first mended them for display in the Museum's ultimate showroom, the Chinese Rotunda. Recent examinations of the reliefs indicated that the early mending was no longer stable, and the Museum devised a new conservation plan.
After thorough cleaning and removal of old fills and restorations, specialist riggers were brought in to disassemble the reliefs in August 2009, removing them to a closed gallery space where conservation continued. Historic preservation specialists were consulted, and armature designers and structural engineers employed to design and create the best possible steel support for reinstallation.
The final stage of the project, in which the guest conservators from China will participate, involves replacing remaining fill sections and final finish.
The Tang Horse reliefs are two of six in existence; the remaining four are at the Stele Forest (Beilin) Museum in Xi'an, Shaanxi province. Emperor Taizong, the real founder of the Tang Dynasty (618-906), had a victorious military career. The six horses represented on the reliefs are famous for having carried him to major conquests, incorporating vast territory for the new dynasty. Though the sculptor is unknown, the artistic, life-like quality of the reliefs is considered exceptional; they occupy a special position in Chinese art and sculptural history.
The University of Pennsylvania Museum of Archaeology and Anthropology is dedicated to the study and understanding of human history and diversity. Founded in 1887, the Museum has sent more than 400 archaeological and anthropological expeditions to all the inhabited continents of the world. With an active exhibition schedule and educational programming for children and adults, the Museum offers the public an opportunity to share in the ongoing discovery of humankind's collective heritage.
Penn Museum is located at 3260 South Street, Philadelphia, PA 19104 (on Penn's campus, across from Franklin Field and adjacent to SEPTA's University City Regional Rail station serving the R1, R2, and R3 lines). Museum hours are Tuesday through Saturday, 10:00 am to 4:30 pm, Sunday 1:00 to 5:00 pm. Closed Mondays and holidays. Admission donation is $10 for adults; $7 for senior citizens (65 and above); $6 children (6 to 17) and full-time students with ID; free to Members, Penncard holders, and children 5 and younger; "pay-what-you-want" after 3:30 pm Tuesday through Saturday, and after 4:00 pm Sunday. Penn Museum can be found on the web at www.penn.museum. For general information call (215) 898-4000.
Photo credits:
Top right photo: Penn Museum conservators and staff gather with Chinese conservators and associates including (L - R): Changchun Zhang, Instructor, Department of East Asian Studies, Bryn Mawr College; Steve Lang, Keeper of the Asian Section, Penn Museum; Yang Wenzong, Conservator, Shaanxi History Museum; Liu Linxi, Conservator, Xi'an Center for the Conservation and Restoration of Cultural Heritage; Xiuqin Zhou, Senior Registrar, Penn Museum; James Mathieu, Chief of Staff, Penn Museum; Lynn Grant, Head Conservator, Penn Museum; Wilson Youqun Wang, Board Trustee, Shaanxi Tang Daming Palace Heritage Site Preservation Foundation; Julia Lawson, Conservator, Penn Museum; and Zhou Ping, Conservator, Xi'an Center for the Conservation and Restoration of Cultural Heritage.
Bottom left photo: Lynn Grant, Penn Museum Head Conservator, details the restoration work to the Tang Horse relief.