21st Annual Celebration of African Cultures Offers Music, Dance, and Storytelling
Saturday February 20, 11:00 am to 4:00 pm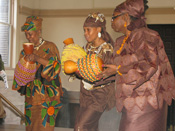 WINTER 2010—Music and dance of Africa and the African diaspora, storytelling, arts and crafts, games, culture, and cuisine-it all comes together and it all comes "of age" at the 21st annual Celebration of African Cultures Saturday, February 20, 11:00 am to 4:00 pm throughout the galleries of the University of Pennsylvania Museum of Archaeology and Anthropology.  The event is FREE with Museum admission donation ($10 for adults; $7 for seniors 65 and above; $6 for full-time students with ID and children 6-17; free for Museum members, children under 6, and PennCard holders).
The annual celebration is always rich with great music, dance, and performance, and this year is no exception, with appearances by Kenny J (Rhythm and Blues/Soul Line Dancing), African Rhythms dance group, Chosen Dance Company (Hip-Hop), and the Women's Sekere Ensemble. Storytelling by Momma Sandi, and a Vai Capoeira demonstration, are also part of the day, and Kala JoJo and Friends provide the grand finale performance with storytelling and drumming.
Momma Sandi, a member of the National Association of African American Storytellers, serves up stories, rich with songs, movement and rhythm, at 11:30 am.
For those ready to get up and dance, the day offers several opportunities. Kenny J presents an introductory Rhythm and Blues/Soul Line Dancing class at11:30 am, a sampling of dance in the African-American tradition. The performer/instructor is a lead dancer with the Dave Bush Performers, a Philadelphia-based R&B line dancing group, and founder of Sophisticated Funk, a competitive line dance group. The University of Pennsylvania's African Rhythms student dance troupe performs at 12:30 pm, and offers a dance workshop at 2:15 pm.
Philadelphia's own Chosen Dance Company is a troupe dedicated to the validation of Hip-Hop-a dance form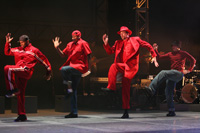 with strong ties to West African dance- as a true art form accessible to audiences regardless of age, ethnicity, or gender.  The troupe joins the celebration with a 1:30 pm performance followed by an open workshop introducing guests to the foundations of Hip-Hop dance at 2:45 pm. The seven-member ensemble, led by master teacher Clyde Evans, Jr., and featuring Jon Bulack, recently seen on MTV's "America's Best Dance Crew" among the dancers, has recently been invited to perform and teach in China in the fall of 2010.
The Women's Sekere Ensemble, a group of three female percussionists led by Omomola Iyabunmi, introduces visitors to the rhythms and tones of the sekere, a traditional percussion instrument of Nigeria made from intricately beaded gourds, with performances at 12:00 and again at 2:15 pm.
Ten area members of Vai Capoeira offer a demonstration of Capoeira at 1:00 pm. A centuries-old Brazilian cultural tradition first practiced by African slaves in Brazil at least 400 years ago, capoeira is an artful sport described as a cross between a fight and a dance, accompanied by singing, clapping, and traditional instruments.
Kala JoJo and Friends provide the celebration's grande finale performance, offering "Drum Music with Words from the Storyvine" at 3:15 pm. Storyteller Kala JoJo, a North Philadelphia native, has performed stories of Africa and the African diaspora for more than 16 years, appearing at such venues as the Kimmel Center and the Academy of Music in Philadelphia, the Kennedy Center in Washington, D.C., the Symphony Space in New York City, and at the annual National Black Storytelling Festival and Conference.  With this performance, he is joined by lead drummer and West Philadelphia native Khary Shaheed and a troupe of youth performers, offering a blend of storytelling and drumming designed to transport guests from West Africa, to the George Sea Islands, to Philadelphia and back again.
Rashida Watson offers a show-and-tell talk on "The Meaning of Beads," from 11:00 to 11:45 am. Ms. Watson is the owner of The Silk Tent, a mail-order distributor of international gifts. Guests can learn more about gele (head wrapping) and lapa (skirt wrapping) fabric dressing-and men, women, and children can volunteer to be wrapped in pageantry dressing, as Atiyaola Malik Khan offers an African fabric dressing demonstration at 1:00 pm.
The Philadelphia Zoo on Wheels brings live African animals-including a hedgehog, lizards and snakes, to a show-and-tell table from 12:00 to 2:00 pm. Visitors can touch zoo "biofacts," including a lion pelt, an elephant ear and a zebra skin, and find out more about that continent's wild life.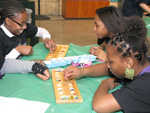 Children and their families can create their own African-inspired masks, 12:00 to 2:00 pm, and create, and play, the African game of mancala, from 11:00 am to 3:00 pm.
Visitors can take an African Gallery tour at 1:30 pm. Penn Museum's African Gallery features more than 300 objects from cultures throughout the continent, including dramatic masks, gold weights, a wide range of objects used for everyday living, and a variety of musical instruments. The Museum also has Ancient Egyptian galleries with Egyptian mummies, a 12-ton red granite Sphinx (the third largest Sphinx in the world) and architectural elements from the Palace of the Pharaoh Merenptah, all ca. 1200 BCE, as well as statuary, tomb materials, and every day items from 5,000 years of Egyptian culture.
A mini-African marketplace is set up in the Chinese Rotunda from 11:00 until 4:00 pm. Rashida Watson from The Silk Tent displays African textiles, jewelry, and artifacts available for purchase. The Museum's Shops set up a wide variety of African masks, arts, crafts, games, jewelry, books and more.
There's a taste of Africa included in the day, as the Museum Cafe serves up African menu items-including its ever-popular African peanut chicken soup-as well as traditional fare, all available for purchase through 3:30 pm.
The University of Pennsylvania Museum of Archaeology and Anthropology is dedicated to the study and understanding of human history and diversity. Founded in 1887, the Museum has sent more than 400 archaeological and anthropological expeditions to all the inhabited continents of the world. With an active exhibition schedule and educational programming for children and adults, the Museum offers the public an opportunity to share in the ongoing discovery of humankind's collective heritage.
Penn Museum is located at 3260 South Street, Philadelphia, PA 19104 (on Penn's campus, across from Franklin Field and adjacent to SEPTA's University City Regional Rail station serving the R1, R2, and R3 lines). Museum hours are Tuesday through Saturday, 10:00 am to 4:30 pm, Sunday 1:00 to 5:00 pm. Closed Mondays and holidays. Admission donation is $10 for adults; $7 for senior citizens (65 and above); $6 children (6 to 17) and full-time students with ID; free to Members, Penncard holders, and children 5 and younger; "pay-what-you-want" after   3:30 pm Tuesday through Saturday, and after 4:00 pm Sunday. Penn Museum can be found on the web at www.penn.museum. For general information call (215) 898-4000.
SCHEDULE OF EVENTS AT A GLANCE
| | | |
| --- | --- | --- |
| 11-11:45 | Show-and-tell talk: The Meaning of Beads | Rainey Auditorium |
| 11:30-12:15 | Momma Sandi Storytelling | Lower Egypt |
| 11:30-12:30 | R & B Line Dancing with Kenny J | Upper Egypt |
| 12:00-12:30 | Women's Sekere Ensemble | Pepper Gallery |
| 12:30-1:00 | African Rhythms Dance Performance | Harrison Auditorium |
| 1:00-1:45 | Capoeira Demonstration | Upper Egypt |
| 1:00-1:45 | African Fabric Dressing | Rainey Auditorium |
| 1:30-2:00 | Chosen Dance Company: Hip-Hop Performance | Upper Egypt |
| 1:30-2:00 | African Gallery Tour | African Gallery |
| 2:15-2:45 | Women's Sekere Ensemble | Pepper Gallery |
| 2:15-2:45 | African Rhythms Dance Workshop | Lower Egypt |
| 2:45-3:15 | Chosen Dance Company: Hip-Hop Workshop | Upper Egypt |
| 3:15-4:00 | Grand finale: Kala JoJo and Friends:Drum Music with Words from the Storyvine | Harrison Auditorium |
In the Chinese Rotunda - Ongoing
Marketplace: The Silk Tent and Museum Shops (12:00 to 4:00 pm)
Philadelphia Zoo on Wheels (12:00 to 2:00 pm)
Mancala: Make and play (11:00 am to 3:00 pm)
In the Café - 10:00-3:30
African and international menu items for purchase