07 OCTOBER 2008, PHILADELPHIA, PA—"Iyare!"—"May you go and return safely!"—is the phrase onlookers shout when Edo nobles head for the Benin Kingdom's palace in the West African country of Nigeria.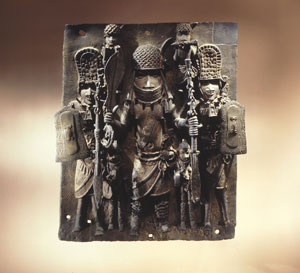 The University of Pennsylvania Museum of Archaeology and Anthropology invites visitors to a new exhibition that focuses on the rich art and cultural heritage, as well as the ongoing traditions, of the Edo people of Nigeria's Benin Kingdom. IYARE! Splendor and Tension in Benin's Palace Theatre opens with a public celebration Saturday, 08 November 2008.

Nearly 100 objects from the Penn Museum's world-renowned collection of cast bronzes, carved ivories and wooden artifacts (16th to the 21st centuries A.D.) from the Kingdom of Benin, form the core of this new exhibition. Photographs from contemporary palace life, text, video, regional Nigerian art, and international art inspired by Benin culture, help to tell the story. The exhibition includes many Penn Museum pieces that have not been on display for decades, as well as loans of significant works from the Smithsonian's National Museum of African Art, the Brooklyn Museum, and the Baltimore Museum of Art. IYARE! is an outgrowth of a University of Pennsylvania Halpern-Rogath History of Art curatorial seminar, and a curatorial collaboration between its students and African art historian and professor Dr. Kathy Curnow.

With IYARE! Benin artifacts are used to illuminate the ongoing activities—cultural, religious, political, and intensely social—that make up the theatrical experience of palace life for "actors" and "audiences." Presence at the palace demands something extra—an awareness of being "onstage." By focusing on the "theater" that is at the heart of the palace experience, IYARE! tells the story of cultural continuity, change, and influence of an African people who bring all the arts to bear as they engage in the social activities of life.
Nigeria's Benin Kingdom was one of West Africa's most powerful political states with artists and artisans unsurpassed on both the African and European continents. The Benin holdings of the Penn Museum, the first American institution to collect these works, are one of the largest in the country, and include some items—an early Queen Mother bronze head, an ivory crocodile with a mudfish, and a portal-guarding snake head—that are unique in the United States.

Today, despite British colonization in 1897 and Nigeria's independence in 1960, Benin's Edo people continue to profess loyalty to their monarch, the Oba, even as they fully participate in the modern world. Inside the Benin palace Edo noblemen and women meet as they have for centuries to play out rivalries, reenact historic conflicts, impress, inspire, and gossip with one another.

Many palace ceremonies are based on historical incidents, symbolically reenacted in ritual terms. Rivalries create contemporary dramas on a daily basis, as chiefs jockey for position and favor. Reflecting these realities, the exhibition allows visitors to consider objects organized in "theatrical" terms, as they explore the people, venues, and activities within the palace. Additional sections focus on Benin's cultural sphere of influence, both regionally and internationally.

The palace is imaginatively evoked through the gallery's design. Its splendor included red earthen walls and intimidating towers. Its courtyard pillars were covered with nearly 1,000 bronze plaques gleaming in the sun. The palace settings serve to remind and reinforce understanding of the supernatural backing of ancestors and gods. A reconstructed 19th century altar designed for a past king, or Oba, is an exhibition focal point. Groupings of objects made for other altars, one to the Queen Mother, or Iyoba, and one to Osun, god of medicine, reinforce their importance.

The Oba, his many chiefs, the royal and chiefly wives, young male and female pages, and other courtiers are the principal subjects in the section on Players, Props and Costumes, which features ceremonial bracelets, pendants, armlets, rings, swords, and weapons.

The Benin palace was and is a place of ceremony. In the Scripts section of the exhibition, a number of key ceremonies and festivals are presented. Video clips of these ceremonies bring them to life.

The Intermission section explores palace life when ceremonies are not taking place. The work of guild artists making ritual items in brass and ivory, pages carving coconut shells between errands, or general relaxation with music, games, and sports, are this section's focus. Videos of contemporary craftsmen, traditional wrestling, and other leisure activities are shown.

At its height, the Benin Empire stretched well beyond the heartland of its Edo people in contemporary Nigeria's Edo State. Artworks in the section Playing the Provinces show Benin's impact on neighboring peoples through colonization, trade, and conquest. Objects from the provincial and northern Edo people, the Owo and Ijebu Yoruba peoples, and the Itsekiri people, reflect regional impact and variations.

The exhibition's final section, Revivals, looks at Benin's art today, at home and abroad. The revival of Benin artistry through new markets opened by tourism and the Internet, and the prevalence of forgeries are considered. Nigerian stamps and banknotes featuring Benin art exemplify national pride in these traditions. Finally, Benin art's impact on America and beyond is seen through two extremes—"made in China" household items with obvious Benin influence and contemporary African American art that references Benin culture.

Curatorial assistants, undergraduate and graduate students at the University of Pennsylvania provided individual catalogue entries for a catalog, IYARE! Splendor and Tension in Benin's Palace Theatre, edited by Dr. Curnow and available through the Museum Shops beginning November 8th. The students who researched Penn Museum's artifacts and suggested innovations for the installation and website were Anna Baeth, Matthew A. Davis, Lyndsay P. N. Flynn, Brian P. Heyer, Stephanie Lichtinger, Alexandra Raskin, Jocelyn M. Rosenwald, Laura L. Sagues, and Hannah Voorhees. Students from Dr. Curnow's summer African art course assisted with market research for the exhibition and its website.

IYARE! Splendor and Tension in Benin's Palace Theatre is made possible through the generosity of Leslee Halpern-Rogath and David Rogath. Funding for the conservation of artifacts in IYARE! was provided by Diane vS. Levy and Robert M. Levy.

A related exhibition, Kings, Chiefs and Women of Power: Images from Nigeria, featuring contemporary photographs by Phyllis Galembo and a small selection of Benin and other southern Nigerian artifacts from the Penn Museum, is on view at the Arthur Ross Gallery of the University of Pennsylvania, 220 South 34th Street, in the Fisher Fine Arts Library, from 13 November 2008 to 18 January 2009.

Photo: A high-ranking military chief dominates this 16th century plaque, one of nearly a thousand that decorated Benin palace courtyards. Accompanied by an entourage of lieutenants, musicians and pages prepared to fan him, the chief dances at the palace war festival.
The University of Pennsylvania Museum of Archaeology and Anthropology, located at 3260 South Streets on the Penn campus in Philadelphia, is dedicated to the study and understanding of human history and diversity. Founded in 1887, the Museum has sent more than 400 archaeological and anthropological expeditions to all the inhabited continents of the world. With an active exhibition schedule and educational programming for children and adults, the Museum offers the public an opportunity to share in the ongoing discovery of humankind's collective heritage. For general information, visitors may call (215) 898-4000, or visit the Museum's award-winning website at http://www.penn.museum.